Academic Advising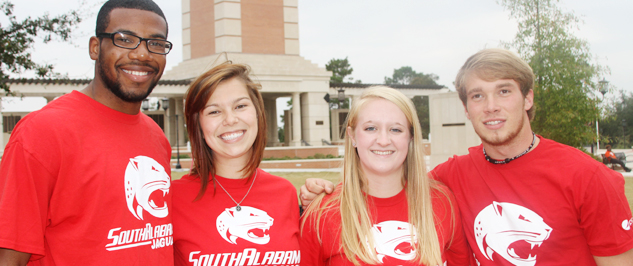 To help students stay on track in their degree program, students cannot register for classes until they have been advised. Only when students meet with their advisor are their "advising holds" removed, enabling students to register.
Academic Advising and Transfer Services
Undergraduate students with less than 30 completed college credit hours and/or not enrolled in MA 126 (Calculus 2) (not including in-progress courses) are advised by an Academic Advisor. You can learn more about this program on the Academic Advising and Transfer Service's page.
To make an advising appointment with your assigned academic advisor in the AATS, please click on Navigate South and select a date and time. You may also call (251) 341-4017 or stop by the Academic Advising and Transfer Services Center in the Student Academic Services building.
Fall & Spring Advising
The AATS is open all year round for student advising. However, in order to register for your next classes on time, you must meet with your Academic Advisor before or on your scheduled registration date (see your time ticket in PAWS for that date).
Students are encouraged to meet with their advisor in the Academic Advising and Transfer Services Center as often as they need. Academic advisors meet with students year round. First year students are also welcome to schedule an appointment to meet their faculty advisor. We encourage students to make these appointments after the initial Advising Deadline and after they have finalized their schedule for the next semester.
College of Engineering Advising Times
Engineering students who are enrolled in MA 126 will be assigned to the Director of Student Services & Advising, Nani Perez Uribe, to help with the transition from AATS to Engineering Departmental advising. Once an engineering student has successfully completed MA 126, they are assigned to their final advisor, a faculty advisor within their major department. The dates below are the timelines to meet with advisors for the upcoming semester. Appointment times do fill up, so please plan to schedule your advising appointment well in advance.
Students who haven't selected a field of engineering to pursue are designated "Engineering General Studies" and are advised by the Dean's Office.
*Students are able to meet with the Director of Student Services & Advising as often as needed.
Academic Probation Holds
Academic Probation Holds cannot be removed by your academic advisor. To remove these you must make an appointment with either Dr. Steward or Ms. Nani Perez Uribe prior to your registration date.
New Student Advising Information
All new undergraduate students (freshman and transfer) coming to the University of South Alabama are required to attend Orientation. During this orientation, you will be advised by an engineering faculty member and will register for your classes on site. More information can be found on the Orientation Website.

New engineering graduate students (both citizens and non-citizens) will be advised on the same day of the graduate college orientation which takes place during the week preceding the first day of classes. Following the college orientation, students will be asked to come to the department for an advising session. Students will receive more information about this orientation via email to their JagMail.

Our International Students go through the orientation process with the Office of International Services. More information can be found on the International Admissions Website.
Academic Advising by Department
Click on your department for more information about how to schedule your advising appointment.