We're here to help. We want to make things easier for adult learners. We'd like a one-on-one conversation with you about everything from the admission process to online learning and finding your way around the University of South Alabama.
If you're returning to college, welcome back. Let's start with the credits you have and the credits you need to earn a degree. You might be closer than you think. If you're starting school for the first time, congratulations. Let's talk about your goals in higher education. We're ready to provide guidance and support tailored to your situation. If you're changing careers or seeking advancement, let's go to work. Need flexible, online options? We have those too, including our fully online interdisciplinary studies bachelor's program. Financial aid programs are available, along with free tutoring services. Your employer may even help pay for your degree.
A bachelor's degree can lead to a more rewarding career with higher earning potential and better job security. It's normal to feel a little nervous about returning to college. Everyone does. What we find, over and over again, is that students and professors appreciate having older students in their classes.
You have something to offer. You bring a different perspective. At the Office of Adult Learner Services, we want to hear your story. We want to help plan your college career. We want to welcome you to the Jaguar family.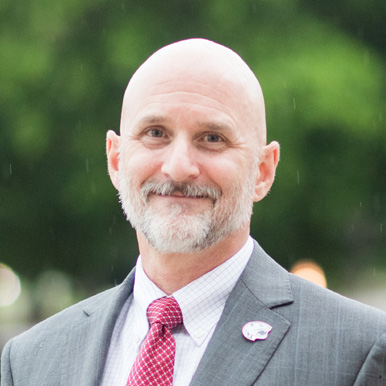 Bob's been there. Done that.
If you're an adult learner at the University of South Alabama, then you have something in common with Bob Charlebois. His nontraditional career includes time as a restaurant manager, video producer and whitewater rafting guide. He's been a transfer student and an adult student. Now he's director for the Office of Adult Learner Services.
His last name is pronounced "shar-luh-bwah," but most people call him Bob. His job is to make it easy for adult students – from exploration and enrollment all the way through graduation. Charlebois is often the first person adult learners meet on campus. He loves hearing their life stories. He tries to be encouraging and helpful.
Oftentimes adult learners are intimidated by the admission process, not to mention navigating financial aid, registering for classes and walking into a classroom with younger students. Charlebois helps them consider their options and design a plan to get them to graduation.
He's been there himself. Charlebois' career took several detours before returning to college. He had his sights on an English degree but ended up earning a master's in higher education leadership. Charlebois has been advising now for nearly 10 years. He can identify with those who seek his help. They appreciate direction from someone whose own career has featured plenty of zigs and zags.
Contact Bob today to see how he can help you complete your degree.
Myths and Facts
Click each box to view the facts about starting school at South.
Students just like you