RISE ANEW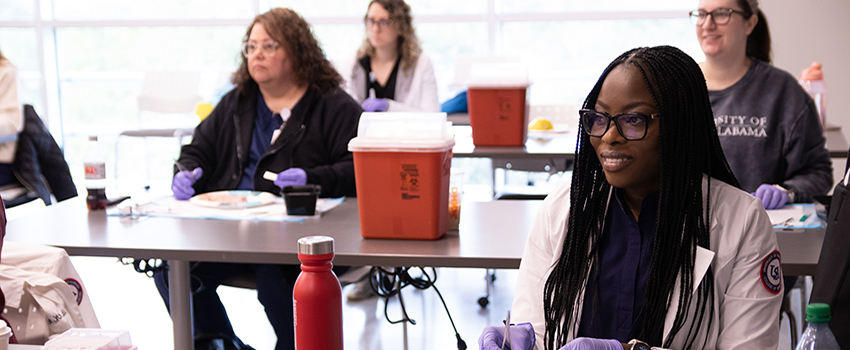 RISE (Recruit and Increase primary care nurse practitioner diversity; Serve rural, urban, and tribal populations; and Expand academic-clinical partnerships) ANEW (Advanced Nursing Education Workforce) offers recruitment and training opportunities to a diverse advanced-practice nursing workforce to serve rural, urban, and tribal and underserved communities by expanding academic-clinical partnerships.
Project Objectives
Recruit, enroll, and support 20 diverse primary care nurse practitioner (NP) students in the RISE ANEW program with up to $25,000 per year
Increase student educational experiences and readiness to practice in rural and medically underserved areas (MUAs)
Recruit and retain diverse faculty and preceptors to increase diversity of the educational environment
Expand innovative academic-practice partnerships to support clinical training in rural and underserved areas
Project Details
RISE ANEW will support the training of diverse students enrolled in the primary care NP specialties at the University of South Alabama (USA) College of Nursing (CON) in the Master of Science in Nursing (MSN) and Doctor of Nursing Practice (DNP) degree programs. Family Nurse Practitioner, Adult-Gerontology Primary Care Nurse Practitioner, Pediatric Primary Care Nurse Practitioner, and Women's Health Nurse Practitioner students are eligible to participate. RISE ANEW is designed to prepare primary care NP trainees to address health equity and social determinants of health through a diversity, equity, and inclusion certificate program and longitudinal experiential training experiences in rural and underserved communities.
For more information on how you can apply for this opportunity, contact the RISE ANEW project director Dr. Shanda Scott (shaston@southalabama.edu) , or RISE ANEW project coordinator Dr. Emily Bentley (ebentley@southalabama.edu).
The RISE ANEW project is funded by Health Resources and Services Administration (HRSA) of the U.S. Department of Health and Human Services (HHS) as part of an award totaling approximately $2.5 million with zero percentage financed by nongovernmental sources. The contents are those of the author and do not necessarily represent the official view of nor an endorsement of HRSA, HHS, or the U.S. government.