Join the College of Nursing Alumni Society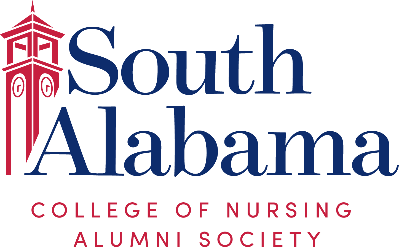 The College of Nursing Alumni Society (CONAS) is an extensive nursing network focused on connecting University of South Alabama's College of Nursing Alumni and Friends. With a focus on providing networking, mentoring, and continuing education opportunities, the CONAS Board is determined to offer new ways for our graduates and supporters to connect to our College of Nursing and each other.
CONAS membership is open and free to all South Alabama National Alumni Association members. Contact Rebekah Baker, USA College of Nursing Development Officer, if you are interested in joining CONAS.
CONAS Executive Board Members:
Dr. Tootie Wright, CONAS Board President
BSN '83, MSN '90, DNP '09
Dr. Bridget Moore, CONAS Board Vice President
BSN '87, MSN '09, DNP '13
Dr. Debra Swanzy, CONAS Board Secretary
BSN '83, MSN '09, DNP '11
CONAS Board Members:
Dr. Donna Copeland
BSN '01, MSN '05, DNP '15
Dr. Wesley Davis
BSN '11, MSN '14, DNP '14
Dr. Natalie Fox
BSN '07, MSN '10, DNP '17
Dr. Sarah Goode
BSN '10, MSN '16, DNP '16
Ms. Alethea Hill
BSN '97, MSN '01
Mrs. Christa Quinley
BSN '12, MSN '16
Dr. Emily Bentley
BSN '08, MSN '13, DNP '14
Mrs. Page Smith
BSN '12