LPN to BSN Pathway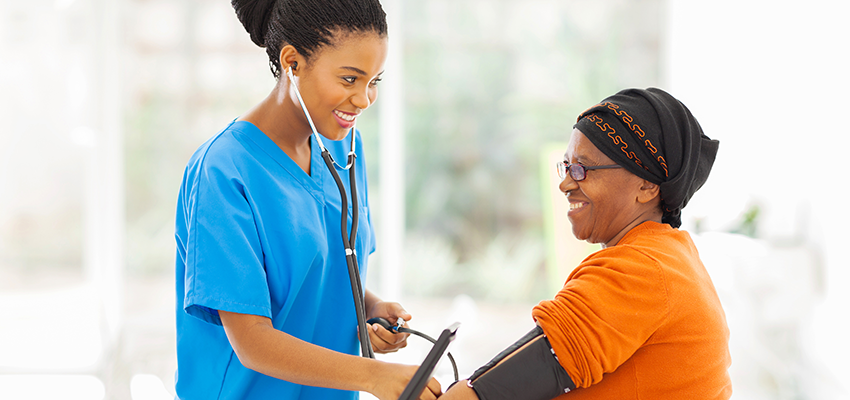 The University of South Alabama College of Nursing LPN to BSN Pathway is specifically designed to meet the needs of Licensed Practical Nurses and Licensed Vocational Nurses with a current LPN license seeking a Bachelor of Science in Nursing degree.
The LPN to BSN Professional Component consists of courses that address knowledge, skills, and attitudes that are needed to be successful in today's dynamic healthcare settings. Students will enjoy challenging themselves to explore relevant topics related to modern day professional nursing issues. This program is taught entirely online and is a flexible option for working students who are managing work and family responsibilities, as well as educational assignments. Program graduates will have the skills to provide enhanced patient care, promote health and aid in reducing barriers to health care, and apply research to clinical practice within rural and underserved communities. Graduates will increase their knowledge and experience in the care of vulnerable populations while emphasizing the impact of social determinants of health, health equity, health literacy, communication and leadership skills, community health nursing competencies, and integrated behavioral health services on health outcomes. The program is designed to better prepare LPNs to collaborate with the interprofessional team in providing quality care in multiple work settings.
The USA College of Nursing is currently accepting applicants who reside in Alabama, Mississippi, Virginia, and Kentucky. Students who reside in states other than those listed may be considered for admission but must commit to completing clinical rotations in one of these states.
Online LPN to BSN Professional Component
The Professional Component consists of fourteen (14) fully online nursing courses for a total of 47 credit hours.
Nursing courses must be completed at the University of South Alabama.
Upper division nursing courses taken at another institution will not transfer or apply toward the 47 credit hours required to earn the Bachelor of Science in Nursing degree at USA.
Students proceed through the fourteen online nursing courses at their desired pace.
The Professional Component may be completed in a minimum of four (4) semesters.
The Professional Component must be completed within five (5) years of beginning the Bachelor of Science in Nursing curriculum.
Fourteen (14) credits of nursing courses from LPN program will be awarded to the degree upon graduation.
Sixty-two credits of general education courses are required for the completion of the BSN degree.
Online Professional Component Course Work – 47 Total Credit Hours
NU 325 Health Assessment – 3 credits
NU 327 Pathophysiological Bases of Nursing – 3 credits
HSC 343 Clinical Pharmacology – 3 credits
NU 304 Research for Health Professions – 3 credits
NU 300 Foundations of Professional Nursing – 5 credits
NU 301 Foundations of Professional Nursing Clinical – 3 credits
NU 305 Essentials of Obstetrics, Pediatrics, & Psychiatric Nursing – 4 credits
AHN 447 Adult Gerontological Nursing – 4 credits
AHN 448 Adult Gerontological Nursing Clinical – 4 credits
NU 332 Clinical Nutrition – 2 credits
NU 412 Nursing Decision Making and Delegation – 3 credits
NU 414 Issues and Trends in Health Care – 3 credits
NU 405 Transition to Registered Nursing Practice – 2 credits
NU 460 Practicum – 6 credits
Contact Information
Ms. Leigh Holland – LPN/LVN to BSN Advisor
Email: conlpn2bsn@southalabama.edu
Dr. Leigh Minchew – Program Coordinator
Email: lminchew@southalabama.edu