Bachelor of Science in Nursing (BSN)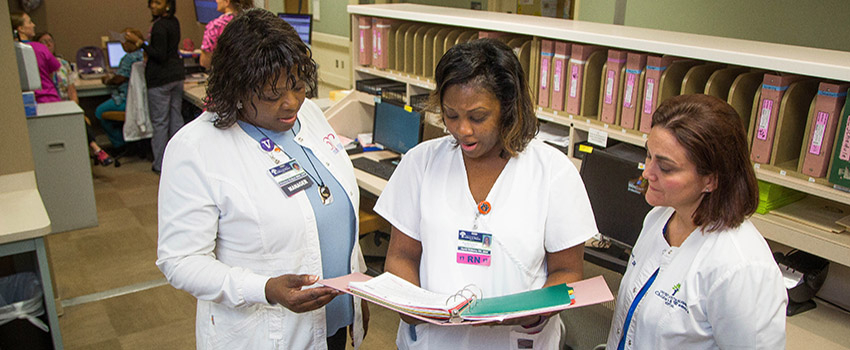 The University of South Alabama Bachelor of Science in Nursing (BSN) program provides the skills necessary for a rewarding career. Graduates are prepared to complete the National Council Licensure Examination (NCLEX-RN® exam) and may be eligible to apply for licensure to practice as a Registered Nurse and to continue with graduate study. The pre-licensure BSN program meets the requirements in all states to apply for licensure as a registered nurse upon successful completion of the NCLEX-RN exam.
University of South Alabama nursing graduates have outstanding outcomes. Employment rates are also outstanding. More than 90 percent of graduates find professional employment immediately. Within six months of graduation, virtually all who desire nursing jobs have found them.
While at South, students work with distinguished faculty members who share expertise in nursing across the lifespan. Skill and simulation labs help students refine their techniques; team-based learning allows them to collaborate with other students and faculty, and resources and support help students achieve excellent outcomes. A variety of clinical placement options allow students to gain practical experience and first-hand knowledge into the many aspects of healthcare. In addition to classroom and lab hours, students may elect to apply for the co-op program.
The bachelor of science in nursing program maximizes the value of each student's educational background. Traditionally, the first two years are spent in meeting general university requirements with courses in science, math, arts and humanities, while the last two years are focused on the professional preparation in nursing. The CON offers an accelerated program for students who have earned a bachelor's degree in another field. In addition, an RN-BSN pathway is available to RNs who have completed an Associate Degree in Nursing or a diploma.
South offers several paths toward a BSN:
A traditional four-year program for students with a high school diploma.
An accelerated program for students with a bachelor's degree in another field.
RN to BSN Program for students with an Associate Degree in Nursing.
An early admission program for students with a 3.5 high school GPA and 25 ACT score.
An early admission program for freshman students entering their sophomore year at South.
If you're not sure which option is best for you, our advisors can help you find the best fit.
▼ Learning Outcomes
Upon completion of the BSN programs, graduates should be able to:
Deliver professional nursing care for diverse populations across the lifespan to optimize health care outcomes.
Demonstrate the application of theory and evidence from contemporary nursing science and related disciplines as a basis for clinical reasoning, management, and evaluation of professional nursing care through the use of professional writing and clinical judgment.
Model responsibility and accountability for one's personal and delegated nursing care and lifelong learning to ensure excellence in nursing practice.
Translate evidence into professional nursing practice to individualize patient care designed to improve care outcomes.
Select principles of leadership and management that guide nursing, influence health policy, and transform health care delivery systems.
Collaborate with inter-professional health care teams and consumers in delivering and advocating for safe and effective use of health care resources.
Integrate professional nursing values in meeting current and emerging health needs in a dynamic, global society.
Evaluate effective use of technology and information management to provide patient centered care across the lifespan in a variety of environments.