Online Master of Science in Nursing (MSN)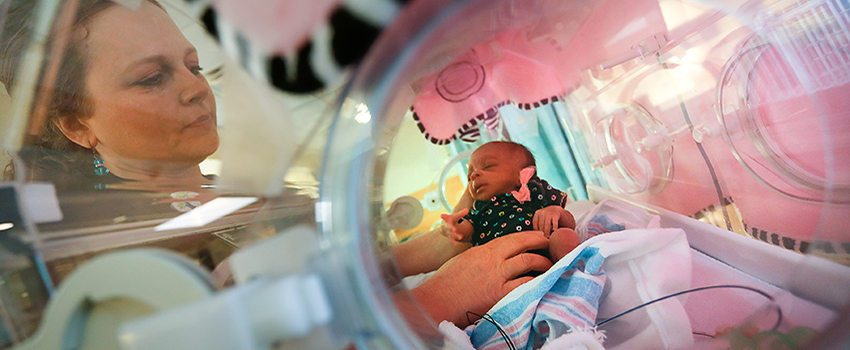 The online Master of Science in Nursing (MSN) degree program helps students prepare for opportunities for specialization in a variety of fields. Nurses build on their academic and practical credentials, using this knowledge to identify and solve patient care issues, leading to better health outcomes for individual patients and for society as a whole. Leadership, administrative, and quality improvement skills are incorporated throughout the program.
All MSN degree coursework is offered online. Students may continue to work while completing degree requirements. As with all South online programs, faculty members are available to support students via phone, email or using other forms of technology.
A state of the art simulation skills lab on campus helps students refresh and master skills and competencies required for the specialty.
Four of the courses in the master's degree in nursing program are offered at a doctoral level, so that students moving on to a Doctor of Nursing Practice program will have already completed 12 credit hours required for the degree.
Master of Science in Nursing Program Learning Outcomes
Upon completion of the master's in nursing online program, graduates should be able to:
Integrate advanced knowledge, evidence, and theories from nursing and related disciplines into a specialized area of advanced nursing practice through the use of scholarly writing.
Demonstrate competence in advanced nursing roles to meet current and emerging health needs of a global changing society.
Use scientific inquiry to identify problems and individualize patient care designed to improve care outcomes.
Apply advanced knowledge of leadership and management to influence health policy to transform care delivery systems and improve healthcare quality.
Contribute to the focus and direction of the nursing profession.
Pathways to a Master of Science in Nursing
The College of Nursing has several pathways to enter the online MSN program to accommodate many educational backgrounds.
Additional Information
The MSN program is an

online program. Coursework is completed online and clinical hours can be completed in your region with an approved Preceptor.
Nurse practitioner track students are required to report to the CON for about 3-5 days for orientation. Additional onsite visits may be required and are listed on the specialty track's web page. Please refer to the Available Tracks within the MSN program.
GRE and/or MAT– not required
Letters of reference – not required
All MSN students pay the same tuition rate: Web Course Tuition for Graduate Students
All requirements for the MSN degree must be completed within five calendar years from admission
Additional requirements for admission are located in the University of South Alabama Undergraduate/Graduate Bulletin.
Students are responsible for costs related to the required admission background check and drug screen. Students are responsible for all travel costs for any required on-campus visit and for travel costs to clinical sites.
Students are responsible for all costs related to monitoring/proctoring tests and identity authentication when required by a course.
Contact Information
For all inquiries related to the admissions process: congradapp@southalabama.edu
For all current and continuing students: congrad@southalabama.edu