Convocation Ceremony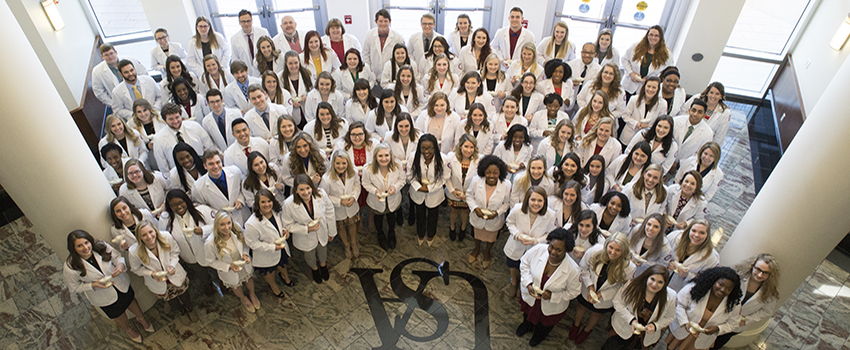 Convocation is a ceremony held in recognition of the accomplishments of our nursing graduates. It is an opportunity for nursing graduates to celebrate their success with friends, family, and College of Nursing faculty and staff.
Live Stream
The Fall 2023 CON Convocation Live Stream Link for the event on December 14, 2023.
Upcoming Convocation Dates
Fall 2023
The College of Nursing Convocation ceremony for all Fall 2023 nursing graduates, Post Graduate certificate completers and Summer 2023 DNP graduates will be held on Thursday, December 14, 2023, at 1:00 p.m. in the USA Mitchell Center.
Students who plan to participate in the Fall 2023 Convocation should RSVP by completing the Convocation Participation Form.
Frequently Asked Questions
The USA Commencement ceremony is hosted by the Registrar to recognize not only College of Nursing graduates, but graduates from other USA colleges, as well. Conferral of degrees will take place during Commencement. Degree recipients will be recognized individually and walk the stage to receive a diploma cover.
Post-graduate certificate recipients are not recognized at the University Commencement Ceremony because they already hold a degree. For more information regarding Commencement, please visit the Registrar's graduation website.
The USA College of Nursing Convocation is a separate, special recognition ceremony hosted by the College to exclusively honor Nursing graduates. During this ceremony, Nursing graduates and Post- graduate Certificate completers are recognized for a variety of honors and awards related to the college. The event has a similar format to the University Commencement/Graduation but is not the official graduation ceremony. Academic regalia (cap and gown) is required. Graduates process in much like at the graduation ceremony. However, degrees are not conferred at Nursing Convocation but at the University ceremony. All graduates will receive a special pin from the Dean of the College of Nursing as you cross the stage to be recognized. DNP graduates will also be hooded by a faculty member on stage at Convocation.
Ceremony Information
Parking
Convocation Registration/Check-In
Information for Guests
Personal Belongings
Information about the Mobile Area
Live Stream
The Spring/Summer 2023 CON Convocation Live Stream Link
Location/Contact Information
Our mailing address is (for US postal delivery):
University of South Alabama
College of Nursing
5721 USA Drive N. Room 3068
Mobile, AL 36688-0002
Telephone: (251) 445-9400
FAX: (251) 445-9416