State Authorizations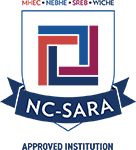 The U.S. Department of Education (ED) created a set of approval and reporting requirements for online programs in educational institutions. One of the regulations was 34 C.F.R. 600.9, which is commonly referred to as State Authorization.
ED requires compliance with state regulations of any state in which USA provides distance education for students. To facilitate this compliance with state regulations USA has joined the National Council for State Authorization Reciprocity Agreements (NC-SARA).
NC-SARA allows USA to offer distance education in 49 states plus the District of Columbia, Puerto Rico, and the U.S. Virgin Islands. California (not a SARA state) allows residents to take USA distance education courses.