Manuscripts Prices and Policies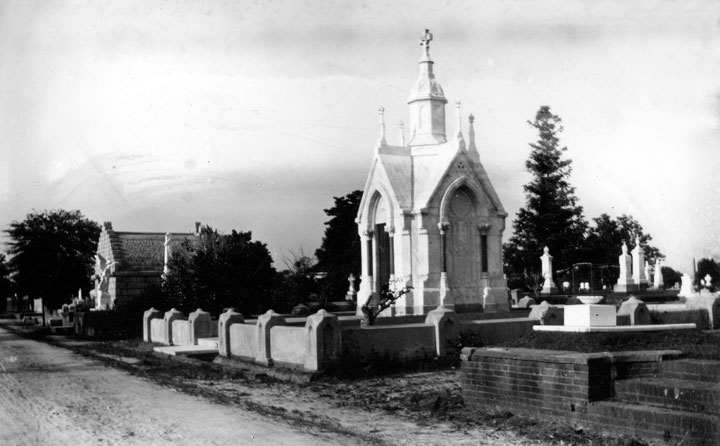 One of the many mausolea inside Magnolia Cemetery. This image was taken in 1900. Lois Slosson Sunberg Collections.
---
Manuscript Policies
1. Staff of the Doy Leale McCall Rare Book and Manuscript Library can make photocopies for patrons if doing so will not damage the original.
2. Divorce Records: There is a $10 research/mailing fee per case payable in advance, plus the cost of photocopying (prices below). Normally we eliminate administrative documents with no substantive content (eg., subpoenas, order of publication, and lists of court costs) unless the researcher requests that we copy all the pages. Some of the cases are quite lengthy. We can inform you of your total costs before processing your request.
3. Naturalization Records: There is a $5 research/copying/mailing fee for each naturalization record request payable in advance, plus the cost of photocopying (prices below). The record is usually a short entry in a court minute book. It is extremely rare to find the actual certificate. The information contained in these records is usually limited to nationality or country of allegiance, age, length of residency, and the month, day, and year of the declaration of intention or naturalization. No counties, provinces, cities, or towns are given. No other family members are listed.
4. Other Court Cases and Manuscript Collections: Extensive research involving other court cases and manuscript collections is $25 per hour (minimum one hour) payable in advance. If more than one hour is required, the patron will be notified before additional fees are charged. If nothing is found, no more than one hour's charge will be assessed. Additional fees, as follows, will be charged for photocopies, postage, and long distance telephone calls: fax copies, $1.00 each; regular photocopies, see prices below; oversize photocopies, $1.00 each (when copies can be made without damage to the originals); oversize documents, such as maps and blueprints, $20 minimum.
5. The provisions of current U.S. Copyright Law or other legal questions apply; any and all responsibility for questions of copyright and/or other legal questions which may arise from facsimile reproduction of materials from the collections of The Doy Leale McCall Rare Book and Manuscript Library or from the use of such reproductions, in any manner, will be assumed by the patron.
6. If, in the judgment of the archivist and/or director, you have requested duplication of a substantial portion of a work or collection, we may decline, under copyright restrictions, to proceed, or require that the collection be digitized instead of photocopied. Digitizing may be more expensive to the patron but is less damaging to the materials.
7. We take all forms of payment. Make checks payable to The McCall Library. Prices are subject to change without notice. Please allow at least ten working days after receipt of payment for your request to be processed.
---
Manuscript Fees
Photocopying
Black & White (Letter and Legal)
| | |
| --- | --- |
| Number of Copies | Per Page Cost |
| 1-200 | $ .25 |
| 201-500 | .35 |
| 501-1,000 | .50 |
| 1,001 and above | 1.00 |

Photocopying, Black & White (11 x 17)

$1.00 per page
Manuscript Digitization (scan to PDF)
$2.00 per page
---
Mailing Charges
Photocopies (All sizes)
| | |
| --- | --- |
| Number of Pages | Cost |
| 1-25 | $ 5.00 |
| 26-50 | 5.50 |
| 51-75 | 6.00 |
| 76-100 | 6.50 |
| 101-125 | 7.00 |
| 126-150 | 7.50 |
| 151-175 | 8.00 |
| 176-200 | 8.50 |
| 201-225 | 9.00 |
| 226-250 | 9.50 |
| 251-275 | 10.00 |
| 276-300 | 10.50 |
| 301 plus | 11.00 |