Manuscripts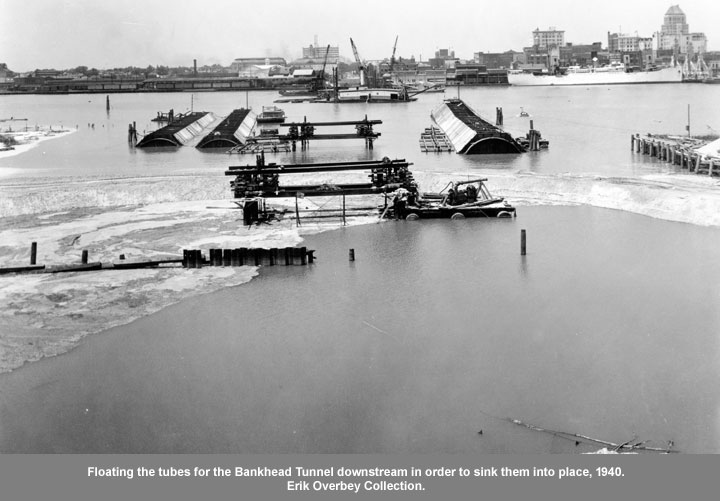 Floating the tubes for the Bankhead Tunnel downstream in order to sink them into place, 1940. Erik Overbey Collection.
---
The Doy Leale McCall Rare Book and Manuscript Library houses 8,000 linear feet of manuscript and archival material. Some of the notable collections include: the Doy Leale McCall Sr. Papers which encompass more than one million documents from the 19th and 20th centuries; the papers of Mobile's three former U.S. congressmen; a large body of material from the civil rights era including the papers of John LeFlore and the Non-Partisan Voters League records; the Mobile County Circuit Court records (c. 1830-1917), and a large railroad collection.
The Library's manuscript collections are listed alphabetically in this guide. The name of the collection may be that of a person, business, organization, institution, subject, or donor.
Finding aids for many of these collections are located on this website or in our offices. If you do not find what you are looking for or you need more information about these collections please email us at mccalllib@southalabama.edu.
---
A guide to our photograph collections is also available.
---
Title
Description
Categories
Index
AFRICATOWN (99-21-351, 00-08-359, 05-09-446)
This collection relates to an area of Mobile known as Africatown and to the people who lived there and their descendents. Africatown derives its name from a group of Africans brought to Mobile illegally for the purposes of slavery who settled there after the Civil War. Included are various materials compiled by the great-great-grandson of one of the Africans, as well as articles about the community of Africatown. .25 linear feet.
A
AHAVAS CHESED (96-09-302)
Consists of material (1923-1985) related to the Ahavas Chesed (Love of Kindness) Jewish congregation. The collection includes the group's constitution and by-laws, as well as financial data, membership information, minutes, booklets, audits, scrapbooks, deeds, yearbooks, and bulletins. Also included are documents pertaining to the congregation's celebration of its 100th anniversary in 1994, as well as notes and correspondence of Rabbi Stanley Gerstein, and papers associated with several Jewish organizations. The collection was microfilmed and that microfilm resides at Samford University. 9 linear feet.
A
AHMED, DR. NAHFIZA (01-16-383)
Audio taped oral interviews conducted with former Mobile mayor Joseph Langan (July 2001), Non-Partisan Voters League member O. B. Purifoy (October 2001), and civil rights activists James Dixon (July 2001) and Jerry Pogue (July 2001) in connection with Dr. Ahmed's doctoral dissertation on the civil rights struggle in Mobile. Transcripts are available. Some restrictions apply.
A
ALABAMA DRY DOCK AND SHIPBUILDING COMPANY (81-03-60, 88-08-170, 90-08-200)
Contains annual reports from 1943 to 1991, and files from the public relations department at ADDSCO that contain information about the various ships built or worked on from 1919 to the 1970s. Most Liberty ships and tankers built during WWII have individual files with photographs and information about ship names, sponsors, launching ceremony programs, etc. There are also subject files concerning activities and individuals at ADDSCO and projects such as the Bankhead and I-10 tunnels and Auxiliary Submarine Rescue Ships. The collection includes copies of Fore & Aft, the company's publication for its employees. (See also Photograph Collections for photos of ADDSCO ships, workers, and yard scenes, and Joe Jefferson Players for other issues of Fore & Aft.) 17 linear feet.
A
ALCOA (98-03-339)
The Aluminum Ore Company's refining plant in Mobile, Alabama, was constructed in 1937. At the time, it was the largest bauxite refining plant in the United States. The company discontinued its Mobile operations in 1982. The records of the public relations department at Alcoa contain historical information about the company, its products, and employees. Also included are copies of company publications, The Al-Zalean and Alumi news. (See also Photograph Collections.) 3 linear feet.
A
AMERICAN ASSOCIATION OF UNIVERSITY WOMEN (90-09-209)
The records of the Mobile Branch of the AAUW include minutes, correspondence, presidents' reports, treasurers' records, topical files, bylaws, bulletins, directories, and yearbooks from 1945 to 2005. There are also some materials relating to the state organization such as convention reports, workshops, bulletins, and directories. Materials are periodically added to this collection. 10 linear feet.
A
AMTRAK DERAILMENT (06-09-461)
On September 22, 1993, a tugboat operator mistook a railway bridge over Bayou Canot for a barge and plowed into the bridge, setting in motion the worst train disaster in Amtrak's history. When the Sunset Limited attempted to cross the bridge, its cars derailed, sending them and the train's passengers into the bayou. The derailment killed 47 people. This collection consists of four 4" notebook binders filled with information related to the accident compiled by the National Transportation Safety Board. The reports discuss operation of the train and its crew, and various other aspects of the disaster. 1 linear foot.
A
ASHDOWN, SPAN (99-07-345)
Books, correspondence, magazines, news clippings, and pamphlets related to waterfront activities in Mobile. (See also Photograph Collections under the same heading.) .5 linear feet.
A
AS YOU LIKE IT CLUB (98-08-337)
Founded on October 10, 1914, this women's group met to study literature and the arts. It was at one point affiliated with the Federation of Women's Clubs. This small collection consists of the group's year-long programs from 1973 through 1987. The programs include organizational histories as well as its constitution and by-laws. .5 linear feet.
A
AZALEA CITY QUILTERS GUILD (08-07-475)
Established in 1980 by a small group of local women, the Azalea City Quilters Guild has held quilt shows since its second year. The group also holds workshops and donates quilts for fundraising to various local charities, including the Ronald McDonald House and Project Linus. This collection consists of organizational records, photographs, scrapbooks, newspaper clippings, quilt show programs, quilt patterns, correspondence, and other memorabilia collected by members of the group. 14.5 linear feet.
A
BARTON SCRAPBOOK (90-07-221)
This scrapbook dates to 1919 and contains news clippings, ephemera, and notes from classmates collected by Barton Academy graduate Lillian Crowley. Also includes the 1909 Bartonian and the December 1931 issue of National Geographic, which contains two articles on Alabama, "Smoke over Alabama" and "Where the New South Challenges the Old." .25 linear feet.
B
BARTONIAN (93-08-271)
Contains the 1912, 1917, and 1919 issues of the Bartonian, the Barton Academy yearbook. .25 linear feet.
B
BELL, ROBERT E. (02-09-386)
The papers of noted Alabama author Robert E. Bell (1926-1999) contain correspondence with publishers, family, and friends, many of whom were contemporary authors. The materials also include numerous unpublished manuscripts, personal journals (1940, 1950-1999), photographs, and scrapbooks. View Bell Collection sample. 31.25 linear feet.
B
BELLAMY, ELIZABETH WHITFIELD CROOM
(See Stephens G. and Velma Croom. See also Photograph Collections under Stephens G. Croom.)
B
BEVERLY, FRANCES BAUGH (94-09-279)
Frances Beverly (1865-1954) was related to the noted botanist, William Bartram. Beverly worked as a reporter for the Louisville Courier Journal and later wrote about Mobile's past for the Works Progress Administration. Using her collection of WPA manuscripts, she set out to publish "The Story of Old Mobile" in 1947 at the age of 82, which she later apparently self-published. Her papers consist of typed and handwritten manuscripts, including essays, short stories, poems, and brief biographical sketches that have been divided into subject files. The original Beverly Collection was microfilmed in the early 1990s by the Historic Mobile Preservation Society. That microfilm is also available. The collection also includes Beverly's journals, which contain handwritten versions of most of her typed manuscripts. 1.5 linear feet.
B
BERNEY, JANE E. (05-09-429)
Jane Elizabeth Berney was the daughter of Saffold Berney (1844-1929), a judge, author, and Confederate veteran, and Mary Clifton Berney (1846-1921). Her papers contain photographs of Saffold Berney, his father, Dr. James Berney, and other unidentified women and children, probably Berney family members, as well as a 1909 photo of the family home. Other images show a Confederate veteran's parade. Some of the photographs date from 1877 to 1922, although most are not dated at all. The papers (1918-1942, bulk ca. 1937) relate primarily to Berney's WPA employment in Mobile. From 1936 to 1937 she worked on a project to survey records and write histories of various federal agencies in Mobile, including the post office, the Inland Waterways Corporation, and the Internal Revenue. Her papers also include her membership certificate for the Daughters of the Confederacy (1919) and an employment application for Brookley Field (1942). .75 linear feet.
B
BLACKMON, DORA E. (08-09-493)
Dora Mae Eldredge Blackmon earned a Ph.D. from the University of Washington in 1964. Her collection contains research materials and drafts of her doctoral dissertation, "The Care of the Mentally Ill in America, 1604-1812 in the Thirteen Original Colonies." In 1977, after serving as professor and nursing director in several nursing schools across the United States, Blackmon became professor and dean of the University of South Alabama School of Nursing. The collection also consists of grading materials and research materials and drafts of a paper Blackmon wrote about the colonial judge Samuel Sewall, who participated in the Salem witch trials. 1 linear foot.
B
This collection contains 14 video interviews conducted by Honors College students and faculty with selected community members and experts exploring aspects of personal history and the Mobile-Tensaw Delta. The interviews are part of a funded research project of the Honors College of the University of South Alabama sponsored by the Alabama Humanities Foundation and the David Mathews Center for Civic Life. 280 GB Digital video, audio, text and still photographs.
BOYKIN, FRANK (98-09-440)
One 9-page letter from Frank W. Boykin to Speaker of the House of Representatives John McCormack dated August 20, 1963. The letter discusses many national and state political figures, including Senator Lister Hill and Presidents John F. Kennedy and Lyndon Johnson. The bulk of Boykin's papers are located at the Alabama Department of Archives and History.
B
BROCK, GLEN PORTER (87-09-149)

These are the personal papers of G. P. Brock, president and executive officer of the Gulf, Mobile & Ohio Railroad from 1957 to 1972 and chairman of the board of the Illinois Central Gulf Railroad following the merger of the GM&O and the Illinois Central. The collection covers the period from 1940 to 1987. 61 linear feet.

B
BROOKLEY AIR FORCE BASE (89-08-189, 02-03-394)

This collection of materials pertaining to Brookley AFB dates from 1942 to 1964. It includes photographs, news clippings, and a few issues of the Brookley Bay Breeze from 1942 and A la MOAD from 1943-1944, and a more complete run of the Brookley Spotlight from 1959 to 1969. 5.25 linear feet.

B
BURNS, CRANFORD H. (679-2015)

This collection documents portions of the career of Cranford H. Burns who served as Superintendent of Mobile Public Schools from 1952 to 1970. The collection contains primarily correspondence, board minutes and agendas, news clippings, as well as contracts, communications and legal documents pertaining to the investigation and court proceedings involving contractor B. W. Mathis. 2.75 linear feet.

B
BUSBY, ANNA (MATTIE MAY JORDAN) (87-10-153)
A diary written in 1912-1913 by Mattie May Jordan, an older sister of Anna Busby. The diary describes fur trading and farming activities in Washington County, Alabama. The diary has been published under the title Where the Wild Animals is Plentiful: Diary of an Alabama Fur Trader's Daughter (Tuscaloosa: University of Alabama Press, 1999). A typed transcript of the diary is also available. 1 linear foot.
B
CALLAHAN, SONNY (02-09-397)
Records from the Washington, D.C., and Mobile offices of Congressman Herbert Leon "Sonny" Callahan, who served in the U.S. House of Representatives from 1985 to 2003. Includes documents on a myriad of subjects. Material includes correspondence, photographs, files related to federal departments, material from the Foreign Operations and Energy and Water subcommittees, newspaper clippings, tapes, etc.
C
CARTER, ZACK IUMSWA LOCAL 18 PAPERS (691-2017)

The Zack Carter IUMSWA Local 18 Papers contain legal filings, correspondence, union records, publications, flyers, legal research, and news clippings resulting from the union activities of A. Z. (Zack) Carter III, before and during his tenure as President of the IUMSWA Local 18, located in Mobile, Alabama.

C
CASE, DELENE (05-16-423)
Nine oral interviews with individuals who participated or assisted with the Neighborhood Organized Workers (NOW) and/or other civil rights organizations in Mobile during the 1960s and 1970s. The interviews are recorded on cassette tapes and transcriptions are included in the collection. These interviews were part of Ms. Case's research for her M.A. thesis, "'Ain't Gonna Let Nobody Turn Me Around': The Black Freedom Struggle in Mobile, Alabama, 1902-1969" (University of South Alabama, 2004). Biographical information about the interviewees is available on site. (See also University Collections under Larry Holmes, Melton McLaurin, and Rearguard.) .5 linear feet.
C
CELEBRATION 2000 (01-09-384)
Celebration 2000 was a series of local interfaith events commemorating the beginning of the third millennium of Christian history. Religious groups of all denominations participated in a variety of affairs. This collection consists of material accumulated for an annotated bibliography of church related sources and the documents collected by the Celebration 2000 Worship Committee. .5 linear feet.
C
CHASTANG FAMILY (96-08-314)
A collection of personal correspondence and religious and educational published materials relating to the Chastang family of Chastang and Bucks, Alabama (1756-1935, bulk 1880-1935). Most of the correspondence is from Edward Chastang and F. Z. Chastang. Among the printed materials, one file of interest contains literature about the Knights of St. Peter Claver (1911-1916). 3 linear feet.
C
CHURCH STREET GRAVEYARD
Consists of 1 roll of microfilm on the history of the Church Street Graveyard.
C
CITY HOSPITAL (90-09-196)
A collection of record books associated with City Hospital, which was established in Mobile in 1830 on St. Anthony Street. It operated at that location until 1966, when it was relocated west and renamed Mobile General Hospital. Within the collection are several ledgers. One appears to be that of a doctor. It lists patients' names, addresses, and charges for home visits. It is dated from November 1905 through January 1919. No information on who owned the ledger is included. In addition, the collection contains a delivery room register dated February 1958 through August 1959, that lists patient name; date and time of delivery; gender of the child along with its color, weight, and length; and the attending nurse and physician. There are also three patient indexes dated December 1960 through June 1961 and April 1976 through October 1976 that list patient's name, address, age, gender, time of admittance, religion, and physician's name. Also included are two registers dated August 1933 through February 1934, October 1935 through December 1937, and November 1938 through January 1940, with the last one devoted to the emergency room. These registers give patient's name, age, gender, social status, diagnosis, physician's name, and remarks. Finally, there is a much briefer index dated June 1963 through June 1966 that only lists patient's name and unit of the hospital to which he or she was admitted. Privacy restrictions apply. 3 linear feet.
C
CLAIBORNE JEWISH CEMETERY RESTORATION PAPERS (699-2018)

This collection contains photographs, correspondence, and printed material documenting a project undertaken by members of the regional Jewish community restore and preserve a small Jewish Cemetery located in Claiborne, Alabama. It provides documentation of the small Jewish community that once thrived in the river town before the advent of railroads. The collection also give insight into contemporary regional Jewish communal organizations and their values. .25 linear feet.

C
CLARK, JIM (12-09-629)
James Garner Clark Jr. was sheriff of Selma, Alabama, during the 1965 voting rights demonstrations in that city. His papers consist of correspondence written home by Clark during World War II, as well as approximately 260 letters written either in support of or in opposition to Clark's actions during the voting rights demonstrations. The Selma letters were written from all over the United States, as well as from Canada, the United Kingdom, and Sweden. In addition, the collection includes newspapers and news clippings, photographs, biographical information, material related to communism, and assorted other material. 4.5 linear feet.
C
COCHRANE, KATHARINE CRAMPTON (95-09-291)
Correspondence, professional papers, photographs, genealogical records, and memorabilia pertaining to John T. Cochrane Sr., his wife Katharine Crampton Cochrane, her step-brother Dr. Guy Chester Crampton, her father Dr. Orson Lucius Crampton, and other members of the Cochrane and Crampton families. The materials date from 1815 to 1985 (Bulk 1815-1967). View Cochrane Papers sample. 8.5 linear feet.
C
CONSULAR CORPS OF MOBILE (05-09-435)
Mobile was at one time home to many consulates from around the world. Around 1953 the group of them established as a social organization the Consular Corps of Mobile. Beginning in the mid-1950s and continuing into the early 1970s, members of the corps used their influence to encourage growth of the Port of Mobile. After the 1970s the corps reverted back to its original design. The papers consists of primarily documents relating to the group's annual receptions, including invitations, proposed guest lists, and RSVPs. Other files pertain to the corps itself and include membership lists, annual dues, and financial information. There are also news articles and press releases. 1.25 linear feet.
C
CORPS OF ENGINEERS (10-09-519)
Two folders of information related to or stemming from the Mobile branch of the U.S. Army Corps of Engineers. One folder has photocopied handwritten notes on the history of the Mobile branch. The other has maps and other information on the early locks and dams on the Black Warrior and Tallapoosa rivers. The latter folder also contains two black and white photographs, one of lock and dam number 3 and one of lock and dam number 9.
C
CROOM, STEPHENS GAILLARD (93-09-272)
Papers related to USS Alabama (BB-60), the Chicago Security Intelligence School, and the Dallas Security Intelligence School. Includes information on intelligence topics such as sabotage and surveillance, as well as correspondence, invitations and brochures about historic buildings, and material on the battleship. Also has Stephens Croom's ham radio license and a folder with information on Communism and Nazism. Stephens played a pivotal role in bringing the South Dakota-class battleship USS Alabama to Mobile and developing the site into a major tourist attraction. (See also Croom, Stephens G., accession number 06-09-531.) 1.75 linear feet.
C
CROOM, STEPHENS G. (06-09-531)
This collection focuses on material associated with USS Alabama (BB-60), the Battleship Commission, and Battleship Park. Stephens Croom was instrumental in the acquisition and establishment of Battleship Memorial Park and served as the first secretary of the USS Alabama Battleship Commission. Also includes genealogical material on some Croom family members, particularly the Howard and Marshall families, as well as typescripts and correspondence related to the 1837 wreck of the steamboat Home, which killed Croom's ancestor Hardy Bryan Croom and his family. (See also Photograph Collections under the same heading and Croom, Stephens Gaillard, accession #93-09-272.) 1.25 linear feet.
C
CROOM, VELMA AND STEPHENS G. (98-09-346)
This collection consists of correspondence between various Croom family members and friends from 1840 to 1906, as well as personal papers and literary manuscripts. Most of the letters were written between 1850 and 1870 by Cicero Stephens Croom, his sister Elizabeth Whitfield Croom Bellamy, and their parents, William Whitfield Croom and Julia Stephens Croom. The personal papers include a journal kept by Stephens in 1863 during the siege of Vicksburg while he was serving on General Forney's staff. Also included are numerous school essays written by Stephens while he was attending college at Chapel Hill, North Carolina, and by Elizabeth who studied at the Spingler Institute in New York City. The literary manuscripts in the collection – poems, short stories, and novels--were written by Elizabeth between 1865 and 1900. Her early works were published in national magazines under a pseudonym, Kamba Thorpe. In later works she used her married name, Elizabeth W. Bellamy. The collection also contains her notes for lectures on literary subjects. An appointment is required for the use of this collection. 12 linear feet.
C
CUMMINS, WILLIAM (06-09-455)
Contains a 12-page program describing the 50th anniversary of the Murphy High School class of 1927. Also includes a personal scrapbook of William Cummins's father, who was the circulation manager at the Mobile Press Register. The scrapbook gives interesting insight into how the paper motivated its delivery boys. .25 linear feet.
C
DAUPHIN ISLAND PROPERTY OWNERS' ASSOCIATION (634-2013)
Contains files related to every property on Dauphin Island, Alabama. Includes tenant agreements, bills of sale, insurance documents, correspondence, deeds, maps of the island, and photographs. 7 linear feet.
D
DEASY, EDMUND L. (91-09-234)
Consists of 30 journals dated from 1938 to 1973 and 23 undated pocket notebooks (ca. 1920s-1970s) written by and 1 photograph of Edmund L. Deasy and a small number of news clippings and correspondence. Deasy (1884-1977) was the son of Jeremiah Deasy (d. 1887) and Kate Cox (1850-1931). Deasy graduated with a business degree from Columbia University in 1922. His journals indicate that he lived in Washington, D.C. and in New Orleans. Deasy was a rare book enthusiast and he frequented used book stores throughout the country. His journals contain detailed information about dates and amounts of book purchases, as well as poetry, quotes, and other interesting vignettes. They also contain details of his daily life and business dealings, ranging from rental properties to stock dividends. The newspaper articles (1930s-1970s) cover a variety of subjects and range from current events to marriage articles by Dorothy Dix. 1 linear foot.
D
DELANEY, CALDWELL (98-09-340)
These papers contain correspondence, articles, manuscripts, photographs, newspaper clippings, and other published materials relating to Caldwell Delaney's career as Dean of the University Military School (1941-1956), Headmaster of Julius T. Wright School for Girls (1956-1965), and Director of the Museum of Mobile (1965-1992). Of particular interest is correspondence with local authors Eugene Walter, Julian Lee Rayford, and Thomas Atkins, and materials relating to Ernest F. and Mary McNeil Fenollosa. Mr. Delaney's wife, Lois Jean Fitzsimmons Delaney, taught English and Drama at Murphy High School, and the papers contain considerable material pertaining to student productions there. Family-related correspondence and genealogical materials relating to the Delaney and Fitzsimmons families are also included. (See also Photograph Collections under Museum of Mobile and Printed Material under Murphy High Times.) 31.75 linear feet.
D
DELANO / MAGOUN (94-09-307)
A collection of letters, receipts, and invoices, 1835-1844, from various ship captains in Mobile to the ship owners, Benjamin Delano and Son of Kingston, Massachusetts, and Thatcher Magoun and Son of Boston. The ship captains describe their cargo and their experiences in the port of Mobile. 1 linear foot.
D
DELLET-TORREY (689-2017)
This collection represents the lives, business activities, and public careers of the Dellet-Gibbons-Torrey-Henshaw-Toulmin Families of Mobile and Claiborne, Alabama, interconnected by marriage over the course of multiple generations, focusing mainly on the 1830s to early 20th century. The collection includes: atlases, correspondence, family histories, imprints, manuscripts, memoirs, news clippings, photographs, prints, publications, and rare books. 152 books, .5 linear feet photographs, .5 linear feet papers.
D
DICKSON, CHARLES (93-09-277)

Charles Dickson was an amateur historian who spent many hours researching the history of this area. His collection contains microfilmed copies of his handwritten three-ring notebooks. Included within the notebooks are histories of the Mobile theater, Mobile sports, Mobile military, Mobile baseball, Mobile settlers, as well as retrospectives on wars throughout American history, studies of the colonial powers and Indians of Mobile, and a look back at the Reconstruction period. 4 reels.

D
DOG RIVER ORAL HISTORY (02-09-436)
A series of 4 oral interviews conducted in 2001 with people living along Dog River. The main thrust of the interviews was to capture memories of changing conditions along the river. Transcripts are available. .25 linear feet.
D
DONALD, MICHAEL (06-09-466)
On March 21, 1981, James "Tiger" Knowles and Henry Francis Hays, local members of the United Klans of America, lynched Michael Donald. In retribution for the mistrial of a black man accused of killing a white police officer in Birmingham, Hays and Knowles took Donald's body and hung it from a tree on Herndon Avenue near his home. Eventually both Knowles and Hays were convicted of the crime. Knowles was given a life sentence and Hays was executed. The papers of Michael Donald contain selected Hays and Knowles court proceedings, the bulk of which is related to Hays. Also included are FBI investigation files, coroner's report, and several articles relating to the cases and the Ku Klux Klan. .5 linear feet.
D
DOWLING, WILLIAM (04-09-411)
Consists of 1 letter written by William Dowling to his brother Michael on April 13, 1869, at the beginning of Reconstruction. Dowling, living at the time in Marengo County, discusses the effect the newly-freed slaves were having on economic conditions in Mobile and in the countryside.
D
DOWNING, MAURICE A. "CASEY" (86-09-137)
These papers contain correspondence, printed matter, notes, and newspaper clippings relating to Downing's legislative career in the Alabama House of Representatives from 1962 to 1974. During those years he introduced legislation in support of the Mobile Greyhound Park, the East and West Fowl River connection, and the University of South Alabama Health Service Foundation. Includes materials through 1984. Other portions of the collection focus on mental health, conservation, and wildlife, as well as the Alabama State Docks, Mobile General Hospital, Brookley Air Force Base, and the Tennessee-Tombigbee Waterway. 7 linear feet.
D
DOWNTOWN SERVICEMEN'S CENTER (96-09-316)
Five microfilmed scrapbooks of photographs, newspaper clippings, and correspondence relating to the activities of this center which was located at the St. Francis Street Methodist Church and operated for the benefit of World War II servicemen by a group of churches and organizations in Mobile from 1942 to 1945. (See also Photograph Collections under Helen Louise Depuy.) 1 reel.
D
DRAGO BAND (07-09-467)
A small, handwritten journal (ca. 1903-1908) that appears to have been kept by Dan Drago, the leader of the Drago Band. In the early twentieth century, the Drago Band was very popular. The journal documents this fact. Hardly a day passed when the band wasn't requested to play at some ball, hotel ballroom, wedding, or social club. The journal notes the days and places of concerts, lists the members of the band, and shows the amounts each member was paid. (See also Photograph Collections under Drago/Cummins/Rouse Family Photographs.) .25 linear feet.
D
DUNNE, WILLIAM M. P. (97-09-325)
Dr. William M. P. Dunne was a professor at SUNY at Stony Brook. His area of expertise was naval history, in particular marine architecture, and he authored a number of books on the subject. Dunne spent a year conducting research in Mobile on the schooner Alabama, later writing a history of the vessel. Dunne's son subsequently sent his father's research materials to Alabama Public Television for their documentary on Mobile Bay. APT later deposited the material with us. The information contained in the collection relates to the Mobile Bar Pilots Association and various sailing ships. .5 linear feet.
D
DURANT, W. D. (00-09-542)
A small, handwritten township and range survey book of turpentine activities in Washington County kept by W. D. Durant for Taylor Lowenstein. The date of the book is hard to determine. It lists landowners and the amount of turpentine cupped per section of land. .10 linear feet.
D
EDWARDS, JACK (86-09-129)
These are the official papers of Congressman Jack Edwards, who served in the U.S. House of Representatives, District l, Alabama from 1964 to 1984. The papers include correspondence, photographs, newspaper clippings, tapes, etc. They have been restored to their original chronological order and inventoried. Of particular local interest are materials relating to the Tennessee-Tombigbee Waterway Project and the closing of Brookley Field. Also included in the collection are papers relating to the Watergate scandal, school desegregation, and civil rights in general. 253 linear feet.
E
EICHOLD, SAMUEL (06-09-456)
These papers primarily consist of printed material and photographs relating to Dr. Samuel Eichold's research into and contribution toward the 1984 publication Dictionary of American Medical Biography, and to his interest in the medical field in general. Some of the doctors whom Dr. Eichold catalogued include Josiah Nott, Henry Levert, and Eugene Bondurant. There is also a sizeable collection of manuscripts, newspaper clippings, and ephemera compiled by Dr. Eichold and collected by Dr. Tucker H. Frazer, once dean of the Alabama Medical College. Religion and Prohibition are the two major topics covered in the clippings. There is also an interesting patient log dating from 1915 to 1921 of the Inge-Bondurant Sanitorium. (See also Photograph Collections under Samuel Eichold and under USA College of Medicine.) 4.5 linear feet.
E
EPA/VULCANUS (86-08-119)
This collection contains documents relevant to the Environmental Protection Agency's public hearing in 1983-1984 which was held to gather information relating to proposed PCB incineration aboard the vessel Vulcanus. 4 linear feet.
E
EPISCOPAL DIOCESE V CHRIST CHURCH (01-09-376
This lawsuit, filed on October 12, 2000, stemmed from theological differences which arose during the 1990s between two factions within this Episcopal church. One faction consisted of the pastor, members of the vestry, and 50 percent of the membership; the other was made up of the remainder of the church population. One group voted to sever the church's association with the Protestant Episcopal Church of the United States and take the property of the church with them. An agreement between the litigants was reached on May 29, 2001. The collection included exhibits used in the case as well as research materials, attorney notes, and briefs. .5 linear feet.
E
FOLEY, FATHER ALBERT (03-16-398)
A series of oral interviews conducted in preparation for a master's thesis about the life of Father Albert Sidney Foley, a Jesuit priest who taught at Spring Hill College. The interviews were conducted with Joseph Langan, Jay Higginbotham, and James Blacksher. The primary subject under discussion was Foley's role in the civil rights movement in Alabama. The bulk of Foley's papers are held at Spring Hill College. .25 linear feet.
F
FORUM CLUB (04-09-415)
The Forum Club was founded in 1928 and was affiliated with the Woman's Clubhouse Association. The Forum Club's purpose was to meet to discuss current events. The club's records include correspondence, meeting minutes, financial records, and scrapbooks from 1928 until it disbanded in 2004. The scrapbooks contain annual histories of the organization, news clippings, and photos of members. 7 linear feet.
F
FRAZER, TUCKER H. (03-09-441)
This scrapbook, dated 1897 to 1918, was created by Tucker H. Frazer, last dean of the Mobile Medical College. It contains newspaper clippings on various subjects, including the Talmud, the dedication of the Washington Monument, eulogies delivered at a funeral, and the Lincoln assassins. There is also a letter from Frazer's wife and a letter from the national director of the American Red Cross. .25 linear feet.
F
GALLALEE, JACK C. (98-09-338)
Jack Gallalee served as president of the Mobile County School Board from 1961-1965. His personal files for the period of his term include correspondence, publications, and school board meeting minutes. Subjects range from federal educational mandates regarding integration to problems relating to fraternities and sororities in the Mobile County school system. (See also University Collections under Larry Holmes, Melton McLaurin, and Rearguard.) 2.5 linear feet.
G
GEARY, DANIEL (93-09-278)
Daniel Geary was brigade ordnance officer for the City of Mobile during the Civil War. When the war ended, Geary apparently kept some of the records of the Ordnance Office. These papers consist of some of the day-to-day records of that office, including day- and letter-books, orders, personnel rosters, invoices, vouchers, and receipts. The collection also has Geary's personal receipt books from 1839 to 1891. Of particular interest within the collection is an 1852 Odd Fellow certificate, and a diary by Charles Brother, a Union officer, describing the Battle of Mobile Bay. Brother's diary has been published. See Two Naval Journals: 1864, edited by C. Carter Smith (1964). 1.5 linear feet.
G
GERMAN RELIEF ASSOCIATION (90-09-195)
This benevolent organization was active in Mobile from 1866 to 1941. The collection is in both German and English, with English used after 1917. Included are minutes, membership lists, correspondence, and other material relating to the organization from 1866 to 1943. Three of the more notable Mobilians who belonged to the organization were Julius Goldstein, Henry Forchheimer, and Abraham Levy. 9 linear feet.
G
GIDDENS, KENNETH R. (06-09-457)
These papers (1968-1988) contain news clippings and ephemera related to the life, achievements, and interests of the one-time director of the Voice of America Kenneth R. Giddens. Of interest are photographs of and documents about the former archbishop of Mobile, Thomas J. Toolen, color slides of former Miss America Yolande Betbeze and Mobile's Azalea Trail, news clippings and magazine articles about the 1970 Junior Miss Pageant, and material about various construction projects throughout Mobile. 1.5 linear feet.
G
GOULD, ELIZABETH B. (89-09-175, 90-09-207)
Elizabeth Gould, an architectural historian, taught at the University of South Alabama from 1966 to 1975. This collection contains her research notes for three books: Nineteenth Century Mobile Architecture: An Inventory of Existing Buildings (1974); From Fort to Port: An Architectural History of Mobile, Alabama, 1711-1918 (1988); and From Builders to Architects: The Hobart-Hutchisson Six (1997). Box inventories are available. (See also the C. L. Hutchisson collection and Photograph Collections under the same heading and under Paul Thompson.) 17.75 linear feet.
G
GOVERNMENT STREET PRESBYTERIAN CHURCH
Although the Presbytery of Alabama was organized in 1821, in Mobile the number of Presbyterians was so small that they formed a union church with local Episcopalians in 1822. A Presbyterian congregation was formally organized in 1831 and in 1836 purchased land on Government Street where they built their permanent home, a Greek Revival-style church that is listed as a National Historic Landmark. The collection contains microfilmed session minutes and register books dating from 1831 to 1979. The registers contain records of communicants, baptisms, marriages, and deaths. 3 reels.
G
GREER, VIRGINIA (07-09-465)
Consists of short stories, newspaper articles, manuscripts, and correspondence written by Virginia Greer, author and reporter for the local newspaper. The papers also contain subject files on events and on various other local authors, as well as research notes and photographs. In addition, the papers are comprised of miscellaneous printed materials relating to Mobile General Hospital and the United States Department of State.
G
HARRIMAN, JOY H.P. (09-09-507)
Consists of twenty-one audio tapes of interviews conducted by Harriman with ten individuals associated with healthcare and medicine in Mobile from the 1930s through the 1950s. Those interviewed include: Marguerite Franklin, wife of physician James A. Franklin; Socrates Rumpanos; and Harry Webster Jr. Rumpanos discusses biological warfare during World War II and Webster talks about the evolution of Mobile during World War II. 0.5 linear feet.
H
HIGGINBOTHAM, JAY (85-09-122)
Jay Higginbotham is a local historian, author, and retired director of the Mobile Municipal Archives. His papers (1964-2004, bulk 1985-2002) include photos, articles, books, correspondence, and other material written by or about him. Several files concentrate on Higginbotham's tenure on the Mobile Tricentennial committee; others discuss Cudjo Lewis and Africatown. Box inventories are available on site. (See also University Collections under Larry Holmes.) 3 linear feet.
H
HINES, JOHN GUS (02-09-392)
Artist John Gus Hines worked in Mobile, ca. 1867-1921, as a set designer for various theaters. He also designed and built floats for Mardi Gras parades and other occasions in Mobile and other cities. The collection contains 36 diaries with brief notations of daily activities including remarks about construction of floats, theatrical sets, and other projects. It also contains 126 pen and pencil drawings of Mardi Gras Floats for various organizations. 1 linear foot.
H
HOLMES AND HOLMES (686-2016)
This collection is made up of microfilmed plans and architectural drawings of 65 projects spanning the years 1971-1998. Included are many public buildings, schools, businesses, historic homes, and government buildings including the Alabama State Capitol and the historic White House of the Confederacy. 1 linear foot, 6 reels.
H

HONOR FLIGHT SOUTH ALABAMA RECORDS

Records of a local service organization that organized trips to visit the national war monuments in Washington, DC for veterans of World War II residing in South Alabama. 9.25 linear feet, 19.6 GB.
HOWARD, KARL N. SCRAPBOOK (07-08-476)
Karl Newbery (or Newberry) Howard was a lifelong resident of Mobile who served in the Army Air Corps during World War II. During his lifetime he also worked for the local paper, for the Selective Service, and for the state's department of industrial relations. His scrapbook contains news clippings, postcards, photos, and official documents related to his military service and his various travels while in the service and after his discharge. 1 linear foot.
H
HOWARD LODGE (00-09-370)
The Howard Lodge, both an AF&AM and an F&AM Masonic organization, was founded in 1846. This collection consists of xerox copies of a history of the lodge, a master's report from 1946-1947, a centennial anniversary celebration, and membership rolls from 1845 to 1964. Also contains 14 black and white photos (8 x 10) of groups and individuals, some of which are identified and dated. 2 linear feet.
H
HUTCHISSON JR., C. L. (93-09-267)
C. L. Hutchisson Jr. (1902-1993) was the last of five generations of a family of builder-architects who were extremely influential in the architectural development of the city. This collection contains his personal correspondence and business records, minutes and bulletins from the Mobile Housing Board (1939-1946), the Alabama Society of Architects (1949-1958), and the Alabama Association of Registered Architects (1933-1949). Hutchisson Sr. and Jr. produced more than 800 architectural drawings (ca. 1908-1972) of structures during his career but toward the end of his life had to sell most of them. We received a total of 283 with the collection. The drawings are indexed by address as well as the client's name. See also the Elizabeth Gould collection. 56 linear feet.
H
JOE JEFFERSON PLAYERS (00-08-365)
The Joe Jefferson Playhouse is a community theatre established in Mobile in the 1940s. The collection contains 23 scrapbooks with photos, programs, reviews, newspaper articles, video tapes, and advertisements for plays and events from 1947-2006. The video tapes include the after party of "Lil' Abner," the production of "The Reading of the Will," and "Foxhole Follies." Also included is the biography of actor Joseph Jefferson, with photos; correspondence for the organization's 40th anniversary; and the 40th Anniversary Gala Committee folder. 7 linear feet.
J
JONES/TKE (04-09-419)
Myrtle Jones and her family owned and operated a self-store warehouse located across from two fraternities overseen by the University of South Alabama. In 1986, the family began making complaints against both fraternities. Charges and counter-charges went on for years, leading to a lawsuit that was dismissed in 1995. Contained within this collection are security guard reports, audio cassette tapes, and correspondence from the Jones family to university officials, as well as handwritten notes from the Joneses and extensive newspaper clippings relating to the university, the Mobile Police Department, and allegations of hazing by fraternities across the country. Also included are several photographs of the fraternity house and the warehouse. Much of the material is one-sided in that it only reflects the position of the Jones family, although there is some documentation explaining the university's or the fraternities' points of view. (See also University Collections.) 1.1 linear feet.
J
JUNIOR LEAGUE OF MOBILE (11-09-522)
The Junior League of Mobile was originally founded in 1925 as the Mobile Charity League. In 1932 it was incorporated into the Association of Junior Leagues International (AJLI). The Junior League is committed to promoting volunteerism, developing the potential of women, and improving communities through effective action and leadership. The Junior League of Mobile Records contain correspondence, minutes, publications, photographs, scrapbooks, and subject files detailing the operations of the organization from its founding through 2009. The subject files contain a great deal of information about volunteerism in post-World War II Mobile, particularly in the areas of children's health and education. 44 linear feet.
J
KEOUGHAN, PATRICIA AND EMDE, JUDY
Primarily photocopied genealogical material related to interconnected families who helped settle the Vine and Olive Colony of Demopolis, Alabama. Includes the Baudin, Baudreau, Beylle, Bosarge, Fairley, Fowler, Gaillard, Girard, Grelot, Harwell, Herpin, Herve, Hurtel, Keoughan, Le Maistre, Lopez, Newsom, Nicaise, Noel, Pugh, Reynolds, Tardy, and Tete families. Also includes issues of the following periodicals: Delineator (December 1893), Demorest's Illustrated Monthly (March and November 1868), Frank Leslie's Ladies' Magazine (September 1865), Harper's New Monthly Magazine (July 1858), Godey's Lady's Book (July, September, October 1849; April 1853; September 1854; November 1855; January 1857; February, June, August 1858; October 1859; April 1860; February, April 1864; July 1866; January-March and June-July 1867).
K
KESLER, LUTHER E. (95-09-290)
Contains 6 pocket diaries that document the life of this school teacher, farmer, and barber. The handwriting in the diaries can be hard to decipher but they are dated ca. 1908, 1912-1913, 1916, 1918, and 1923. The entries are extremely brief, sometimes no more than "at home," "short day," or "I'm sick." They trace the life of Kesler from his school days in Mississippi to his teaching career in Baldwyn, Mississippi, to his job as a truck driver for Railroad Mail Service. The diaries also list Kesler's cash balance and make notes about Mississippi history. .25 linear feet.
K
KING, CLINTON (91-09-228)
Includes copies of many nineteenth- and twentieth-century maps of Alabama and the Gulf Coast area from the National Archives, the Library of Congress, and the Mobile City Engineer's Office; U.S. Geodetic Survey maps for many counties in Alabama; and county maps from the Alabama State Highway Department. An inventory is available. The collection also contains microform copies of the American State Papers, Mobile County census records for 1900, Alabama census records for 1910, and the following Mobile County Probate Court materials: Orphan's Court Minutes (1813-1850), Marriage Indexes (1813-1867), Real Property Indexes (1813-1907), Miscellaneous Books-Old Series (1819-1958), Translated Records (1715-1841), and Will Books (1813-1850). Typed transcriptions of the Probate Court Will Books prepared by Mr. King are available. There are also copies of New Orleans passenger lists (1717-1724) and baptismal and death registers (1720-1730); records of the Opalousas Post (1789-1803); and an index to baptisms at St. Louis Cathedral, New Orleans. 71.25 linear feet.
K
KOSTMAYER SR., CHARLES (05-07-448, 08-08-481)
One scrapbook and one album related to the World War II service of Charles Kostmayer Sr. Also includes various documents pertaining to Kostmayer's attendance at several colleges, including the University of South Alabama. The scrapbook was assembled by Kostmayer's mother. It contains clippings about the war taken from the local newspaper. The album consists of photographs dated 1942 to 1945 of Kostmayer and his fellow soldiers as he was being trained with the Army Air Corps. The material is in poor condition but has been photocopied. The collection also consists of an oral interview with Kostmayer, which is available on CD. 2.25 linear feet.
K
KOTHEIMER, PHILLIP (92-09-246)

Contains approximately 400 maps for the tracks and right of ways of the Mobile & Ohio Railroad, from Mobile, Alabama to Jackson, Tennessee, including complete coverage of the Bay Shore Line in Mobile County, Ala. Also included are copies of the Historical Society News of the Gulf, Mobile & Ohio Railroad (1978-1990), the Illinois Central Gulf News (1972-1979), and the annual reports of the Mobile and Ohio Railroad (selected years from 1879-1939), the Gulf, Mobile & Northern Railroad (selected years from 1921-1938), Illinois Central Railroad (1958; 1968-1969), Illinois Central Industries (1966-1976), and the Gulf, Mobile & Ohio Railroad (1940-1970). 24 linear feet.

The collection also contains copies of the Mobile Theater (1908-1910). Published by John T. Kern Jr., this was a combination event program and advertisement circular for theaters, hotels, and restaurants. 26 linear feet.

K
LEAGUE OF WOMEN VOTERS (79-09-37)
Minutes, annual reports, newsletters, correspondence, and miscellaneous papers of the Mobile chapter of the League of Women Voters dating from 1955 to 2007. Also includes a series devoted to environmental issues. 19.25 linear feet.
L
LEFLORE, JOHN L. (85-07-93, 08-09-491)
Materials relating to various activities of civil rights leader John L. Leflore. Included are correspondence, minutes, and other records of the regional, state and local NAACP (1939-1956); the Mobile Housing Board (1966-1970); the Alabama House of Representatives (1975-1976). The collection also contains one CD with John LeFlore's FBI file, photographs, and articles written by Mr. LeFlore for various newspapers. The papers have been microfilmed. (See also University Collections under Larry Holmes, Melton McLaurin, and Rearguard.) 10 linear feet.
L
LEFLORE ORAL HISTORY PROJECT (97-20-328)
Contains videotaped interviews with Joseph Langan, O. B. Purifoy, Dr. W. B. LeFlore, Janet LeFlore, Fred Richardson, J. C. Randolph, Hon. James T. Strickland, Henry Williams, Geraldine Clark, and Lancie Thomas. The interviews, filmed in 1996, are available on 34 VHS video tapes. They were produced under a grant from the Alabama Humanities Foundation for a documentary on John L. LeFlore. An index for the tapes is available. (See also University Collections under Larry Holmes, Melton McLaurin, and Rearguard.)
L
LIFE FORMS MECHANICALS (715-2019)
Mechanical drawings for the comic strip Life Forms by Daniel Silver. Silver joined the Department of Mathematics and Statistics at the University of South Alabama in 1983. As an extracurricular activity he wrote and drew the comic strip Life Forms which was published in a local alternative newspaper called The Harbinger. Publication of this local newspaper began in April 1983 as On Guard. It ceased publication in 2001. Accession includes 2 bound albums and 223 original large format mechanicals. Hand drawn ink on paper and Bristol board with Zipatone. 2 linear feet.
L
LOGAN, DANIEL W. (96-09-309)
Correspondence, journals (1862, 1869-1870, 1898, 1899-1901), and account books of Daniel W. Logan, a bookkeeper. Born in Charleston, SC, in 1835, Logan lived in Mobile from the 1860s until his death in 1906. The journals discuss events of the day, as well as Logan's travels, visitors, work schedule. They also allude to the Civil War and Reconstruction. 2 linear feet.
L
LOTT, VIRGINIA (04-08-417)
Virginia Lott was an information specialist for the Mobile County Commission, where she worked from 1945 until 1986. The papers in the collection (1955-1986) include manuals, handbooks, articles, and news clippings relating to both the 1888 and 1958 Mobile County courthouses, as well as to forts, historic buildings, and other historic information relating to Mobile County. (See also Photograph Collections under the same heading.) .5 linear feet.
L
LYONS, MARK (03-09-406)
Correspondence of Mark Lyons (1840-1887), Confederate States Army, February 18, 1861 to June 19, 1865. The letters are addressed to his fiancee (and later his wife) Amelia Horsler (1845-1916). Lyons first period of service began at Camp Beulah, Mobile. He was in Mississippi through 1862, resigned from the army, and married Amelia Horsler in 1863. He then re-enlisted in May 1864 and was stationed at various batteries in the defenses of Mobile until the end of the war. The letters have been transcribed by a relative. Some background about Mark Lyons and historical notes about the activities of the Confederate Army are included. 1 linear foot.
L
MARDI GRAS AND SOCIAL CHANGE (696-2017)
A collection of 21 interviews by Isabel Machado dos Santos Wildberger covering subjects related to Mardi Gras in Mobile, LGBTQ issues, The Order of Osiris, race, and other topics. Recorded 2014-2017.
M
MASTIN, CLAUDIUS HENRY (04-09-412)
Dr. Mastin, a prominent nineteenth-century Mobile physician, was the founder of the Congress of American Physicians and Surgeons and one of the organizers of the American Surgical Association. This collection contains letters, 1871-1898, from many prominent physicians to Dr. C. H. Mastin. Correspondents include Jacob Huggins, George August Ketchum, Henry F. Campbell, James Guild, E. L. Keyes, and John Guiteras. Medical issues discussed include lithotomy and yellow fever. .25 linear feet.
M
MAYGARDEN, JEANETTE (00-20-362)
Twenty-one videotaped interviews, 1994-1995, with various Mobilians including Charles Boyle, Caldwell Delaney, Jack Edwards, William J. and Emily Staples Hearin, Paulette Horton, Joseph Langan, Lionel Noonan, Jack Stallworth, Eugene Walter, Frederick Whiddon, and Caldwell Whistler. Also includes interviews with members of the Murphy High School Class of 1943 at their 50th reunion, and with Frances Sibley on the history of Murphy. The interviewer, Jeanette Maygarden, worked as Woman's Editor at the Mobile Press Register after graduating from Murphy and pursued a career in public relations. Permission from interviewees or their heirs must be obtained prior to quoting from these interviews. (See also Photograph Collections under Samuel Eichold.)
M
MCCALL SR., DOY LEALE (11-09-546)
Still undergoing processing, this collection consists of approximately one million documents related to Alabama's Black Belt region. Two portions of the collection -- the printed material and the Pickens Papers -- are now open for research. The printed material includes advertisements, almanacs, books, broadsides, brochures, circulars, flyers, magazines, pamphlets, periodicals, reports, and sheet music, but not newspapers, which have yet to be organized. The Pickens Papers include material on Alabama's third governor, Israel Pickens, Israel Pickens's brothers and his nieces and nephews. Subjects found within the Pickens Papers include pre-Alabama statehood, politics, government, slavery, Reconstruction and the Civil War. The documents date from 1808 to 1944 [bulk 1820-1899]. A guide to the Pickens Papers is available, as is an exhibit of selected items from the collection. An appointment is required for the use of this collection.
M
MCCORVEY, GESSNER T. (06-09-462)
Kept in his youth by the former Alabama state Democratic executive committee chairman, this one-volume (November 1, 1907 - August 1, 1909) handwritten financial journal details household and business transactions. Gessner is perhaps best known as one of the leaders of the Dixiecrat revolt of 1948, and for his support of the Boswell Amendment, a 1945 codicil to the Alabama state constitution that selectively disfranchised blacks and poor whites. .1 linear feet.
M
MCDONALD, IRENE (08-09-490)
This small collection consists of several letters and postcards sent to the donor by Nobel Prize-winning authors and other famous people. The writers include William Golding (Nobel Prize 1983 and author of Lord of the Flies), Nadine Gordimer (Nobel Prize 1991 and author of A Guest of Honour), Doris Lessing (Nobel Prize 2007 and author of the Martha Quest series), Walker Percy (author of The Moviegoer), and Adlai Stevenson (1952 Democratic nominee for president of the United States). 1 folder
M
MCNEELY, S. BLAKE (00-09-371)
Although this collection spans the years from 1917 to 1979, the dates of the material vary depending on genre. The donor, a freelance photographer, worked for the Mobile and Ohio Railroad before founding Gulf States Engraving. It contains documents relating to McNeely's investments (1917-1918), correspondence (1930-1932, 1937, 1946, 1972-1974), biographical information, and various publications in which McNeely's photos appeared. The publications are mostly local. It also includes research for his books and some of his photos. A large part of the collection is McNeely's manuscript for Papa, the River, and Me: True Experiences along the Mississippi (1975). He is also the author of Bits of Charm in Old Mobile (1946). Of interest in the collection are a Seamen's Bethel booklet, a copy of a book on the Mississippi River steamboat era, and a booklet about the Waterman Steamship Corporation (ca. 1944). (See also Photograph Collections under the same heading.) 2 linear feet.
M
MCWILLIAMS, RICHEBOURG GAILLARD (97-09-319)
Contains correspondence, notes, maps, publications, and other research materials relating to two books, Fleur de Lys and Calumet, Being the Penicaut Narrative of French Adventure in Louisiana (1953) and Iberville's Gulf Journals (1981), and several articles written by Richebourg McWilliams (1901-1986). McWilliams served as head of the Department of English at Birmingham-Southern College and Professor of English at the University of South Alabama. An inventory is available on site. 3 linear feet.
M
MCWILLIAMS, TENNANT S. (84-09-67)
Notes and other research materials used in the production of Tennant McWilliams's book Hannis Taylor: The New Southerner as an American (1978). Dr. McWilliams was professor of history and dean of the School of Social and Behavioral Sciences at the University of Alabama at Birmingham. 1 linear foot.
M
MILITARY ACTIVITIES IN MOBILE
One reel of microfilm of news clippings of military activities in Mobile from 1941 to 1943.
M
MIMS, LAMBERT C. (08-09-459)
This extensive collection consists of a multitude of subjects connected with the long-time political career of this former mayor/city commissioner. Consisting of a vast array of genres, from judicial and legal records to proclamations and press releases to campaign material and photographs, the information in this collection covers local topics typically found within such collections, but it also contains material related to Mims' personal religious views and to the American Public Works Association. Mims was rotating mayor and public works commissioner of Mobile from 1965 to 1985. (See also Photograph Collections under ALCOA, Gary Gaston, U.S. Army Corps of Engineers, and University Collections under Larry Holmes, Melton McLaurin, and Rearguard.) 136.5 linear feet.
M
MOBILE AREA CHAMBER OF COMMERCE (04-08-409)
This Mobile organization was the first in the state, chartered by the Alabama Legislature in 1854. The materials in this collection relate primarily to the development of Dauphin Island and include brochures, photographs, scrapbooks, and news clippings. The collection also includes, however, two scrapbooks dedicated to the 1971 visit of President Richard Nixon. 3.5 linear feet.
M
MOBILE AREA FOUNDATION FOR PUBLIC HIGHER EDUCATION (03-09-399)
This small collection includes correspondence, the 1962 incorporation papers and by-laws for the Mobile Area Foundation for Public Higher Education and a deed for "Indian Mound Park" on Dauphin Island, as well as resolutions of the board of directors for the foundation from 1962 regarding the purchase of the Dauphin Island property for a Marine Resources Laboratory. It also has documents relating to finances, expenses, and contracts for services. (See also University Collections under Ernest Cleverdon and Frederick Whiddon.) .5 linear feet.
M
MOBILE AREA HOLOCAUST SURVIVORS COLLECTION (688-2017)
The Mobile Area Holocaust Survivors Collection includes fifteen research files containing testimonies, photographs, original documents, facsimiles, news articles, audiovisual items, and biographical information pertaining to fifteen individuals who resided in Mobile, Alabama after having survived persecution during the Nazi Holocaust. (See also Mobile Christian-Jewish Dialogue, and Ahavas Chesed Records) 1 linear foot.
M
MOBILE BAR ASSOCIATION (10-09-525)
Bulletins, by-laws, committee reports, constitution, correspondence, financial documents, membership lists, minutes, notes, scrapbooks, etc., of the fourteenth oldest bar association in the United States. The Mobile Bar Association was incorporated on April 12, 1869, making it the oldest bar association in the state of Alabama. Also includes material related to the women's auxiliary of the bar association. 15.75 linear feet.
M
MOBILE BAR PILOTS ASSOCIATION (94-09-284)
Miscellaneous correspondence, minutes, reports, and materials of the Mobile Bar Pilots Association (1910-1916). Includes the records of the Harbor Master and Boards of Port Wardens and Pilot Commissioners (1896-1914). Also included are several articles written by William M. P. Dunne, a noted naval historian. .25 linear feet.
M
MOBILE BAY AUDUBON SOCIETY (91-09-236)
Includes newsletters, minutes, agendas, resolutions, correspondence, and notes of the organization (1970-c. 2000). It also contains numerous articles, reports, and studies from various sources dealing with a wide range of environmental and developmental issues pertaining to Mobile, southern Alabama, and the Gulf Coast in general (e.g., the Tennessee-Tombigbee Waterway, the Cochran Bridge replacement, the management of chemical waste, and disposal of dredging materials). 57 linear feet.
M
MOBILE BRITISH WOMEN'S CLUB (96-09-315)
Includes correspondence, meeting notes, membership lists, news clippings, and photographs of the Mobile British Women's Club from 1964 to 1994. A brief finding aid is available. .5 linear feet.
M
MOBILE CHAMBER ORCHESTRA (99-08-347)
The Mobile native and American author, actor, poet, and editor Eugene Walter was one of the founding members of the Mobile Chamber Orchestra. This collection contains 13 letters written in 1948 and 1949 to Walter while he was living in New York. Nine of the letters are from Max McGill and two are from Catherine Middleton, both Chamber members. The collection also includes programs from the 1947 through 1950 seasons and news clippings A number of the programs have handwritten annotations remarking on the performance. (See also Photograph Collections under McGill Studio.) .25 linear feet.
M
MOBILE CHRISTIAN-JEWISH DIALOGUE (687-2016)
Three scrapbooks containing news clippings, photographs, programs, correspondence, and fliers documenting the activities of the group also known as the Mobile Area Jewish-Christian Dialogue. The entire collection of documents has been digitized and is available at Mobile Christian-Jewish Dialogue .75 linear feet.
M
MOBILE COUNTY CIRCUIT COURT RECORDS (85-09-125)
The Mobile County Circuit Court records include 613 linear feet of individual case files and over 300 bound volumes of minutes, final records, etc. The materials date from ca. 1830 to ca. 1917. Naturalization records created by these courts have been indexed by Clinton P. King and Meriem A. Barlow in Naturalization Records, Mobile, 1833-1906, and the minute books containing these records have been microfilmed. Divorce cases are also available on microfilm and have been indexed by staff at The Doy Leale McCall Rare Book and Manuscript Library in Index to Divorce Cases of the Thirteenth Judicial Circuit Court of Alabama, 1816-1918. Many of the early cases require cleaning and preparation by staff before researchers can use them. See instructions for ordering copies of court records. 839 linear feet.
M
MOBILE FEMALE BENEVOLENT SOCIETY (97-08-324)
Founded in 1829 as a non-denominational organization to aid indigent widows through the donation of food, clothing, and medical supplies. Contains correspondence, financial records, the 1831, 1937, and 1951 constitutions, articles of incorporation (1841), inmate policies and legal agreements, resident lists (1873-1960), and minutes from 1860-1864, 1886-1892, 1897-1898, 1953-1954, 1982-1983, and 1988-1989. 2 linear feet.
M
MOBILE HOUSING BOARD (98-09-344)
The records of the Mobile Housing Board cover roughly the years 1950 to 1980 and concern the urban renewal projects which the housing board directed. These project areas included Water Street, East Church Street and Central Texas Street. The collection contains appraisal reports with photos of acquired properties, project planning books, maps of project areas, correspondence between the Mobile Housing Board and the Department of Housing and Urban Development officials, various HUD publications, as well as files concerning the activities of the Mobile Community Action Committee. Box inventories to the collection are available on site. (See also Photograph Collections under the same heading and under Mobile Historic Development Commission, and Printed Material under Mobile Housing Board.) 305 linear feet.
M
MOBILE JUNIOR MUSIC CLUB (09-07-509)
This collection contains 11 complete and 1 incomplete scrapbooks (1979-1991) of the Mobile Junior Music Club. Within the scrapbooks are photographs, awards, programs, and other material. 1.5 linear feet.
M
MOBILE TRICENTENNIAL, INC. (02-09-400)
In 2002 Mobile celebrated the 300th anniversary of its founding by the French. This collection consists of the records generated by the non-profit agency established to direct / coordinate events related to the year-long tricentennial celebrations. Most of the records were accumulated by tricentennial office staff. They consist of general office files as well as the files of the president of the committee, meeting minutes, budgetary material, public relations files, banners, posters, and photographs, as well as various other documents. Of interest within the collection are a proposed time capsule, a copy of a 1902 poem about Mobile, plans for the development of Africatown, a proposed documentary on Cudjo Lewis, material related to the visit of the two-masted schooner Amistad, a reunion at Brookley Field, a bibliography of the history of Baldwin County, a report on the economic effect of the celebration, correspondence to/from Governor Don Siegelman, documents about Sail Mobile, material related to the greening of the city, and a variety of other material on a myriad of subjects. 23 linear feet.
M
MOBILE UNION STATION (90-09-198)
Blueprints of floor plans, elevations, and architectural details of Mobile Union Station (M&O Railroad) showing the original building in 1905 and alterations in 1946, 1957, and 1977. An inventory is available on site. 3 linear feet.
M
MOST PURE HEART OF MARY CATHOLIC SCHOOL INTERVIEWS (655-2013)
This collection include 16 CDs containing 33 oral interviews held with former faculty and students of the segregated, all-black Most Pure Heart of Mary Catholic School. The school was organized in 1899. Some of the interviewees include Dora Finley, Sheila Flanagan, J. Gary Cooper, Harold Ducloux, Fred Richardson, and former Clinton secretary of labor Alexis Herman. There are transcripts for most of the interviews.
M
MOWA BAND OF CHOCTAW INDIANS (07-09-470)
Photographs, correspondence, manuscripts, newspaper clippings, journals, books, court documents, and other research related material gathered by historian Jacqueline Anderson Matte, and relating to the MOWA band of Choctaw Indians, a group of people who reside along the Mobile and Washington counties' borders. Matte used the information in writing her book They Say The Wind is Red and in her appearance in front of the U.S. Senate's committee on Indian affairs, before which the MOWAs were seeking federal recognition as an Indian tribe. Also included are research materials Matte used to compose The History of Washington County, Alabama. Prior notice of interest in this collection is required. 25.5 linear feet.
M
NEIGHBORHOOD ORGANIZED WORKERS (NOW) (06-09-453, 06-09-454)
The Neighborhood Organized Workers (NOW) was established in Mobile, Alabama, in July 1966. NOW carried on direct action in an effort to achieve political, social, and economic reform in the African-American community. This collection contains copies of NOW's FBI files (1968-1971) and covers topics related to African-American leadership, race relations, civil rights activities, school desegregation, voter registration, economic boycotts, and black nationalism in Mobile, Alabama, and surrounding areas. These files were obtained through a U.S. Department of Justice Freedom of Information Act request, and include memorandums, informant reports, newspaper clippings, and copies of handbills gathered by the Mobile, Alabama, FBI Field Office in its investigation of NOW and its activities. The FBI's primary correspondent is Mobile's Special Advisory Commission (SAC). Typical information gathered includes summary reports of NOW meetings, the composition of NOW leadership, and an interpretation of the African- American community's attitude toward NOW, civil rights, and race relations. A companion collection includes taped interviews with civil rights activist and founding member of the Neighborhood Organized Workers Jerry Pogue, former journalist for the Southern Courier newspaper and founding member of the Neighborhood Organized Workers David Underhill, and George Langham, educator and member of the Neighborhood Organized Workers. Guides to the FBI Files and the Oral History interviews are available on this web site. An appointment is required to view this collection. Also please note: it is the sole responsibility of the researcher to secure permission to quote from or publish material from the interviewees of the oral history project. (See also University Collections under Larry Holmes, Melton McLaurin, and Rearguard.) .75 linear feet.
N
NON-PARTISAN VOTERS LEAGUE (92-09-247)
These records of a civil rights organization in Mobile, 1956-1987, contain materials concerning discrimination in public accommodations, employment, criminal justice administration, and public education, including the Birdie Mae Davis case, the cornerstone of the League's efforts at integrating the county public school system. John LeFlore was the director of casework for the organization until his death in 1976. Contains correspondence, minutes, administrative and financial records, legal documents, press releases, news clippings, and publications. The records have also been microfilmed. (See also University Collections under Larry Holmes, Melton McLaurin, and Rearguard.) 17.75 linear feet.
N
OLD DAUPHINWAY ASSOCIATION 91-09-240)
Minutes, correspondence, newsletters, news clippings, and photographs relating to the Old Dauphinway Historic District from 1976 to 1988. 4 linear feet.
O
OLSON SCRAPBOOK (08-09-483)
Dating to 1923, the Edna Evelyn Olson scrapbook contains memorabilia Ms. Olson collected the year she graduated from Barton Academy. Included are classmate autographs, graduation programs, calling cards, photographs, ticket stubs, and brief compiled lists of meetings for the "Better Speech" club. .25 linear feet.
O

PACE ORCHARD COMPANY (00-09-369)
While covering only a few years, this collection documents the nuts and bolts of operating and financing a Satsuma orchard. It consists of correspondence dating from February 1910 to May 1916 (with 1914 missing) between the operators of Pace and an array of other orchard owners, agents, nurseries, railways, and individuals. 1 linear foot.
P
PALMER, MARY S. (01-08-375)
Mary S. Palmer received an MA in English from the University of South Alabama in 1984. This collection contains research notes for her thesis entitled "Keep on Keeping on: The Story of George Wallace," as well as an unpublished 1995 popularized and updated version of that thesis. The collection also includes news clippings about Wallace's career and the assassination attempt on his life, notes, interviews, and memorabilia. (See also Photograph Collections under the same heading.) 1.5 linear feet.
P
PARISH, EARL (90-09-193)
Correspondence, photographs, and other personal effects belonging to Second Lieutenant Earl O. Parish, United States Army. Lt. Parish was born in Battle Creek, Michigan in 1918 and was killed in Italy on December 9, 1943. 2 linear feet.
P
PBX TELECOMMUNICATIONS CLUB SCRAPBOOKS (01-09-381)
Five scrapbooks belonging to the PBX Telecommunications Club. They cover the period from 1974 to 1976 and 1984 to 1988. 1 linear foot.
P
POSEY, OWEN S. COLLECTION
(717-2018)
The Owen S. Posey Collection contains documents and ephemera related to the work Posey did for the Mobile I-10 Tunnel, also known as the Wallace Tunnel, and for the renovation of the Bankhead Tunnel.
P

RAYFORD, JULIAN LEE (91-09-227, 96-09-308)
Contains four notebooks of poetry, street cries, chants, and stories written or collected by Rayford and three manuscript versions of Rayford's novel about Mike Fink entitled Child of the Snapping Turtle (1951). The earliest manuscript is undated and incomplete, the second is dated 1948, the third carries revisions of the 1948 manuscript. They are available on microfilm. 2.25 linear feet.
R
RICKARBY, ANN H. (92-09-249)
Made up of various papers belonging to Rickarby's grandfather, George Duncan Rickarby, who was a cotton buyer prior to and after and blockade runner during the Civil War. (See also Photograph Collections under the same heading.) .25 linear feet.
R
ROSS III, JACK F. (04-07-460)

Contains one scrapbook consisting of the personal memorabilia of a member of one of Mobile's prominent families. The scrapbook contains invitations and other such miscellaneous items, as well as photographs (many of which are unidentified). Although he did not live a life of wealth, the scrapbook does reflect the social life of someone of Ross's standing between the 1920s and the 1940s. There are no negatives for the photos. A brief index is available. .5 linear feet.

R
ROTARY CLUB OF MOBILE
The Rotary Club of Mobile, an affiliation of the Rotary International, was organized on May 14, 1914. This small collection consists of two of the club's rosters. One is undated but provides an image of each member and gives the member's birthday, date of affiliation with the local club, and the member's place of employment. The second roster, dated, 1979, lists the same information, but it also gives the member's birthplace, spouse's name, and address. .25 linear feet.
R
RUSHING, ALLEN (12-09-625)
Includes 205 issues of the Gulf, Mobile and Northern News dating from November 4, 1921 to August 11, 1930 (vol. 1, no. 1 through vol. 9, no. 19) with some issues missing. Also includes Rushing's master's thesis entitled "Isaac Burton Tigrett and the 'Rebel Route'" (Tennessee Technological University, 1965). In addition to the above, the collection contains five typed documents related to Tigrett. 1 linear foot.
R
ST. FRANCIS STREET METHODIST CHURCH
Founded in 1840, this Mobile church maintained a continuous congregation until 1993. Its records include microfilm of membership rolls, marriages, baptisms, newsletters, and church bulletins, as well as historical information on ministers that served the church, and files on church members who were featured in local newspapers. A finding aid is available on site. 19 reels.
S
ST. PAUL'S EPISCOPAL CHURCH
Two rolls of microfilm containing baptismal records (1902-1997), burial records (1908-1918 and 1924-1997), church registers (1908-1992), day books (1901-1910), donation records (1902-1908), and marriage records (1904-1997). There are gaps in dates occasionally.
S
SAUNDERS, JAMES E. (94-09-282)
One 900-page ledger used by James E. Saunders. Entries cover the period from 1858 to 1863 and record profits and losses, commissions, sales, and interest and dividends. Saunders was a commission merchant in Mobile from 1842 and co-owner of the firm of Bradford and Saunders (which became Saunders and Son). Over 125 individuals and firms are listed, including a few African Americans.
S
SCHUMANN MUSIC CLUB (95-09-293)

Scrapbooks, programs, and minutes of the Clara Schumann Music Club (1894-2004), an organization founded to "advance the interest, and promote the culture of music in the city of Mobile." 4.25 linear feet.

S
SCHWEITZER, ALBERT (08-08-494)
Consists of 516 books written by or about or including mention of Albert Schweitzer, as well as binders of photocopied articles about Schweitzer; bibliographic information; calendars; cassette tapes; DVDs; ephemera; magazines; news clippings; periodicals; postcards; and video tapes. Also includes three letters signed by Albert Schweitzer. The material was compiled by Arthur E. Schulz, a Schweitzer aficionado. 66.2 linear feet.

S
SEXTON, CARLTON CLARK (755-2022)
This collection contains a journal belonging to Fannie Eleanor Smith, a scrapbook compiled by Sarah Hunter Smith, military orders and Civil War bonds, personal correspondence and genealogical research compiled by Clark tracing the Clark-Smith family. 3 linear feet.
S
SHORT PUBLICATIONS
Consists of 1 roll of microfilm with miscellaneous short publications, including "Memories of Melrose Farm," "The Paper Shell and Satsuma Orange," "Waterman Steamship Corporation," "The Port of Mobile," "The Teller," and "Over the Ways" (about the shipyard at Chickasaw).
S
EDDIE CURRAN / DON SIEGELMAN RESEARCH PAPERS
These papers were compiled by Eddie Curran, a former reporter with the Mobile Press Register. They consist of investigative material gathered by Curran during his research into the gubernatorial career of former Alabama governor Don Siegelman. The papers include public records, court records, email, correspondence, newspaper stories, financial documents, election records, notes. The papers are not comprehensive and do not reflect material demonstrating the former governor's point of view. 8 linear feet.
E
SIENA VISTA GARDEN CLUB (08-07-477)
Newspaper articles, art magazine clippings, magazine articles, ads, postcards, and photographs related to the Sienna Vista Garden Club and its mission to promote beautification in their neighborhood. The Garden Club was founded in 1948. As part of their beautification efforts, homeowners on Siena Vista Street agreed to decorate their homes and yards during the Christmas season, something for which they became renowned. Viewing the decorations became an annual tradition for many Mobilians. .25 linear feet.
S
SKIPPER, WILLIAM N. "BILLY" (92-09-256)
Dancer, choreographer, and film maker, William "Billy" Skipper (1921-1987) spent much of his life in New York and on the West Coast, but this native Mobilian also maintained contact with artists in the Mobile area and made several films locally. This collection contains 26 letters from Julian Lee Rayford to William Skipper (1966-1975); slides, negatives, and photographs of Rayford and his folklore drawings; a tape recording of Rayford. There are also several versions of an unpublished play written by Skipper about Tempy Smith, a black woman from Macon County, Alabama, who was a spiritual healer and mid-wife. Films include "As the Grass" produced by Spottswood Studios and featuring Sally Maloney and William Skipper, and unedited footage showing construction of the Wallace Tunnel, the Mobile Civic Ballet, and the Blessing of the Fleet at Bayou La Batre. A finding aid is available on site. 1.5 linear feet.
S
SLEDGE, JOHN (96-09-310; 523-2010; 633-2012)
Accession #310 formed the basis for an article written by John Sledge, architectural historian with the Mobile Historic Development Commission, about Dr. Robert Rea, historian and professor emeritus at Auburn University. They include biographical and professional career notes written by Rea, correspondence between Sledge and Rea (1980-1995), copies of some of Rea's articles, and a few news clippings and photographs. Also included is a copy of Sledge's article which was published in the Gulf Coast Historical Review (Spring 1995). .25 linear foot. Accessions #523 and 633 are made up original, photocopied, and electronic copies of the book reviews written by Sledge during his long tenure as the book review editor for the Mobile Press Register. The collections also have correspondence related to those reviews, and a copy of and book reviews of Sledge's book Southern Bound.
S
SONS OF CONFEDERATE VETERANS (649-2013)
An artificial collection made up of loose minutes, reports, proceedings, reunion materials related to the United Sons of Confederate Veterans. Also includes a constitution. The materials date from 1900-1908, although there is one item from 1948. Most of the items are related to the Alabama division of the group, but there are a few items from Texas. .25 linear feet.
S
STAFFORD, ADELE H. (99-08-352)
Adele Stafford's great-grandfather was James Ducloux, a master blacksmith at the U.S. arsenal at Mount Vernon. Her grandfather was William Holder, who served as post trader to the Indians. William's wife, Adele, and his son, William, visited the Apaches at Fort Sill, Oklahoma, after they were transferred there from Mount Vernon in 1894. This collection is made up of news clippings that discuss the history of Searcy Hospital; pension information for James Ducloux; family history of George M. Wratten, who acted as interpreter for the Apaches; an interview with Wratten's daughter, Blossom Haozous; and news clippings about the Apache reunion at Mount Vernon in 1982. (See also Photograph Collections under the same heading.) .25 linear feet.
S
STARNES, MILDRED C. (08-07-495)
Mildred Coleman Starnes graduated from the now-defunct Providence Infirmary School of Nursing in September 1930 and went on to spend her career in the nursing field. Following her death in 1996, her husband started a scholarship program at the University of South Alabama in her honor. The Starnes collection consists mainly of photographs from Starnes' nursing career, many of which were taken while she attended school. Several of the photos depict midwives from various parts of Alabama. Also includes other material related to Starnes' nursing career and the scholarship in her name. 1.5 linear feet.
S
STEVENS, LEROY (00-09-358)
Scrapbooks, newspaper clippings, and photographs relating to Leroy Stevens (1897-1972), a member of the Board of Revenue and Road Commissioners (1942-1957) and the County Commission of Mobile County (1957-1972). 1.25 linear feet.
S
THOMAS, JUDGE DANIEL H. (00-09-357)
Daniel Holcombe Thomas was born in Prattville, Alabama, in 1906. He was appointed to the federal bench by Harry Truman in 1951. Although Judge Thomas retired in 1972, he retained supernumerary status until his death in 2000, making him one of the United States' longest serving justices. Known as a conservative, Judge Thomas adjudicated several civil rights cases, the most important to our area being the Birdie Mae Davis v Mobile County School Board school desegregation case. He also developed a national reputation for presiding over maritime cases. This collection consists of 13 personal scrapbooks that contain miscellaneous speeches, letters, pictures, programs, and articles that span Thomas' entire judicial career, and one bound volume of congratulatory letters to him on the 15th anniversary of his installation as judge. 2.5 linear feet.
T
THOMPSON, RITA KARAN (737-2021)
Rita Thompson is a former University of South Alabama student who earned her MA in History. Thompson did her assistantships in the Archives under Dr. Michael Thomason. In 2007, Thompson completed one semester of research as a graduate student for the Mobile Historic Development Commission on early builders in Mobile. This research was used to write a short book on Builders of Mobile. The book and databases are accessible on the web at http://www.mobilehd.org/publications_builtcity.html. These were financed by a grant from the Sybil H. Smith Charitable Trust.
T
TOULMIN, HARRY T. (00-09-366)
Contains miscellaneous documents (1856-1936) related to Judge Harry T. Toulmin (1838-1916). The documents include biographies, deeds, and other property records (1869-1904), tax records (1856-1898), his will, estate papers, correspondence (1863-1936), and two photographs. Also includes one receipt book (1858-1868). Some of the material relates to Toulmin's judgeship and Civil War service. The judge began practicing law in Mobile in 1860. He entered the Confederate army in 1861 as a private and was later promoted to captain. Toulmin resumed the practice of law after the war. The collection also includes a list of officers and soldiers of the 22nd Alabama Infantry, as well as a typed report from Toulmin regarding the infantry's part in the Battle at Chickamauga, during which the son of Josiah Nott was killed. Some of the correspondence is between family members or concerns family business and a number of the letters concern Toulmin's selection to the federal bench. The receipt book lists expenses for, among other things, renting slaves. The collection also includes an invitation to a breakfast engagement with President Grover Cleveland. 1 linear foot.
T
TOULMIN II, HARRY T. AND MARY (00-09-363)
Harry Toulmin II's papers consist primarily of correspondence between he and his wife, Mary Duggar Toulmin (June 1943-March 1945, 1970) and he and his cousin George B. Toulmin (1936-1983, bulk 1936-1948), although there is also correspondence between George and George's mother (1942-1943), between George and George's old political science professor at the University of Alabama Dr. Charles Smith Jr. (1942-1943), and between George and various other contacts (1942-1943). Harry's letters to his wife discuss conditions and events during World War II, but they also mention Mary working during those years. The 1970s letters between Harry and Mary were written from and discuss the situation in Ethiopia. The letters between George and Harry talk a great deal in the early years about George's life at the University of Alabama but also discuss military subjects during the war years. The collection also includes a manuscript written by Toulmin that talks about the management of the Black Belt plantation owned by J. Freeman Suttle's son of the same name. In it, he discusses the convict leasing system and sharecropping and makes recommendations for improvement in the running of the plantation. 1 linear foot.
T
TOULMIN, FRANCES EUGENIE BOWERS (92-09-248)
Made up of poems written by Frances Toulmin around 1857 to 1860. .10 linear feet.
T
TOULMIN, MARY DUGGAR (93-09-263)
An unpublished manuscript by Mary Duggar Toulmin, "Annals of Mobile Theater, 1808-1861," and supporting research material. 2.75 linear feet.
T
TROTT, TOM (524-2010)
By-laws and charters (1914, 2910); telegraphs (1930s-1940s); annual reports and other financial documents (1867-1949); agreements, contracts, and indentures (1915-1950); deeds, leases, and blueprints (1914-1950); correspondence (1915-1950), and other assorted files relating to the Chicago & Alton Railroad, the Gulf Mobile & Ohio Railroad, the Mobile & Ohio Railroad, the New Orleans Great Northern Railroad, and the New Orleans Mobile & Chicago Railroad. 3 linear feet.
T
TROUSDALE, HATTIE (01-09-377)
Contains 1 scrapbook of postcards, news clippings, and letters. Most of the material is of a religious nature, although the scrapbook does contain one clipping about the Mobile Female Benevolent Society.
T

TSANG, EDMUND (374-2001)

Materials relating to the Harbinger newspaper (1983-2001) and its community education projects. Includes correspondence, newspapers, event advertisements, photographs, video tapes, audio recordings, half-tone comic strips (Dr. Silver's), Harbinger staff artwork, grant proposals, framed photo exhibit. 2 linear feet.
UNITED STATES DISTRICT COURT (85-09-72, 85-09-109, 96-09-124)
Documentation generated in four civil suits heard by the U.S. District Court in Mobile includes court exhibits, depositions, pleadings files, newspaper clippings, correspondence, and other official documents. 1. Bolden v. City of Mobile (1976-1984) contested the use of at-large elections and resulted in a change in the form of government for the City of Mobile. A box inventory is available (16 linear feet.). 2. Brown v. John L. Moore et al. (1980-1985) involved the discriminatory nature of school board at-large elections in Mobile County (12 linear feet.). 3. Jail Inmates v. Purvis (1980-1985) concerns prison overcrowding in Mobile County. There is an inventory available (5 linear feet.). 4. Lee et al. v. Macon County Board of Education was a joint civil action suit (1970-1985) concerning school desegregation in several Alabama counties and cities: Baldwin, Clarke, Conecuh, Dallas, Escambia, Macon, Marengo, Marion, Monroe, and Washington counties, Demopolis, Selma, and Thomasville (12 linear feet.).
U
VAN ANTWERP, MARY P. (03-09-404)
A photocopy of a diary written by Laura Roberts Pillans (1820-1883), great grandmother of Mary P. Van Antwerp, and a photocopy of a memoir written by Laura's husband, Palmer J. Pillans (1816-1898). Also includes news clippings about Eugene Walter, photocopies of letters from Eugene Walter to Van Antwerp, and miscellaneous Eugene Walter writings (some of which are photocopies) and drawings including "Ah Weeping Willoughby." .25 linear feet.
V
VETERANS' HISTORY PROJECT (09-09-499)
Consists of 17 interviews conducted 2005 as part of an African-American Studies class with local military veterans who served in every major American conflict from World War II to the Iraq War. Because of the demography of the class, the overwhelming majority of the veterans interviewed were African American. Six of the interviews are preserved as video files on CD-ROMs and seven were transcribed. Four of the interviews have no verbatim transcripts or audio files but are included in student reports. The collection also includes a brief overview of the project, written by the professor who taught the class. .5 linear feet.
V
VINE & OLIVE COLONY
This collection is primarily made up of photocopied documents related to a set of interconnected families living in Alabama, most of them in Mobile. Some of the members of the families were once members of the Vine & Olive Colony. The collection also include some original documents dating to the early part of the 19th century. The bulk of the documents in this collection are of a genealogical nature. 3 linear feet.
V
WALA / JOHN ROBB (683-2015)
A series of television reports written by John Robb on events in Mobile's past. Includes coverage of the Municipal Auditorium scandal, the trial and conviction of city commissioner Gary Greenough, politics, city development, abortion, the Alabama legislature, the airport terminal, corruption, Michael Donald, and national politics. .5 linear feet.
W
WALTON, JOSEPH A. (10-09-533)

Seventy-nine original poems written by local real estate agent Joseph A. Walton. The poems cover such topics as plants, animals, "Randolph" the mouse, places, and water, and a group entitled "et cetera." In addition, the collection contains some introductory material, as well as genealogical and biographical information. Walton is also the author of History of the Mobile Real Estate Association (Mobile, 1959). .5 linear feet.

W
WATERMAN, JOHN B. (93-09-275)
This collection deals primarily with operations of the Waterman Steamship Corporation from 1919 to 1937, and includes correspondence, mail contracts, construction loans, ship repairs, speeches, reports, published materials, etc. (See also Photograph Collections under Waterman Steamship Corporation.) 12.5 linear feet.
W
WATSON, LILLIE AND JOHN B. (87-09-156)
This collection contains some of the personal papers of John B. and Lillie Watson. Found within it are poll tax receipts (1913-1933), payment coupons (1937-1948), correspondence with the Veterans Administration (1936-1937), and other assorted receipts. Also includes 35 family photographs, none of which are identified. .5 linear feet.
W
WELCH, WALTER WADE (03-09-407)
Eugene Walter was the recipient of an Arts Council Residency Grant prepared by W. W. Welch that allowed Eugene to live in Baton Rouge for five months in 1980. The grant application and materials relevant to it are contained in the collection. Other material in the collection include correspondence between Walter Wade Welch and Eugene from 1979 to 1994, newspaper clippings, and Alabama publications featuring Eugene Walter. Also included are recipes, drawings, and a Harlequin Intrigue novel that features Eugene as a major character. The collection also contains information and memorabilia from Eugene's funeral, as well as information concerning the Renaissance Man Celebration and the book, Moment's With Eugene. In addition, this collection contains colorful commentary by Eugene concerning Welch. .5 linear feet.
W
WHIL/EUGENE WALTER (04-09-422)
Transcripts and tapes for "Eugene at Large," a radio program featuring poet and writer Eugene Walter. The program aired on WHIL-FM from 1993 to 1998 and featured discussion of local cultural events, recently published books, and food history and recipes. The taped programs are available on CDs. 3.25 linear feet.
W
WHISTLER CEMETERY
One reel of microfilm containing the index to burials at the Whistler Cemetery since 1919. It is unclear when the index ends, although it may be 1997 since the microfilm was shot that year.
W
WILLIAMS, ALICE A. (82-09-56)
Correspondence (1924-1951), legal papers, and memorabilia pertaining to Alice Armistead Jones Williams, a member of the Toulmin family. The collection (1902-1951) includes business correspondence (1915-1927), personal correspondence (1905-1951), photographs, financial papers, legal papers, mail order catalogs, women's health and beauty magazines (1902-1904), and newspaper clippings, and a notebook with fictional writing. A finding aid is available on site. 2.25 linear feet.
W
WILMER HALL (91-09-225)
This collection dates from the founding of the Episcopal Church Home in Mobile in 1864. It includes a diary (1864-1865) kept by Sister Harriet, one of the first three sisters at the home, a ledger book (1867-1872), an admissions journal (1875-1911), a record book (1915-1919), a minute book (1913-1922), miscellaneous photographs, and a master's thesis by Alice Blasingame, "A Study of the Episcopal Church Home in Mobile, Alabama" (Tulane University, 1941). 1 linear foot.
W
WISTARIA STUDY CLUB (05-09-445)
The Wistaria Study Club was organized in 1937 to "encourage educational betterment and stimulate intellectual and liberal culture." One of the club's most far-reaching efforts to aid education was its nursing scholarship program, which the group sponsored from 1940 to 1965. In addition to the nursing program, the Wistaria Study Club supported various local, state, and national charities or groups such as Murphy High School, the Miss Alabama Scholarship Fund, and the Creek Indian Fund. The records (1941-2002) consist of club minutes and correspondence, as well as information on the scholarship program. In addition, the collection has ten scrapbooks that relate to Wistaria Study Club activities and contain programs, news clippings, and photographs, among other material. 4.5 linear feet.
W
WOMAN'S CHRISTIAN UNION OF CHICKASAW (04-09-421)
Consists of 1 minute book (1927-1933) containing the organization's constitution and by-laws as well as membership and attendance records. The organization's objective was to enlist the women of Chickasaw in active Christian service for the betterment of civic and social conditions. .25 linear feet.
W
WOMAN'S CLUBHOUSE ASSOCIATION (04-09-420)
This association was founded in 1929 as a "social society to create and maintain an organized center of thought and activity among the women of Mobile; to aid in the promotion of their mutual interests in the advancement of science, education, civics, patriotism, literature, art, community service; and to provide a place of meeting for the comfort and convenience of its members." The collection includes scrapbooks (1931-2003), minutes (1930-1970), programs, correspondence, and songbooks. 14 linear feet.
W
WOOD, ARTHUR A. (02-09-393)
Includes correspondence, minutes, and reports dated 1963-1975 related to the establishment of a medical school at the University of South Alabama. Dr. Arthur A. Wood, a Mobile surgeon and member of the Medical Society of Mobile County and the Mobile Area Chamber of Commerce, served on a sub-committee of the Mobile Area Foundation for Public Higher Education tasked with pursuing the development of a medical school in Mobile. (See also Photograph Collections under Clyde Huggins, and University Collections under Clyde Huggins.) .25 linear foot.
W
YWCA OF MOBILE (85-07-97)
A scrapbook containing news clippings, photographs, letters, and programs of the Mobile YWCA from 1904 to 1949 is available on microfilm. 1 reel.
Y