Appraisals of Gifts to The McCall Library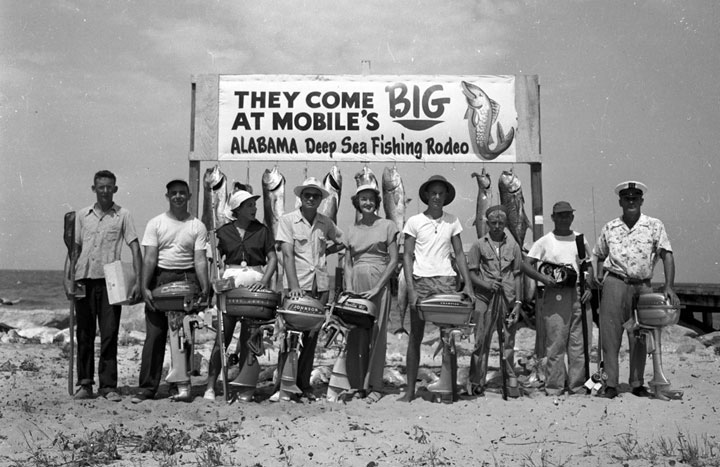 Alabama Deep Sea Fishing Rodeo winners pose with their prizes, c. 1949. History Museum of Mobile
Collection. Negative: MOM-3091H
---
As the Internal Revenue Service considers The Doy Leale McCall Rare Book and Manuscript Library the recipient of your donation, and subsequently an interested party, it is legally disqualified from appraising gifts. It is the donor's responsibility to obtain, at your own expense, an appraisal for tax purposes. If a donor wishes an official acknowledgment letter for tax purposes from the University's Development Office, the donation must be appraised. If there is no appraisal, The McCall Library can provide a proof of receipt letter that describes the item(s) donated.
In the event you elect to have your donation appraised, The McCall Library welcomes receiving a copy of that appraisal with the donation.
See irs.gov for forms and more information regarding appraisal and tax deductions.
---
For donors wishing items appraised for tax purpose the short list of appraisers below may be helpful:
American Society of Appraisers will provide a list of certified appraisers in your local area. www.appraisers.org/
Booksappraised.com will provide a formal, written appraisal of books for insurance, probate, or tax purposes. It will also do informal appraisals of between one and twenty-five books by email. www.booksappraised.com/
Additional sources of information are "Your Old Books," a publication of the Rare Books and Manuscripts Section of the American Library Association, the Antiquarian Booksellers' Association of America, online bookseller databases such as Bookfinder.com, or your Yellow Pages for a local antiquarian/rare/used bookdealer.
For more information about contributing materials, or for questions or concerns about the donation process, please contact the archives at (251) 341-3900 or mccalllib@southalabama.edu