Apply to Graduate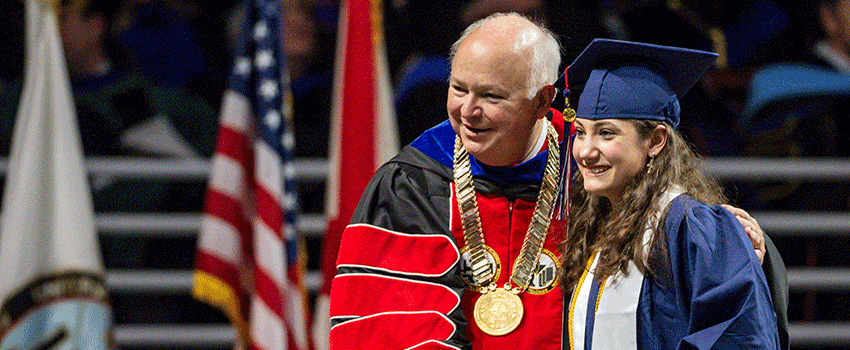 Congratulations on your upcoming graduation!
Students should apply for the graduation term in which all of their degree requirements will be met. If you are unsure of your graduation term contact your college advisor.
Degree candidates will receive emails to their University JagMail account and should check their emails often and manage them appropriately.
Graduation Application Deadlines
*It is essential that students apply before the posted deadline. Failure to apply by the deadline may delay a student's graduation term. To apply after the deadline, please refer to Late Graduation Application for more information.
Deadlines
Fall 2023
03-04-2023 thru 06-30-2023
FEE $65
Spring 2024
07-01-2023 thru 10-06-2023
FEE $65
Summer 2024
10-07-2023 thru 03-01-2024
FEE $65
Fall 2024
03-02-2024 thru 06-28-2024
FEE $65
Spring 2025
06-29-2024 thru 10-04-2024
FEE $65
** If you will complete your degree requirements in summer, apply for summer graduation regardless of the commencement ceremony in which you will participate.
Follow the step-by-step instructions below to ensure you meet all graduation requirements.
Step 1: Check your unofficial transcript on PAWS to verify that you have met the minimum requirements to apply for graduation.
| Level | Minimum Earned Hours | Minimum Institutional GPA |
| --- | --- | --- |
| Undergraduate | 84+ | 1.80 |
| Graduate | 12+ | 2.80 |
| Professional | 30+ | 2.80 |
Step 2: Apply for Graduation -
To apply to graduate, log into your PAWS account and under Student Services, select Student Records, then choose the link "Apply to Graduate".
The $65.00 graduation application fee will be charged to your student account. The application fee is term-specific, non-refundable, and non-transferrable (i.e., the fee may not be transferred to a graduation application for another semester). In order to receive your diploma, all financial obligations to the University must be cleared through the Office of Student Accounting.
If you need additional information, please contact the Registrar's Office at (251) 460-6251 or email graduation@southalabama.edu
Calendar of Events
Fall 2023 graduation application deadline
June 30, 2023
Spring 2024 graduation application deadline
October 6, 2023
Fall 2023 Commencement
December 15, 2023, at 10 a.m.
Spring 2024 Commencement
May 3-4, 2024
Summer 2024 graduation application deadline
March 1, 2024

revised 09/29/2023