Commencement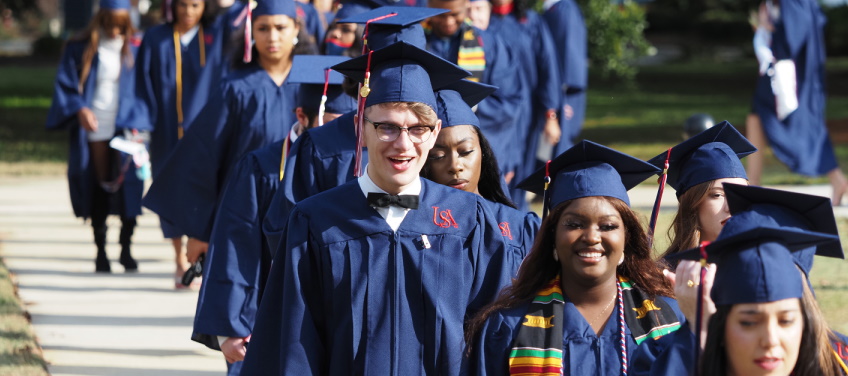 University of South Alabama Commencement
Congratulations, Class of 2022! We look forward to celebrating your accomplishments this December.

Fall 2022 Commencement
Saturday, December 10, at 10 a.m.
Location: USA Mitchell Center
Fall 2022 Commencement FAQs
Q: How do I order my cap and gown?
A: Regalia must be ordered from the university's approved vendor, Graduate Supply House, in order to participate in Commencement. Online regalia ordering for Fall 2022 Commencement opened on September 14. Visit https://gradsupply.com/usa/ to place your regalia order no later than November 7. Important deadlines and information regarding distribution dates is available on the Graduate Supply House website.
Q: Will masks be required?
A: As of February 16, 2022, face masks are optional on the University's academic campuses. The COVID-19 Response Team will continue to monitor the situation at USA and in the community, and will announce additional policy changes as needed. Commencement attendees will follow the masking policy in place at the time of the event. Please visit https://www.southalabama.edu/coronavirus/ for a comprehensive list of the University's current COVID-19 protocols.
Q: When and how do I RSVP for the ceremony?
A: A Google RSVP form will be sent to your JagMail email account in mid-October. The email will come from graduation@southalabama.edu. Please submit your RSVP by Monday, November 28, even if you do not plan to participate in the ceremony.
Q: How long will the ceremony last?
A: The ceremony is expected to last approximately 90 minutes to 2 hours.
Q: Is there a limit on the number of guests I can invite?
A: The University of South Alabama continues to closely monitor the coronavirus (COVID-19) outbreak. At this time, there is no limit to the number of guests a graduate may invite to commencement.
Q: Will guests need tickets to attend?
A: Tickets are not required for the Fall 2022 Commencement ceremony.
Q: I have a guest who will need accommodations. What should I do?
A: Wheelchair-accessible parking will be available in the Mitchell Center parking lot on a first-come-first-serve basis. A state-issued handicap placard or license plate is required for parking in this lot. It is recommended that guests with limited mobility enter the Mitchell Center via the ramp at the south entrance. Once inside the Mitchell Center, ushers will be available to assist guests. Sections 104 and 105 are reserved for mobility-impaired guests. Only one person may accompany each guest seated in these sections.
revised 09/26/2022