Commencement Video / Photographs / Flowers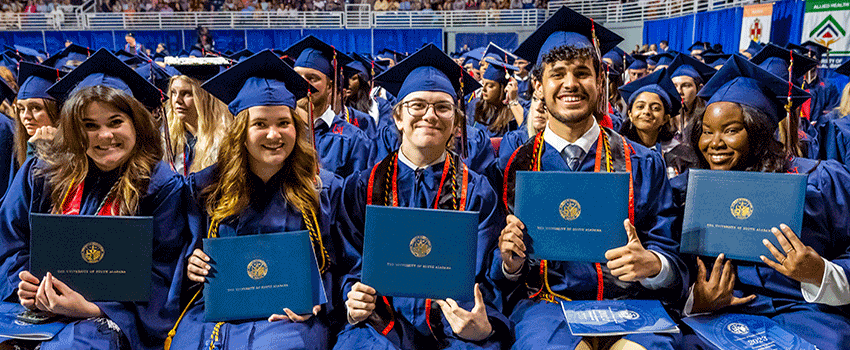 Video
Here are two ways you can view the commencement ceremonies:
Video Live Streaming — Commencement ceremonies will be live-streamed from the University of South Alabama Commencement website. The free online live video will begin approximately 15 minutes prior to the ceremony start time and will run until the end of the ceremony.
Video Archive — An archived copy of the university ceremony will be available on the USA Mitchell Center YouTube site approximately 48 hours after the ceremonies conclude. For ceremonies prior to Fall 2020, please visit the USA YouTube site's Commencement playlist.
Photographs
GradImages is the official commencement photographer for the University of South Alabama. Graduates will be photographed during the commencement ceremony, and proofs will be sent to them directly around 48 hours after the ceremony. You may pre-register to receive your proofs through their website at www.gradimages.com/universityofsouthalabama, and customer service questions may be directed to (800) 261-2576 or ecc.giservice@gradimages.net.
Flowers for Graduates
Members of the Mortar Board sell flowers at the graduation ceremonies to raise funds for the national project, Reading is Leading, and for scholarships.
Commemorative Commencement T-shirts
To pre-order a commemorative commencement t-shirt, please visit The Commencement Group at https://www.thecommencementgroup.com/usouthalabama/. The Commencement Group will have a contact-free customer experience for those who are simply picking up their pre-purchased and reserved product.
revised 06/22/2023