The Honors Experience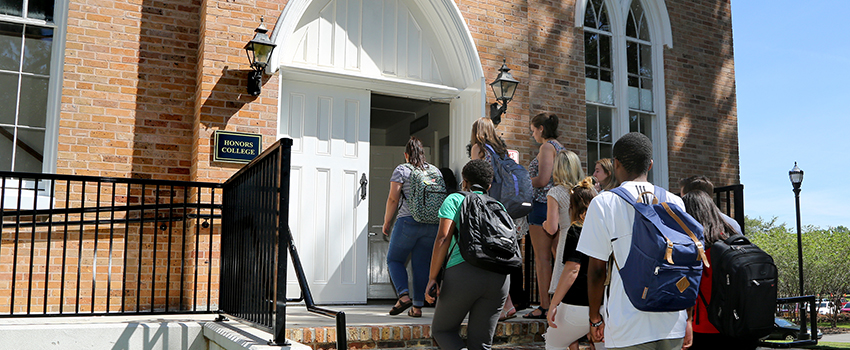 What should you expect as a member of the USA Honors College? Expect a community of scholars learning both inside and outside of the classroom. Read what Dylan Cox, Class of 2021, has to say.
Your First Year Experience
During the summer leading up to your first year at South, you will attend the Honors College Retreat. This retreat is filled with adventure, piquing your intellectual curiosity, and stretching you as you form friendships with your fellow Honors students.
As you begin your fall semester, you will enroll in courses pertaining to your major as well as general education courses. Many of these general education courses will be offered with an H-designation. You are required to have taken at least HON 101 freshman experience course, and have a 3.0 GPA by the end of your Freshman year. It is recommended that you complete AT LEAST 6 credit hours of Honors electives by the end of the year.
During your first year, you will have the opportunity to participate in many Honors sponsored events including Ghouls for Good, 12th Night, and Symphony Night to name a few. You may also attend other Honors events such as Movie Nights, Speakers/Symposia in the Bethel, and Tailgating when possible.
Lastly, during your first year you are encouraged to seek out faculty members that may be potential mentors for your research project/thesis in your senior year. You may also begin to arrange/begin volunteer research experiences (OUR) if possible, and begin working with Drs. Hamilton and Steadman to identify relevant competitive scholarship opportunities.
The Rest of Your Journey
As you move forward with your Honors experience, you will begin to become a more active member in our community of scholars. Each year, you will enroll in an HON course that prepares you for your Capstone Project or Thesis.
As a sophomore, you will be enrolled in HON 201, and move forward finding a mentor to begin research with. During this year, we encourage you to declare your major/minor if you haven't already and begin the application process for competitive scholarships as appropriate. You are required to finish your Sophomore year with a 3.25 GPA.
As a junior, you will be enrolled in HON 301, possibly begin departmental 499 research opportunities with your mentor, and begin taking upper division (300/400 level) Honors seminars. You are required to take at least 2 upper division seminars by graduation, and you are encouraged to find a seminar that piques your interest and intellectual curiosity. It is at this point in your Honors experience that we hope you will begin to embrace leadership roles within the college, and be involved in as many activities as time allows. You should begin planning or conducting the research for your thesis during your junior year. You are required to finish your Junior year with a 3.5 GPA.
As a senior, you will complete the remaining or all six of your departmental 499 research credits, and finish your Capstone/Thesis Research. We hope you will fully embrace leadership of the Honors College and mentor other students in their journey through Honors. You will defend and present your thesis by the end of your Senior year. You are required to finish your Senior year with a 3.5 GPA. If all Honors requirements are met, at the end of your Senior year, you will graduate with Honors.