Gumbo Chili Showdown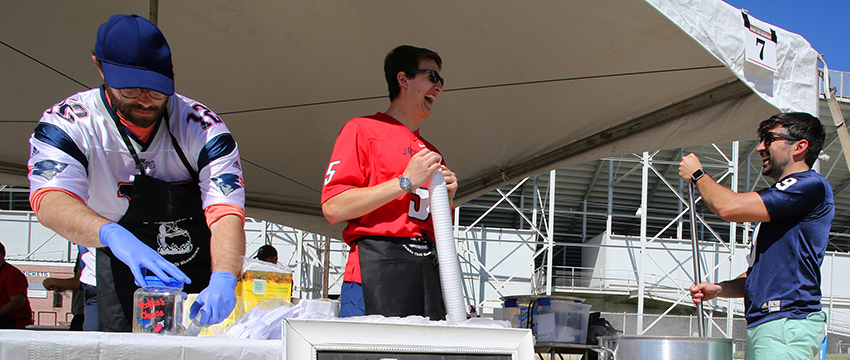 About the Gumbo Chili Showdown
The students of the USA College of Medicine are proud to announce the return of the Gumbo Chili Showdown. The GCS is a competition between teams to see who can create the very best pot of gumbo or chili. Teams of five students, faculty, physicians, or community members prepare their food for hundreds of guests who then have the ability to vote on their favorite gumbo and chili. All of the funds collected benefit the Regan Robinson Young Scholarship.
What is the Regan Robinson Young Scholarship?
In 2009, medical students at USA started a scholarship in memory of their late classmate, Regan Robinson Young. Regan was just 23 years old and in her second year of medical school when she was diagnosed with Stage IV colon cancer. Despite her diagnosis, she continued with her studies, using her illness to help her better understand and care for patients. She passed away, just four months before graduating, at the age of 26. The Regan Robinson Young Scholarship was founded to honor her bravery and devotion to medicine. Learn more about Regan's Story and Our Mission.
How can I get involved?
There are several ways to become involved in GCS:
Create a team: Teams will compete against one another for the crown of Best Gumbo/Chili as judged by both the audience and faculty/celebrity judges. Teams consist of 5 members. Student/Resident teams cost $75, while all non-student teams are $150. This is a per team fee, not per person. Please read our full Competition Rules. Interested in creating a team? Email gumbochili@gmail.com with the best way to contact you. We will reach out to you within 48 hours.
Sponsor the event: The primary form of funding for the event is through local business sponsorships. There are several levels of sponsorship, each with varying levels of incentive packages. In the past, sponsoring the GCS has generated local business because the event is attended by hundreds of hungry guests! We would love to provide you with more information if you are interested in donating or sponsoring our event. Please contact gumbochili@gmail.com for more information and the best way and time for us to contact you.
Attend Gumbo Chili Showdown! The cost to attend is only $8 when you pre-order your tickets. To do so, contact us at gumbochili@gmail.com. Tickets are $10 the day of the event! Included in your ticket cost is a free cup of each team's chili, live music, and fun games for kids! All kids under 10 years of age are admitted for free.
Looking for more answers? Please visit Frequently Asked Questions.