Message from the Dean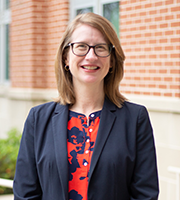 Welcome to the Covey College of Allied Health Professions!
The Covey College of Allied Health Professions has made a positive impact on students and the community since 1975. It is truly a special place. As Dean, I will support students in their educational journey so that they gain the knowledge and skill needed to impact their profession and become leaders in science and healthcare.
The Covey College of Allied Health Professions is dedicated to providing the highest quality education in the basic medical sciences and health professions education. We offer outstanding scientific and clinical health degree programs at the undergraduate and graduate level. Our undergraduate programs include biomedical sciences, emergency medical services, professional health sciences, radiologic sciences, and speech and hearing sciences. Our graduate programs include programs in audiology, biomedical sciences, communication sciences and disorders, occupational therapy, physical therapy, physician assistant studies, and speech-language pathology.
The educational programs within the Covey College of Allied Health Professions provide active learning opportunities to engage our students and prepare them for their futures as researchers and clinical professionals dedicated to enriching the scientific and healthcare communities. Students have opportunities to participate in research, internships, clinical fieldwork, and study abroad experiences. Students develop their leadership abilities through participation in student groups on campus and in local and national student groups for their profession. Our students are encouraged to engage in service to the community and study abroad experiences so that they broaden their experiences and understanding of others. Additionally, we mentor students toward interprofessional collaboration through shared educational opportunities that engage students across programs with one another. Through this work, our students learn the value of other professions, as well as the essentials of collaboration – teamwork, communication, mutual respect, and shared values.
Students in our clinical programs engage in USA's Simulation program allowing them the chance to practice clinical skills on state-of-the-art computerized human simulators as well as with standardized patients before they train in clinical practice. Students then advance their clinical training and work toward becoming an entry-level practitioner through clinical rotations at many sites in our area including private practices, specialty clinics, hospitals, schools, etc. Thanks to the dedication and hard work of our faculty and preceptors, graduates of our clinical programs are well prepared to successfully pass national board exams and become certified and licensed in their field. What we are most proud of is that graduates of our clinical programs are not only competent, they care. Our graduates demonstrate to their patients that they truly care about their quality of life.
Our faculty members are excellent scientists, academicians, and clinicians who are dedicated to supporting students to ensure that they reach their full potential as scientists and as clinical practitioners. In addition to providing the engaging educational opportunities mentioned, our faculty is committed to the creation and dissemination of new knowledge through research in order to address the healthcare needs of the Gulf Coast region and the country. They actively mentor student researchers in developing the skills needed to pursue a graduate degree or research career.
We focus our efforts on developing students to become scientists and clinicians that are committed to evidence-based practice, aim to provide the best of care for their patients, hold patient care in the highest regard, and who maintain professionalism and patient privacy. We aim to provide excellence in healthcare to our region.
We invite you to explore the many wonderful opportunities that await you within the Covey College of Allied Health Professions. We believe you'll quickly see that we care about our students, patients, preceptors, staff, and faculty.
WE ARE ALLIED HEALTH

Go Jags!
Susan Gordon-Hickey
Dean