Mitchell Center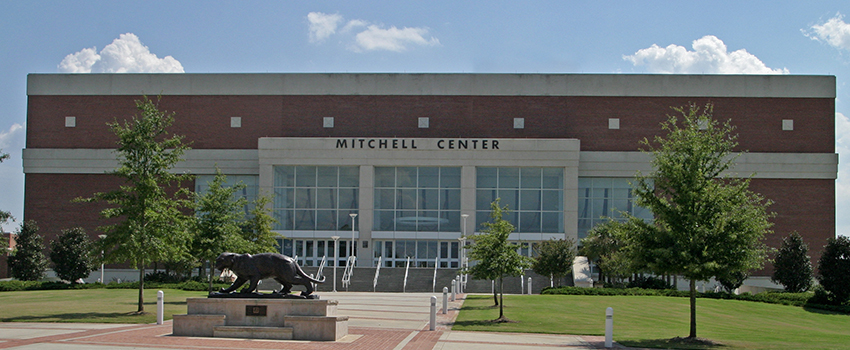 The Mitchell Center is a sports, convention and entertainment facility located on the beautiful campus of the University of South Alabama in Mobile, Alabama.
▼ Policies
The following items cannot be brought in the Mitchell Center at any time.
Alcoholic beverages and illegal substances
Firearms are strictly prohibited.
Weapons or potentially dangerous items of any kind
Flammable materials and incendiary devices of any kind
Hazardous chemicals or materials
Backpacks, large bags, coolers
Bottles, cans, projectiles or compressed gas
Artificial noisemaking devices such as air horns, whistles, etc
Laser pointers
Outside food and drinks
Professional video or audio recording devices (camera policy may vary by event)
Only working animals are permitted inside the facility
Confiscated items will not be returned.
No re-entry is permitted after exiting a ticketed event at the facility.
In accordance with local ordinance, the Mitchell Center is a smoke free facility. Further, in accordance with policies of the University, the entire campus is a smoke free environment. Guest and employees desiring the use of tobacco and any like product must do so in their private vehicles. The organizer agrees to notify its agents, representatives and guest of the no smoking policy as well as assist the University with general enforcement.
▼ Procedures
The Mitchell Center reserves the right to search all persons and bags entering or exiting the facility. Mitchell Center will not be held responsible for personal items missing, stolen, damaged or lost.
Ejection from the Mitchell Center may result, if you fail to comply with these policies.
Disable guest may enter the facility at the South entrance. Depending on the event, disable guest may also enter the facility at the East Entrance.
The Mitchel Center Ticket Office is located at the South Concourse of the facility, just inside the South Entrance. This entrance is accessible from Old Shell Road. Ticket Office hours are 10:00 AM to 5:00 PM Monday through Friday. Weekend operational hours, "event on-sale dates' and special events operational hours will be announced on an event by event basis.
Guest traveling by bicycle may secure the cycle in the bike racks outside of Entry 3 and/or Entry 4.
Food and/or beverages of any kind may not be brought into the arena. Food and beverage items may be purchased at menu prices on the concourse. These items will be available after the gates open for the event. If you are enjoying the event from one of our suites, please be sure to order your food and beverage items at least 4 business days prior the event.
If you have lost or found an item during the event, please present the item(s) to the Event Receptionist in the Administrative Office of the Mitchell Center which is located at the South Concourse.
▼ Best Practices
The Mitchell Center recognizes the needs of guest with disabilities, as defined by the American Disabilities Act (ADA). We continue to make every effort to comply with state and federal accessibility regulations and accommodate guest with disabilities.
Handicap parking spaces are available in the south parking lot of the Mitchell Center. These spaces are available on a fist come, first served basis. The spaces are identified by appropriate handicap signs. We cannot reserve a space under any circumstance.
Signs and banners are permitted in the facility provided they are hand held and do not contain any political, religious or commercially motivated messages or symbols. Signs displaying obscene messages will not be allowed at any time. Signs obstructing sightlines of other guest will be removed.
The Mitchell Center and the South Alabama Jaguars strive to provide an entertaining and safe environment for all guest. Guest observed engaging in public intoxication, using offensive language, throwing objects or any other behavior deemed as disruptive or dangerous in nature are subject to ejection from the facility. Guest and/or organizers observed damaging any part of the facility or equipment will be ejected and/or evicted and may be subject to arrest.
Confiscated items will not be returned. Guest lockers and/or storage areas are not available at the facility. Item check-in services are not available at the facility.
Our policies, procedures and best practices are regularly reviewed and revisions are made as appropriate.
To prevent issues with illegal or counterfeit tickets, purchases should only be made at the Mitchell Center Ticket office and/or website. No ticket should be resold or given away on venue property at any time.