Special Events and Classes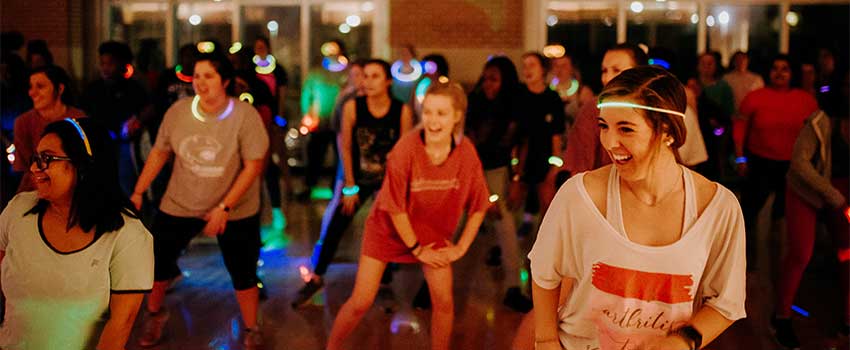 Spring 2023
Private classes
Our staff is available for private fitness classes for your USA group. Fee is $45/hour and includes all equipment. Your group may choose from most of our class types. Contact sarahschrenk@southalabama.edu to schedule a class.
Beginner Yoga
Tuesday, January 24, 7:30-8:20pm in Studio 1
Come learn the basics of yoga. Learn some common movements, how to modify, and how to use props such as blocks and straps. Mats will be provided.
Beginner Spin
Sunday, January 29, 6:45-7:35pm in the Cycle Studio
If you're new to Spinning®, this beginners' class is for you! Get more instruction on bike set-up, posture, hand positions, and more.
Yoga in the Garden
Tuesdays at 4:30-5:20pm, March 14-April 25
Join us for outdoor yoga in the USA Archaeology Museum Garden. Mats will be available and the museum is open for restrooms and water. In case of inclement weather, class will take place in the museum.
"Tri It Out" Indoor Triathlon
Saturday, April 1, 7:30am
Join us for an indoor triathlon consisting of running, biking and swimming. This event is a perfect opportunity for people who want to "tri" this sport, or for experienced triathletes to mix up their training! The event starts with a 2-mile walk/run on the treadmill, followed by an 8-mile ride on the spin bike, and finishing with a 300-yard swim in our indoor pool. We will have snacks and water for all participants and prizes for the winners. Free for USA students and $10 for faculty/staff/SRC members. Register online.
Full Moon Yoga
Thursday, April 6, 7:45-8:45pm, SRC back deck
Come enjoy spring weather and yoga under the light of the full moon.
Weight Room 101
TBD
If you're unfamiliar with the weight room, then this event is for you! Come learn about the layout of the weight room, how to use some of the equipment, and how to plan a muscular fitness workout. $10 for USA students and members of the SRC.