Mini-Courses and Institutes
The Innovation in Learning Center offers a variety of mini-courses and institutes throughout the academic year.
---
SoTL USA | Scholarship of Teaching and Learning
The SoTL USA program seeks to provide faculty with the tools to design, develop, and implement scholarship of teaching and learning (SoTL) research projects at South Alabama. Topics include:
Decoding the disciplines
What is SoTL
Generating your investigation idea
Designing your study and the IRB process
Planning your data collection and analysis
Summer Institute
The ILC Summer Institute is aimed at increasing student engagement and academic success through consistent design and equitable instructional practices that enhance courses of all modalities and disciplines. During this 4-week institute you will explore course content through synchronous and asynchronous team-based activities to develop effective courses that optimize the learning experience. This course generally runs from late June to early July.
Topics include:
Consistent Module Design
Transparent Assignments and Assessments
Inclusive and Motivational Instructional Strategies
Click below to see a past flyer for the Summer Institute: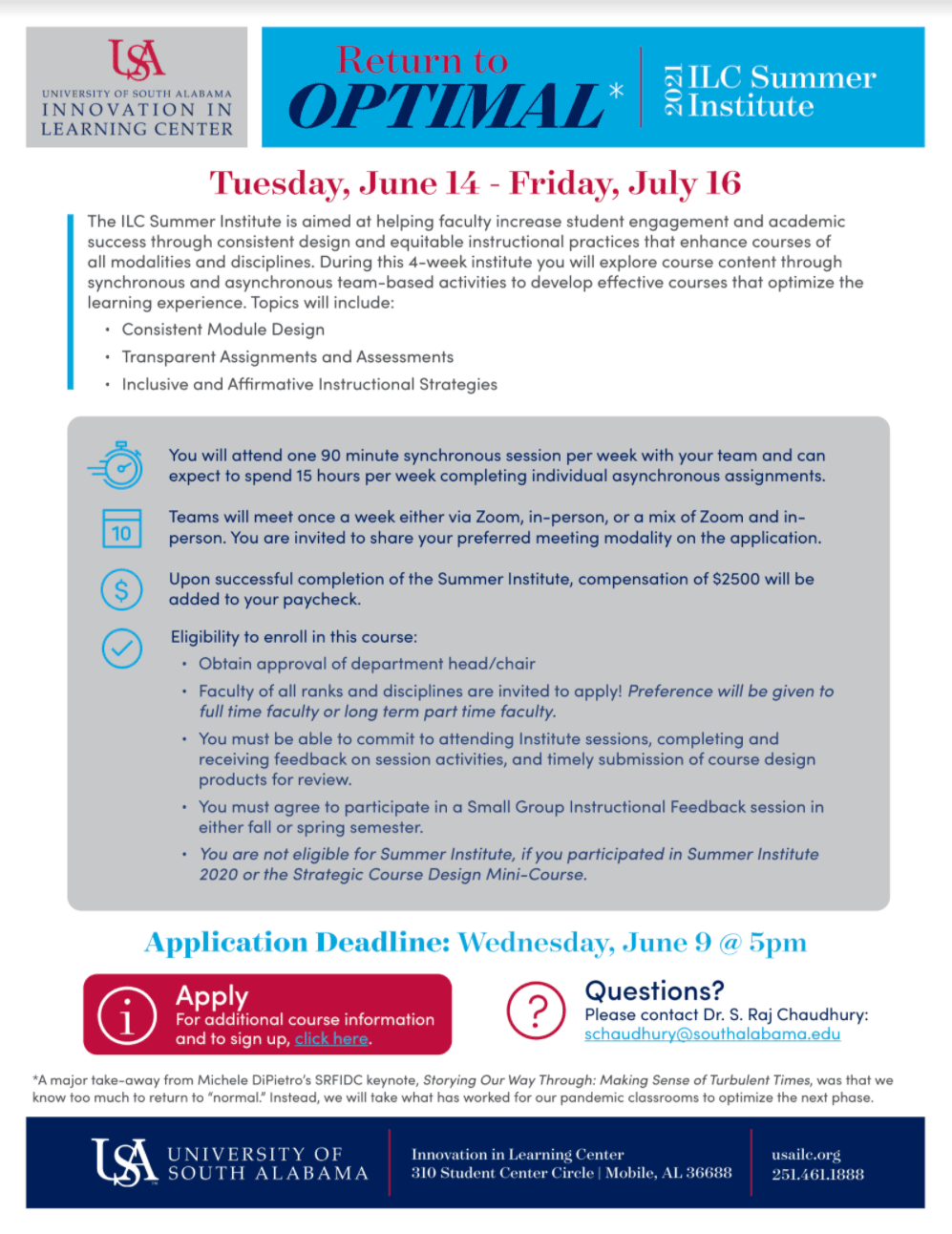 Advanced Summer Institute
The ILC Advanced Summer Institute, Documenting Student Success, is an intensive, two-week Institute focused on assessment. This course runs twice during the summer. During this Institute, you will dive into your course activities and assessments to answer such questions as:
How do I develop reliable student assessments?
How equitable is my test design?
What types of alternative assessments might work for my discipline?
Click below to see a past flyer for the Advanced Summer Institute: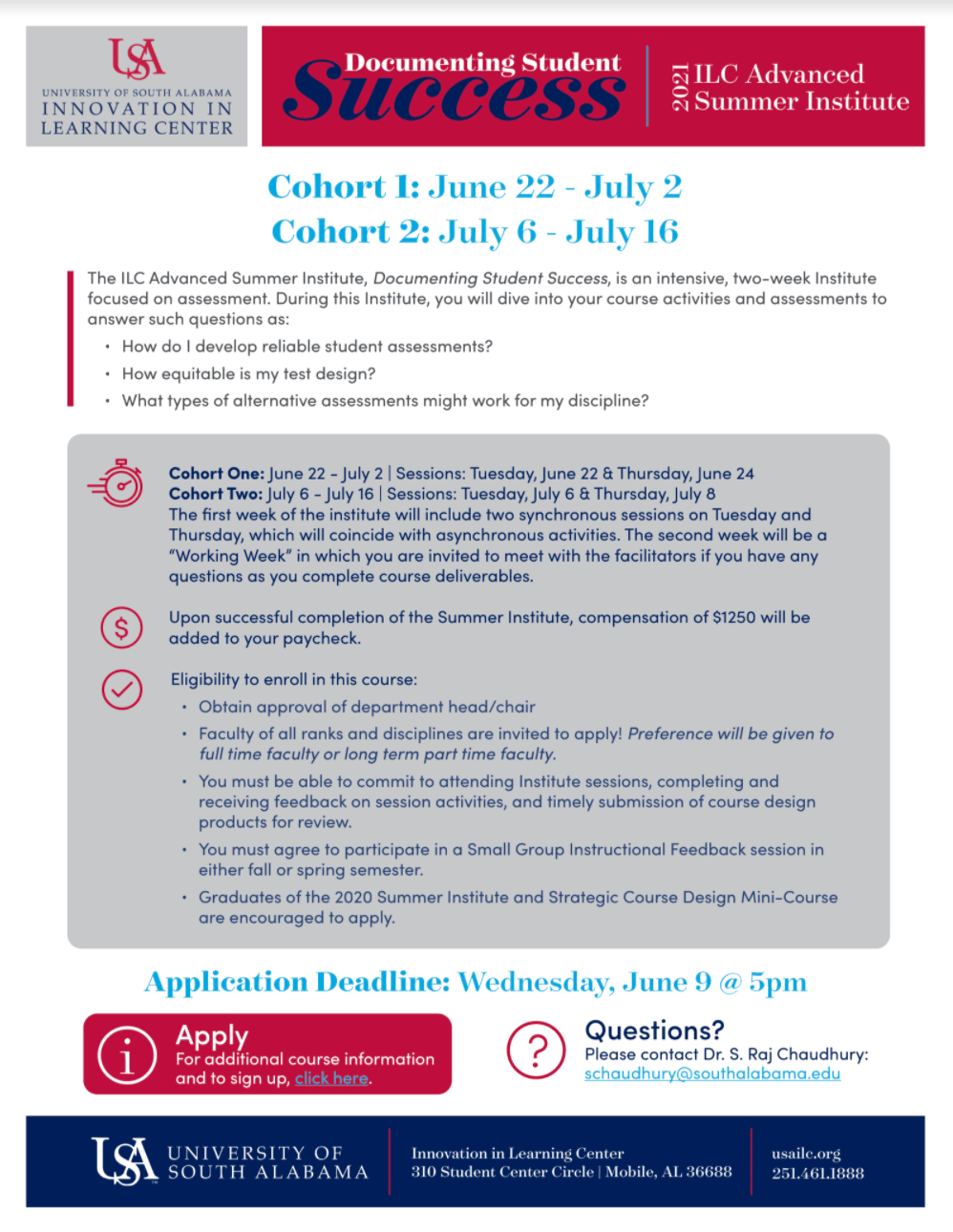 Strategic Course Design Mini-Course
The Strategic Course Design Mini-Course is a self-paced, online mini-course. Faculty can expect to devote about 20 - 30 hours in completing coursework that includes regular self-assessments and deliverables aligned with the course learning objectives and best practices for online instruction. This online course is offered periodically throughout the year. The overall goals of this course are for faculty to:
Implement essential course organization practices using Canvas and integrated technology in future courses;
Create a clear and consistent module design that encourages student engagement with the content, students, and instructor regardless of how the course is delivered.
Click below to see a past flyer for the Strategic Course Design Mini-Course: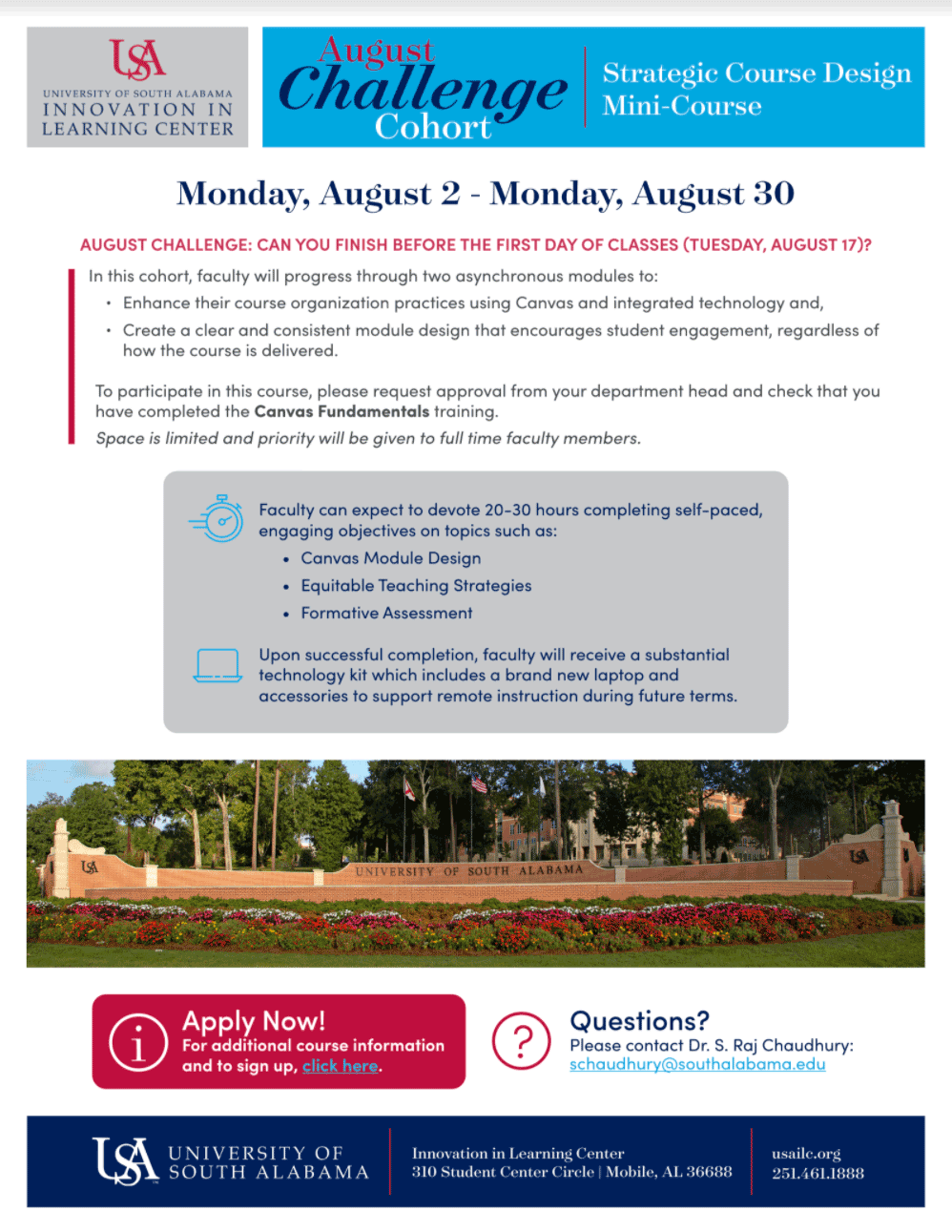 Association of College and University Educators (ACUE)
The University of South Alabama is partnering with ACUE to offer a course in Effective Teaching practices that will help faculty transform your teaching, overcome challenges you might face in the classroom and provide strategies that lead to successful student learning. The program addresses essential pedagogical skills and knowledge in five units of study:
Designing an Effective Course and Class
Promoting Higher Order Thinking
Establishing a Productive Learning Environment
Assessing to Inform Instruction and Promote Learning
Using Active Learning Techniques
The goals of the Effective Teaching program at South Alabama are to:
improve student learning as faculty learn about, implement and assess instructional strategies proven to improve students' educational experiences
support faculty advancement through improved promotion and tenure packages, particularly in how faculty articulate a dynamic and evidence-based teaching philosophy and provide evidence of effective teaching;
enhance faculty productivity in their scholarship by developing new lines of inquiry through the Scholarship of Teaching and Learning.
Click below to see a past flyer for ACUE: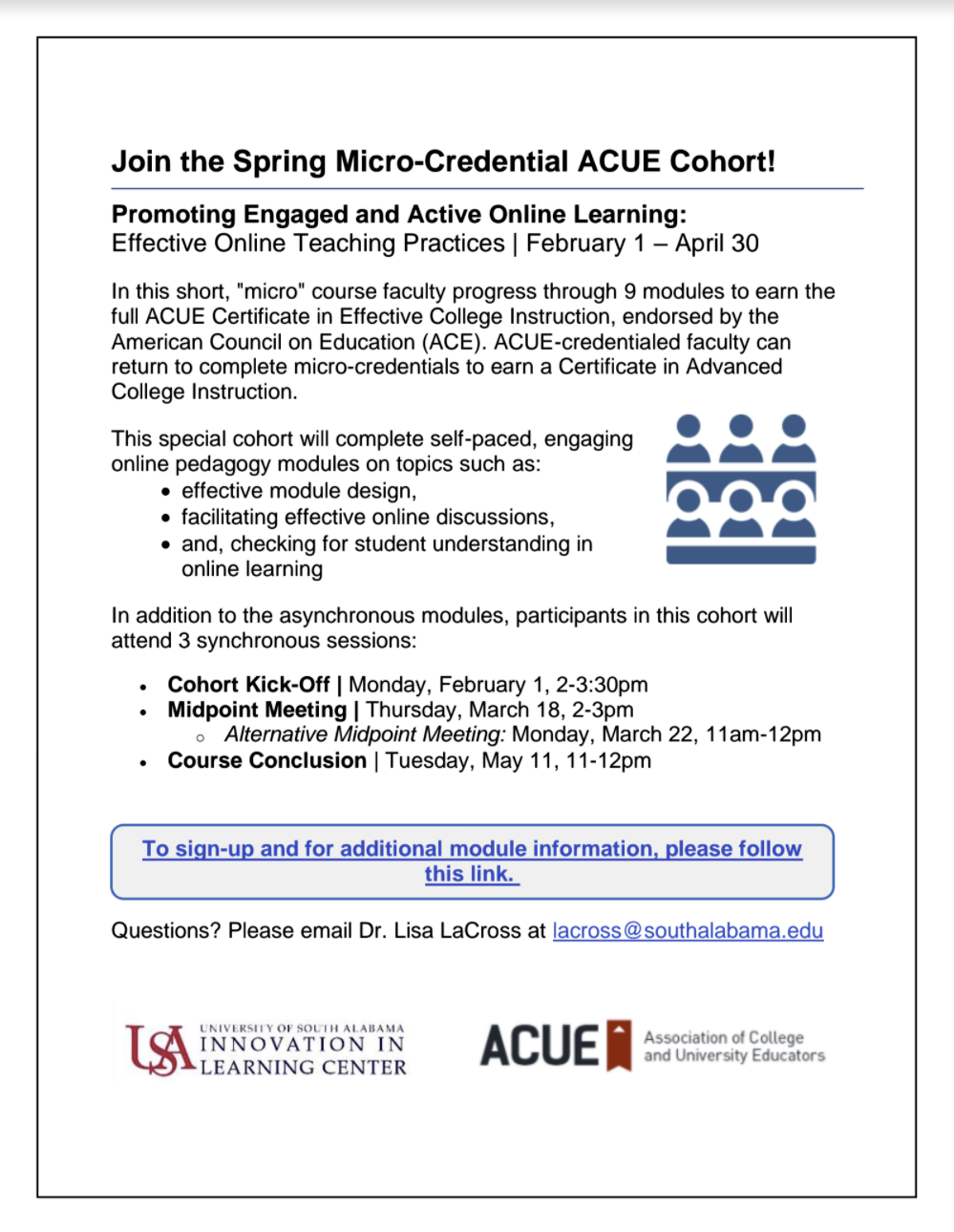 Questions about these courses can be directed to ilc@southalabama.edu.