Language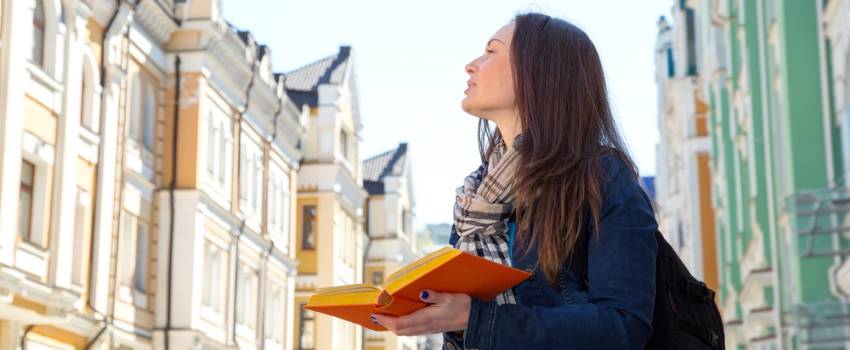 This course is for health care professionals who interact directly with Spanish-speaking patients or patients' family members. It is designed to provide medical office staff the ability to communicate in Spanish. The course features a highly interactive setting in which you have an opportunity to learn appropriate cultural behavior and speech as well as basic grammar and communicating skills-whether listening, speaking, reading or writing. You will learn to: (1) obtain basic personal information; (2) introduce yourself; (3) determine the nature of the visit; (4) determine the patient's symptoms; (5) obtain medical history information; (6) communicate the diagnosis and possible health care options; and (7) provide necessary healthcare instructions to the patient.
You do not need to be able to speak Spanish to benefit from this course
Develop your Spanish vocabulary and grammar skills when you complete the Conversational Spanish program. This series of classes will improve your knowledge and skills of the Spanish language including vocabulary expansion, grammar, and communication in business or travel situations.
​This series of classes will improve your knowledge and skills of the Spanish language including vocabulary expansion, grammar, and communication in business or travel situations. This program is designed for individuals with little or no background in Spanish. The goal of the program is to bring novice language learners to an intermediate level.​
Netzwerk German for Beginners is specifically tailored with student's and professionals in mind, with no prior understanding of German required. These courses are designed to improve general language competency and is organized within the A1/ A2, B1/ B2 language competency curriculum. This course is perfect for those who want to travel abroad or who are professionals at the corporate level who want to expand their conversational abilities to include bilingual service provision.
The course "Netzwerk Deutsch II"/ German Advanced Level aims to connect students who completed the program German I beginner's level with newcomers who already draw on existing language competencies in German. Based on the "Common European Framework of Reference for Languages" (A, B, C) the course expands into more areas of settling in ("sich einleben") in Europe and is specifically focused on every-day situations of working and studying in a German speaking country such as applying for a university internship or situations around a new job abroad.
We offer this course in a lunch and learn format during the day and in our traditional, expanded evening classes for a more in-depth study. We will also format custom training options for your company and staff.
The Russian - Beginning class addresses elements of the Russian culture while teaching basic words and phrases. Students in this class will learn the alphabet, phonetic sounds of the language, grammar and vocabulary.
Russian is spoken by more than 200 million people in the former Soviet Union as well as 150 million people worldwide.
This beginners course in conversational Vietnamese provides an overview of the basic structures of the Vietnamese language. After completing the two-part series students will have the foundation needed to participate in conversation and to further develop a good understanding of the language.
Course content includes: dialogue, grammar, drills, narration and vocabulary.
Required book: Viet Ngu dàm Thoai Conversational Vietnamese
Beginning Conversational French
This course will teach you how to communicate easily and comfortably with those who speak French. You'll learn practical, common phrases that will make your trip to the many French-speaking regions of the world more pleasant. You'll learn dialogue specific to various settings, and you'll be surprised how easy it can be to speak another language!
Whether you want to learn conversational Japanese for travel or just for fun, you'll find this course makes it easy and enjoyable for beginners to master the essentials of the Japanese language. Guided by a native Japanese instructor, you'll also gain cultural knowledge only an insider has.
This dynamic course will teach you how to express yourself comfortably in Italian. You'll learn practical, everyday words and phrases that will make your stay in Italy more enjoyable. You'll read, hear, and practice dialogue based on typical situations that you're likely to encounter while staying in Italy.
In this online program, you will master all the skills you need to begin a career as a professional interpreter. You will learn what public services interpreting entails, identify the responsibilities of a professional interpreter, and develop the skills to be an efficient interpreter and communicator. By the end of the program, you'll be fully prepared to begin working as a professional interpreter in the public services setting.