Disc Golf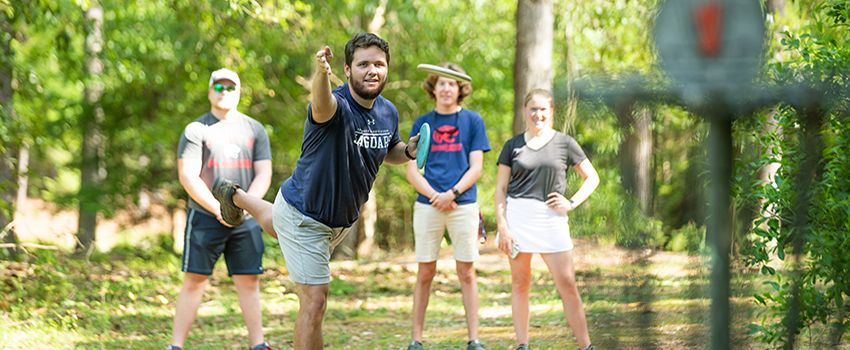 The 18-hole disc golf course starts on Aubrey Green Drive near the Facilities Warehouse/Maintenance Garage. The course is open from dawn-dusk. Parking is located down the street at the entrance to the Glenn Sebastian Nature Trail.
Courtesy and Safety
Players should avoid throwing from or across the road and watch for oncoming traffic at all times.
Do not throw until players and course users are out of range.
Rules
Tee Off: Tee throws must be released from within the designated area.
Lie: The spot where the disc lands.
Throwing Order: Lowest score on previous hole tees first. After the tee-off the player whose lie is farthest from the target throws first.
Fairway Throws: Must be made from the lies. A run-up and follow through is permitted.
Putts: Within 30 feet of the target a player may not step past the lie when attempting a putt throw.
Hole Completion: The hole is completed when the disc is in the basket or supported by the chains.
Out of Bounds: A throw that lands out of bounds must be played from the point where the disc went out. All rounds, parking lots & permanent water are out of bounds ( 1 throw penalty).