Philosophy
Percussion Studies at the University of South Alabama are designed to develop percussionists at the highest level of musicianship and at an appropriate competency in performance and teaching, varying by the curriculum of an individual's program of study.
The percussion curriculum is designed to present a relevant sequence of study of all the percussion instruments throughout each degree program. Musical performance skills, historical and stylistic understanding, and pedagogical concepts of education will be acquired through the following:
The mastery of a technical facility and understanding of concepts of phrasing that will enable the student to perform with sensitivity and musical expression on percussion instruments.
The cultivation of an understanding of the interrelations of mental and physical (psycho- physiological) aspects involved in the learning of musical skills and the performance of music.
Performance of a cross-section of literature in all styles and areas of percussion.
The development of sight reading.
Experience in solo and ensemble performance.
Regular attendance and participation in weekly percussion master classes and recitals.
The cultivation of an understanding of teaching procedure and practice, pedagogical systems, and rehearsal and conducting techniques.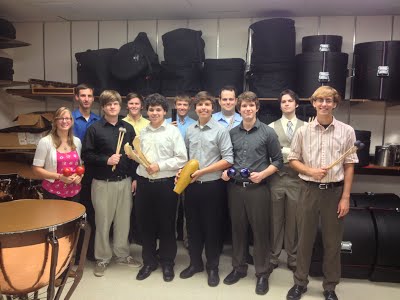 At the completion of a degree program, the baccalaureate student will have reached a professional level of proficiency in performance and will be capable of giving a full recital (Performance Majors- Junior and Senior Recital, Music Education and other majors- Junior Recital only). Students will be capable of playing an honorable audition for any band, orchestra, combo, studio job or teaching position. Pedagogically, students will acquire an awareness of the historical evolution and development of percussion instruments, their actuators and actuation through their construction and acoustical properties as well as their literature and pedagogy.