Jazz Ensemble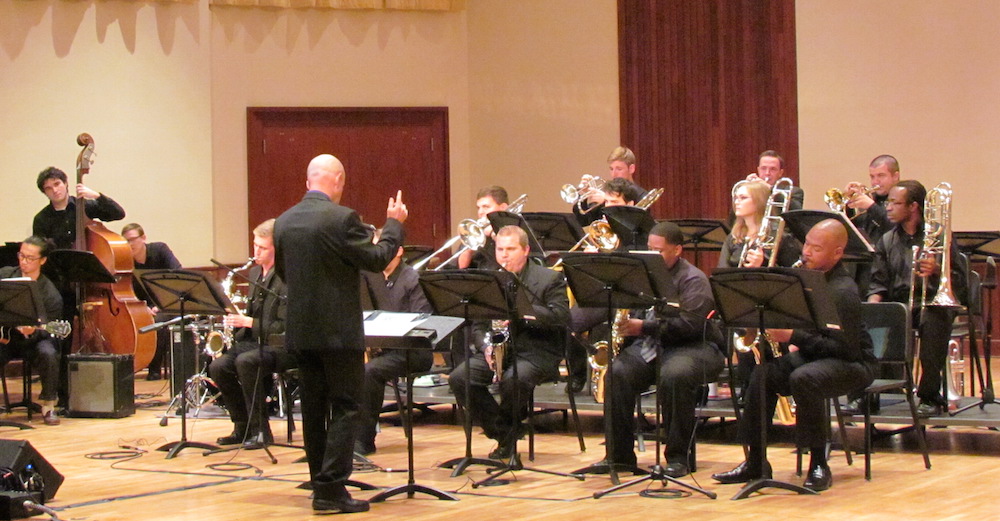 University Jazz Ensemble- MUO 121-101, 421-101, 521-101
The University Jazz Ensemble operates as both a big band and combos and is open to students from all majors by audition. Under the direction of Dr. Arie VandeWaa, this ensemble focuses on jazz literature, performance, and improvisation. Student arrangement of jazz standards and original composition is also encouraged.
Auditions on saxophone (alto, tenor, bari), trumpet, trombone, guitar, piano, string bass, and drum set are held at the beginning of each semester. Interested students can sign up to audition, and accepted students must register for the appropriate ensemble credit.
The University Jazz Band rehearses on Tuesdays and Thursdays from 2:00-3:15PM. The Jazz Ensemble is open to all university students, not just music majors and minors.
Fall 2023 Audition Information
Auditions for the Fall 2023 Jazz Band will occur on during the first week of classes. Auditions will occur in LPAC 1103 (VandeWaa Studio). Students should sign up on the door of LPAC 1103 prior to auditioning.
Audition packets will be sent to all students registered for the course. Digital copies are available for all instruments here, and physical copies can be picked up outside of Dr. VandeWaa's office.