Resident Research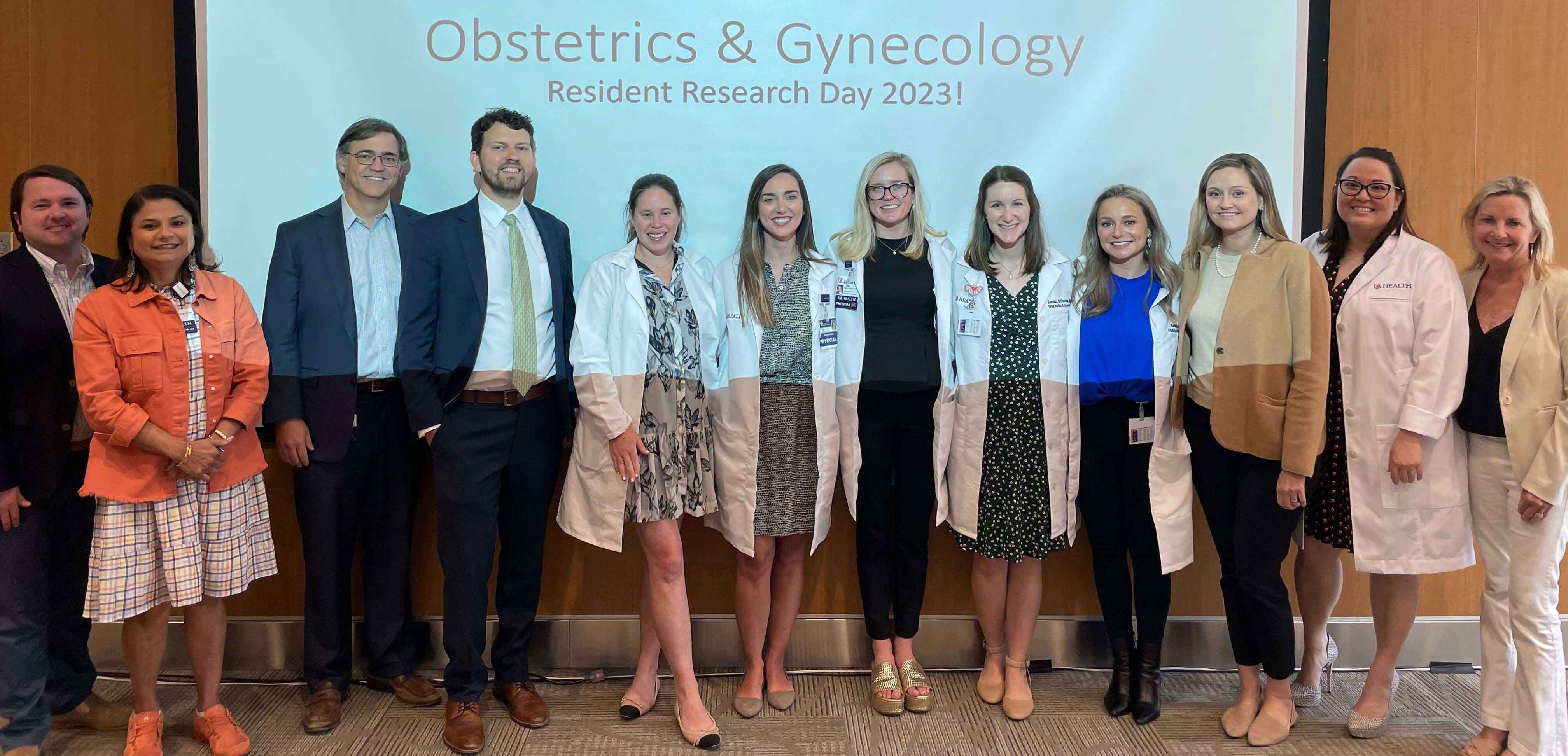 The OB/GYN residency program at the University of South Alabama requires its graduates to complete an original research manuscript as well as participate meaningfully in an interdisciplinary quality improvement project.
We have a research curriculum that is integrated into resident didactics.
Dr. Candice Holliday and Dr. William Perez are the co-Directors of Research for the OB/GYN Department.
Each fall our department hosts a research forum where faculty are able to present research ideas for which residents and interested medical students are invited to participate.
Research Forum 2022 (selected examples):
| | |
| --- | --- |
| Original Research Idea | ERAS Protocol and Quantifying Early Mobilization |
| Original Research Idea | Survey regarding maternal bias regarding mode of delivery in twins |
| Original Research Idea | Outcomes with adjuvant treatment in patients with positive surgical margins in vulvar SCC |
| Original Research Idea | Studying racial and socioeconomic disparities in outcomes after immunotherapy in recurrent endometrial cancer |
| Quality Improvement | Factors affecting the no show rate with our OB patients and ultimate maternal and fetal outcomes |
| Quality Improvement | Patient satisfaction and understanding of informed consent process for delivery |
In May of each year, the Department hosts a Resident Research Day where final resident research projects as well as initial research ideas are presented before three outside judges. Initial research ideas are presented in order to elicit feedback and recommendations.
Resident Research Day 2022 Presentations:
| | |
| --- | --- |
| Final Presentation | Narcotic use after cesarean delivery with Transverse Abdominis Plane (TAP) block compared to stand care |
| Final Presentation | The Modified Early Warning System in gynecologic oncology inpatients: clinical outcomes of a single institution cohort study |
| Final Presentation | Comparison of the incidence of small for gestational age infants born during the COVID-pandemic, H1N1 pandemic, and a non-pandemic year. |
| Final Presentation | The role of COVID-19 in teen pregnancy. |
| Initial Presentation | Outcomes with prolapsed membranes at periviable gestations |
| Initial Presentation | Barriers to continuity of care in the single hospital system |
| Initial Presentation | A comparison of topical steroid plus CO2 laser for treatment of vulvar lichen sclerosus versus topical steroids alone |
| Initial Presentation | Comparing estimated fetal weight by sonographers and residents to birth weight |
| Initial Presentation | Long term patient reported outcomes and quality of life in infants born at the limits of viability |
| Initial Presentation | Short interval pregnancy and TOLAC outcomes |
Resident Research Day 2023 Presentations:
| | |
| --- | --- |
| Keynote Speaker | Ashley Brant, DO, MPH - "Bridging the gap between health care and health policy: research as a tool for health policy advocacy." |
| Final | Financial Toxicity of Gynecologic Oncology Patients Undergoing Treatment in the Deep South |
| Final | Risk factors for circumcision revision: A retrospective review |
| Final | Comparing Estimated Fetal Weight by Sonographers and Residents to Birth Weight |
| Initial | Timing of Pre-operative Antibiotics for Cesarean Section and Subsequent Complications |
| Initial | Impact of the COVID-19 Pandemic on Gestational Weight Gain |
| Initial | An Assessment of Bias in the Evaluation of Adolescent Girls in the Emergency Care Setting: A Retrospective Chart Review |
Our department funds residents to present their research at national conferences.
| | |
| --- | --- |
| 2023 South Atlantic Association of Obstetricians and Gynecologists (Asheville, NC) | Teen Delivery in a Medically-Underserved Region During the COVID-19 Pandemic. |
| 2023 South Atlantic Association of Obstetricians and Gynecologists (Asheville, NC) | Comparison of the incidence of small for gestational age infants born during two different pandemic years versus a non-pandemic year. |