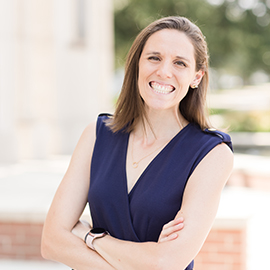 Caitlyn Hauff, Ph.D.
Associate Professor, Department of Health, Kinesiology and Sport Kinesiology and Health Promotion

---
Education
B.S., Psychology, Baldwin Wallace University, 2011
M.S., Kinesiology-Sport and Exercise Psychology, Georgia Southern University, 2013
Ph.D., Kinesiology - Weight Studies and Health Behavior Change, University of Wisconsin-Milwaukee
---
Teaching Philosophy
I am invested in creating a dynamic learning environment for students that encourages them to learn to appreciate diversity, celebrate differences, and view society with a lens that embraces acceptance and encourages tolerance. Academia is a place where students should have their thinking challenged and recognize the need to view elements in their environment from different lenses to better understand the multidimensional nature of our society. In conjunction with being an active leader, my teaching philosophy and teaching strategies aim to engage students in a way that makes them active learners in the classroom. They are challenged to transform their thinking, find their passions, exceed their expectations and achieve their full potential. I aspire to influence my students to be advocates for a cause and take basic concepts and theories beyond the classroom and into the world where they can make a difference. From the classroom, to the tennis court, to an online discussion forum, regardless of what capacity I am teaching in, my goal is to inspire my students, incite passion, and foster motivation to reach their full potential, by creating a fun, interesting, and motivating learning environment.
---
Research
My research focuses on the psychosocial aspects of weight, health, and physical activity. Much of my work revolves around trying to better understand how individuals view their bodies in different physical activity contexts, how weight bias plays a role in how physically active individuals are, and how social media impacts exercise and health behaviors. I also have interests in disordered eating and eating disorders, social comparison in exercise settings, body image in exercise settings, and exercise apparel. I am extremely passionate about finding ways for individuals to embrace and accept bodies of all shapes, sizes, and colors, and my research agenda very much reflects this.
Currently I am involved in several multidisciplinary research projects including:
-Examining health behaviors in nursing students
-Developing a culturally competent mental health program for nursing students
-Assessing weight bias in a variety of settings
-Determining how individuals interpret feedback regarding body fat percentage using a DXA and Fit 3D body scanner
-Creating interventions to assist NCAA student-athletes during their academic careers
-Creating better mental health and performance enhancement programs for our student-athletes
-Developing a protocol for how we can embed a social justice approach in Kinesiology curriculums
---
Outreach
Dr. Hauff is a member of the Association for Applied Sport Psychology (AASP), APA Division-47 (Exercise and Sport Psychology Division), and the American College of Sports Medicine (ACSM). Within AASP, she serves on the Web Presence Committee and is a Co-Coordinator of the Eating Disorder Special Interest Group. Dr. Hauff is also the current co-editor of the Journal of Sport Behavior and an Associate Editor for Performance Enhancement & Health. At South, Dr. Hauff is heavily involved with JagFIT, which is the university's employee health and wellness initiative.
---
Biography
Academic Bio: I received my B.S. from Baldwin Wallace University in 2011. During my time at BW, I played collegiate tennis, helping our team to three NCAA Division III National Championship appearances and two conference championships. I still play tennis competitively and have spent most of my life teaching tennis to individuals of all ages. After completing my degree at BW, I moved to Statesboro, GA and completed my M.S. in Kinesiology with a focus in Sport and Exercise Psychology at Georgia Southern University in 2013. I then moved to Milwaukee, WI and completed my Ph.D. in Kinesiology with a focus in psychosocial aspects of weight and physical activity, at the University of Wisconsin-Milwaukee in 2016. At UWM, I served as a researcher in the Body Weight and Shape Research Lab. I began my position at South in January 2017. I am extremely passionate about promoting positive body image and body acceptance, and much of my work in and outside of academia reflects this.
Personal Bio: I was born and raised in Columbus, OH (GO BUCKEYES). I am married to Nate Hauff, and together, we are avid Ohio sports fans (yes, even the Cleveland Browns), enjoy spending time outside and at the beach, and love to travel. I also enjoy running, spinning, and checking out all the coffee shops and eclectic restaurants around town. We spend the majority of our time caring for our fur-child, Tomo, who is a spunky, brindled diva dog and our daughter, Hazel, who is a feisty, energetic, free-spirited toddler. You can look forward to hearing all about the shenanigans Tomo and Hazel partake in if you take one of my courses.
---
Courses
KIN 278 - Sport and Human Behavior
KIN 594 - Directed Study
HS 362 - Drug Education
HS 462 - Public Health
HS 510 - Current Health Issues
HS 565 - Community Health
HON 499 - Honors Thesis