Exercise Science M.S.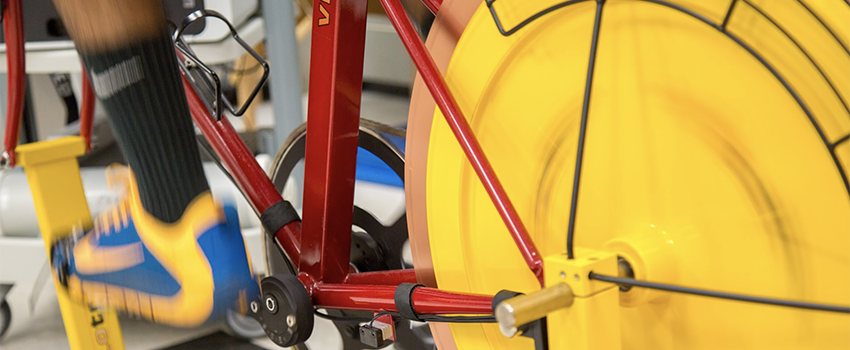 The Master of Science in Exercise Science graduate program offers a broad course of study to allow students the opportunity to prepare for a career in exercise science that is tailored to their specific interests. Students can personalize their degree track and course selections to prepare for careers in a variety of settings, such as sports performance, strength and conditioning, cardiopulmonary rehabilitation, wellness and fitness, and sports science research. This graduate degree requires students to complete a minimum of 30 hours of academic coursework. Most classes are scheduled at night to allow flexibility with current employment and internship opportunities. The program allows students to select from three degree track options:
▼ Internship Track
The internship track includes coursework and experiences in preparation for a career in clinical settings, such as wellness and fitness, cardiopulmonary rehabilitation, strength and conditioning, and sports performance. The internship is a fantastic opportunity to gain practical experience for resumé development and to foster professional connections within the student's area of interest. This track can be completed in one year.
▼ Capstone Project Track
The capstone project track includes a guided research experience with a faculty advisor. Students in this track complete a research project, applying the knowledge and skills acquired throughout their academic career. In comparison with the thesis track, the capstone project track is more narrowly focused on the data collection process and generally excludes the comprehensive literature review and formal thesis process. Students interested in the research process or a high-level experiential learning experience, but without interest in pursuing a doctoral degree (i.e., Ph.D.) in exercise science or a related field, should consider this track. The time to complete this track is variable, but most can be completed in ~1 ½ years.
▼ Thesis Track
The thesis track includes coursework and research experiences that involve completing a thesis in an area related to exercise physiology and kinesiology. This track typically requires two full years to complete, but the timeline is variable depending on the scope of the thesis and prior experience of the student. The
thesis
requires extensive writing and should be completed by students planning to apply for doctoral level study (i.e., Ph.D.).
Careers in Exercise Science
What can I do with a degree in exercise science?
Exercise physiologist
Clinical exercise physiologist
Wellness director
Strength and conditioning coach
Sports performance specialist
Personal fitness trainer
Recreation director
Research
Preparation for professional school in various health-related fields including physical therapy, occupational therapy, medicine, pharmacy, etc.