University of South Alabama Psychological Clinic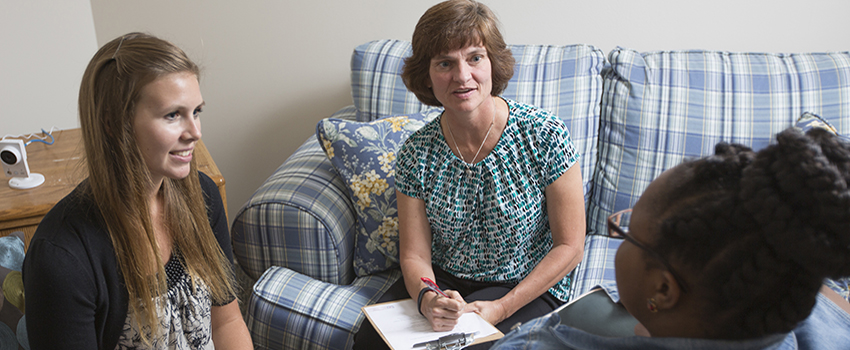 COVID-19 UPDATE:
March 13, 2020
The University of South Alabama continues to monitor the ongoing worldwide outbreak of COVID-19. At this time (3/13/2020), the USA Psychology Clinic is open for business and taking extra precautions to protect the health of our staff and those that visit us. We are taking a proactive approach in the USA Psychology Clinic and would like to share a few key pieces of information with you.
About the Virus
Coronavirus is a new disease and we are still learning how it may spread, the severity of illness it can cause, and to what extent it may spread in the United States. However, what we do know is Coronavirus is a severe acute respiratory virus that is spread between people in a similar way to the flu, via respiratory droplets produced by coughing or sneezing. The time between exposure and symptom onset is typically five days but may range from two to fourteen days. Symptoms may include fever, cough, and shortness of breath.
Clinic Policies
If you are experiencing any flu-like symptoms (e.g., fever, cough, chest pain), please call to cancel your appointment at the Psychology Clinic.

If you're ill or advised to stay home, please contact your therapist to discuss treatment options.

We have ordered additional sanitation supplies that will be used regularly in our clinic rooms to help reduce the spread of germs. Hand sanitizer and tissues are located throughout our clinic. Please do not hesitate to let your therapist know if you need either and see that they are not available.

As much as possible, we will immediately escort clients to a treatment room and limit gathering of individuals in our waiting room. Please do not bring additional individuals with you to session if at all possible, as we hope to limit the number of people gathering in the waiting room.
General Information
We recommend that everyone take preventive actions to stop the spread of germs, including:
Wash your hands for at least 20-seconds often with soap and water, or use an alcohol-based hand rub; especially after using the restroom, before eating, and after blowing your nose, coughing or sneezing.

Try to avoid close contact with sick people.

While sick, limit contact with others as much as possible to keep from infecting them.

Avoid touching your eyes, nose, and mouth.

Cover your cough or sneeze with your arm, crook of elbow, or a tissue (then throw tissue in the trash).

Clean and disinfect frequently touched objects and surfaces using regular household cleaning spray or wipes.
For more information about protecting yourself and others, please visit the CDC website: https://www.cdc.gov/ coronavirus/2019-ncov/index. html
For USA updates regarding COVID-19: https://www.southalabama.edu/ coronavirus/
Taking Care of Your Mental Health
In times like these, our mental health and social well-being can suffer. We are uncertain of the situation and the future. You may feel more on edge, anxious, helpless, sad, or angry. It is important to note we are not helpless! We can chose our response. Here are somethings you can do to take care of your mental health in the face of uncertainty
Separate what is in your control from what is not. There are things you can do, and it's helpful to focus on those. Wash your hands. Remind others to wash theirs. Take your vitamins. Limit your consumption of news (Do you really need to know what is happening on a cruise ship you aren't on?).

Do what helps you feel a sense of safety. This will be different for everyone, and it's important not to compare yourself to others. It's ok if you've decided what makes you feel safe is to limit attendance of large social events, but make sure you separate when you are isolating based on potential for sickness versus isolating because it's part of depression.

Get outside in nature–even if you are avoiding crowds. I took a walk yesterday afternoon in my neighborhood with my daughter. The sun was shining, we got our dose of vitamin D, and it felt good to both get some fresh air and quality time together. Exercise also helps both your physical and mental health.

Challenge yourself to stay in the present. Perhaps your worry is compounding—you are not only thinking about what is currently happening, but also projecting into the future. When you find yourself worrying about something that hasn't happened, gently bring yourself back to the present moment. Notice the sights, sounds, tastes and other sensory experiences in your immediate moment and name them. Engaging in mindfulness activities is one way to help stay grounded when things feel beyond your control.

Stay connected and reach out if you need more support. Talk to trusted friends about what you are feeling. If you are feeling particularly anxious or if you are struggling with your mental health, it's ok to reach out to a mental health professional for support. You don't have to be alone with your worry and it can be comforting to share what you are experiencing with those trained to help.
If you're feeling alone and struggling, you can also reach out to The Crisis Text Line by texting TALK to 741741 or National Suicide Prevention Lifeline at 1-800-273-TALK. (Credit: afsp.org, 3/12/2020)
Please do not hesitate to reach out to your therapist or our clinic team with any questions or concerns.
Take care,
Kim Zlomke, Ph.D.
Clinic Director
USA Psychology Clinic
--
Kim Zlomke, Ph.D., BCBA-D
Full Professor of Psychology
Director, Psychological Clinic
University of South Alabama (USA)
Licensed Clinical Psychologist; AL #1634
Board Certified Behavior Analyst
Phone (251) 460-6569

Our Clinic
The USA Psychology Clinic offers a wide ranges of services. Learn more about our services or submit an application now.
The Psychological Clinic is the training facility operated by the Psychology Department of the University of South Alabama. In the clinic, graduate students enrolled in the Clinical and Counseling PhD program (click here for more information about the graduate program) receive supervised experience while providing psychological services to the citizens of the Mobile area.
Professional Services
Graduate students in psychology provide most of the direct client services. In all cases, student clinicians are supervised by faculty members who are Clinical or Counseling Psychologists and are licensed in the State of Alabama. Some psychological services are provided directly by licensed Clinical and Counseling Psychologists.
Affordable Fees
Because we are a training clinic, we can provide patients/clients with professional, confidential psychological services based on a reduced - cost sliding fee scale. Therapy service fees range from $5-$25 per hours, and $200-$450 for evaluations. We work with each client individually to determine affordable rates for our services.
Commitment to Diversity
The USA Psychology clinic values the differences and similarities among people, and respect the multiple identities, backgrounds, and needs of the clients and communities whom we serve. We commit to treat all clients as valued and respected individuals. We define diversity broadly in terms of race, culture, ethnicity, sexual orientation identify, age, religious beliefs, socioeconomic status, physical and mental abilities, and gender identity. USA Psychology Clinic therapists and supervisors make ongoing efforts to increase our own awareness of different identities and worldviews through both training and practice.
If you are in crisis or thinking of hurting yourself, please call 1-800-273-TALK (National Suicide Prevention Hotline)