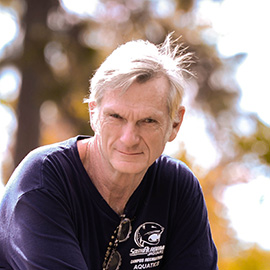 J. Scott Carter
Professor Emeritus Department of Math and Statistics

---
Education
B.S. March 1978, Summa Cum Laude,
University of Georgia, Athens, Georgia,

Mathematics Major

Ph.D. in Mathematics, May 1982
Yale University, New Haven, Connecticut
Dissertation: "Surgery on Immersions: a Geometric Approach to Stable Homotopy," Advisor Prof. Ronnie Lee.
---
Publications
J. Scott Carter Published Articles ...
with Seung Yeop Yang, Twist spinning knotted trivalent graphs

with Yongju Bae, Seonmi Choi, and Sera Kim, Non-orientable surfaces in 4-dimensional space

with Seiichi Kamada, Three dimensional braids and their descriptions, special issue of Topology and Its Applications, International Conference on Topology and Geometry 2013, the Sixth Japan-Mexico Topology

with Daniel Silver and Susan Williams. Invariants of links in thickened surfaces, Algebr. Geom. Topol. 14 (2014), no. 3, 1377 1394.

with Daniel Silver and Susan Williams. Three dimensions of knot coloring, Amer. Math. Monthly 121 (2014), no. 6, 506 514.

with Seiichi Kamada : How to fold a manifold, to appear in New Ideas in Low Dimensional Topology, ed. Kauffman and Manturov.
Books
Link to Additional Article Preprints
See More