Security Research Group
The USA Security and Forensics Research Group (USASFRG) is focused on research, education, and outreach in preventing, detecting, and illuminating malicious activity in information systems and networks. Our group includes Professors at the Full, Associate, and Assistant level, instructors, graduate students, and industry partners.
USA investigators collaborate to conduct high quality basic and applied research and bring that research into our classrooms. We are seeking colleagues with mutual interests to pursue publication and grant opportunities in our identified research themes or closely related area.
Our Investigators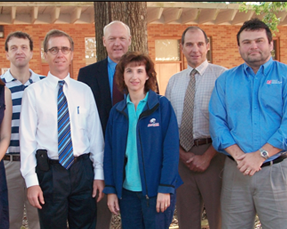 Left to right: Mr. Keith Lynn, Dr. Harold Pardue, Mr. Les Barnett, Ms. Angela Clark, Dr. Alec Yasinsac, Dr. Michael Black.