Davidson High Computing Camp 2021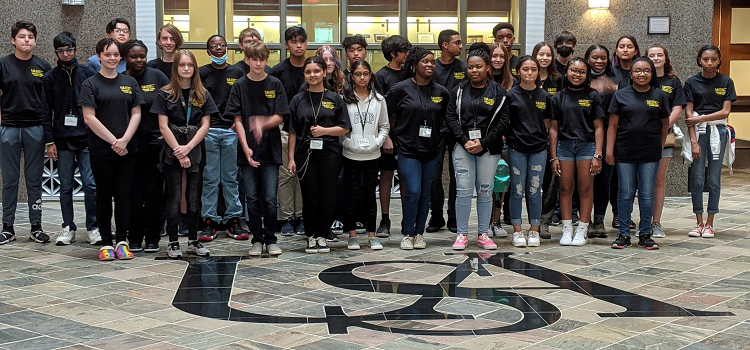 Since 2015, USA's School of Computing has partnered with Davidson High to host incoming ninth grade students for a week-long cybersecurity camp, which is held at Shelby Hall. The goal of the camp is to foster interest in cybersecurity education for college-bound students and build foundational relationships with teachers in our geographic area.
During the camp, students receive hands-on experience in cybersecurity through activities and real-world scenario exercises. Students have the opportunity to learn programming, robotics, and cyber physical systems, as well as to participate in discussions about trending topics on safe online behavior. As a culminating activity in programming and robotics, students work in teams to navigate a Sphero robot through a mini-maze.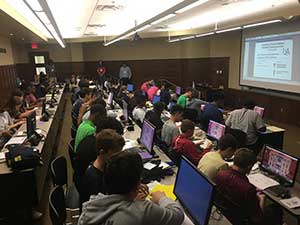 Davidson High School students at Cyber Camp 2018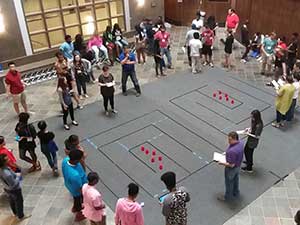 Students work in teams to navigate a Sphero robot through a mini-maze
In prior years, the camp was funded by the National Security Agency under its
GenCyber program
. In 2018, the camp hosted 51 Davidson High students and was supported through generous donations from the AT&T Foundation, Venture Technologies and Mentor Graphics, as well as support from the School of Computing and the Center for Forensics, Information Technology and Security (CFITS). We look forward to partnering with additional companies throughout our region in future years to help support the camp.
The 2019 Davidson High Computing Camp was held on June 3-7, 2019.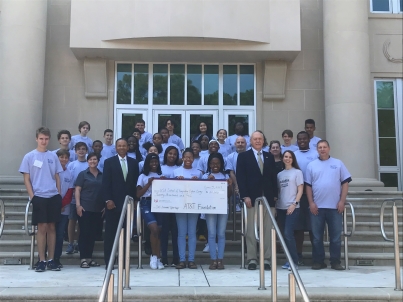 Davidson High School students at Cyber Camp 2019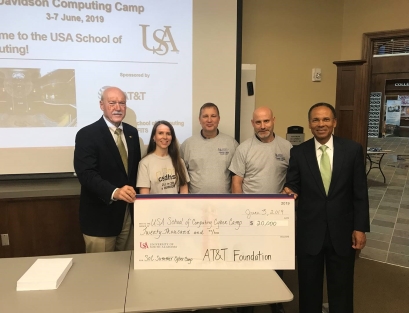 Glyn Agnew from AT&T and the AT&T Foundation supported the camp with their donation
Partnership Opportunities for the 2020 camp are now open:
Presenting Partner: $60,000 (overall camp partner with camp naming rights)
Programming Partner: $30,000 (recognition in camp literature, publicity and promotions)
Other levels of support for any amount are available including contributions for t-shirts, snack breaks and lunch. Donations of corporate swag are always welcomed and are greatly appreciated by the students.
Point of Contact:
Dr. Todd McDonald
Professor of Computer Science
jtmcdonald@southalabama.edu
(251) 460-7555