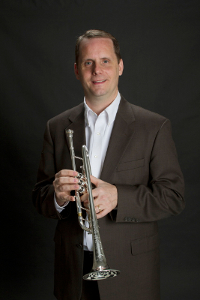 Dr. Peter Wood
Professor, Department of MusicTrumpet, Brass Ensembles, Brass Literature

---
Education
Bachelor of Music Education
University of Illinois

Master of Music in Trumpet Performance
University of Wisconsin-Madison

Doctor of Music in Trumpet Performance
Indiana University
---
Biography
Dr. Peter Wood, Professor of Music, teaches applied trumpet and coaches brass ensembles at the University of South Alabama. The 2011 recipient of the Andy and Carol Denny National Alumni Association Excellence in Teaching Award, he also won the College of Arts and Sciences Excellence in Teaching Award in 2007. He serves on the International Trumpet Guild Board of Directors and as the ITG Publications Editor, a position in which he is responsible for overseeing production of the ITG Journal, as well as all ITG publications, both in print and online.
Dr. Wood's trumpet students have earned high honors at national and international competitions, with many going on to enjoy successful performance and teaching careers. He founded the rapidly growing USA brass chamber music program; and he and his colleagues have expanded it to include numerous brass quintets, trumpet ensemble, horn choir, trombone choir, tuba-euphonium ensemble, and brass choir. His USA Trumpet Ensemble has performed three times at conferences of the International Trumpet Guild - in Sydney, Australia; Columbus, Georgia; and King of Prussia, Pennsylvania. He also founded the South Alabama Brass Chamber Music Honors Festival and has written grants to help bring the St. Louis Brass Quintet, American Brass Quintet, and Rhythm & Brass to campus, among other renowned guest artists.
As a trumpeter, he has performed on four continents in a wide variety of musical settings. In the spring of 2011, he traveled to northern Italy to teach, perform, and record as an artist-in-residence at the Trento Conservatory. He performs with the Mobile Symphony Orchestra and has released two solo CD recordings on the MSR Classics and Beauport Classical labels. He has performed at conferences of the International Trumpet Guild, College Music Society, and Society of Electroacoustic Music in the United States, as well as at the Florida Electroacoustic Music Festival. He has taught master classes and performed solo recitals at colleges and universities all over the United States and was selected to perform at the Nong Festival of Electroacoustic Music at the Korean National University of Arts in Seoul, South Korea. In 2010, he attended the 35th annual conference of the International Trumpet Guild in Sydney, Australia, where he taught a trumpet masterclass for The Music Place, one of the largest music stores in Australia, performed as soloist on the world premiere of Robert J. Bradshaw's The Concept of Anxiety, and conducted the USA Trumpet Ensemble in a prelude concert for the Sydney Brass.
In addition to his teaching and performing activities, Wood served as Editor of the "Recording Reviews" column of the International Trumpet Guild Journal for eight years and has served as Tour Director and staff member for the Alabama Ambassadors of Music, a group of top high school and college music students and teachers from all over the state of Alabama who perform concerts in seven European countries over the span of sixteen days every other summer.
Wood earned the Doctor of Music degree in Trumpet Performance and Literature at Indiana University-Bloomington, the Master of Music degree in Trumpet Performance at the University of Wisconsin-Madison, and the Bachelor of Science in Music Education degree at the University of Illinois. His principal trumpet teachers include Stephen Burns, Edmund Cord, John Aley, Ray Sasaki, Michael Tunnell, and Patrick Dessent. He lives in Mobile with his wife, hornist Jodi Graham Wood, and three children.
Peter Wood is a Conn-Selmer endorsing artist and plays Bach Artisan Bb and C trumpets and a Conn Vintage One flugelhorn.