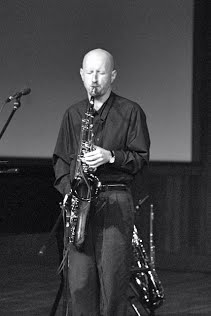 Dr. Tracy Heavner
Professor of Music Saxophone, Jazz Music Education Coordinator

---
Education
Bachelor of Music Education
Appalachian State University

Master of Music Education
Appalachian State University

Doctor of Music Education
University of Northern Colorado
---
Biography
Dr. Tracy Heavner is an internationally renowned music educator and distinguished performance artist who performs in a variety of genres ranging from classical to jazz. His talents as a saxophonist, clarinetist and flautist are witnessed on stage as a soloist, chamber ensemble and combo member and also within the jazz ensemble and orchestra. His professional achievements off the stage are equally impressive in the areas of teaching, performance and scholarship.
---
Teaching Philosophy
In the area of teaching, Dr. Heavner currently serves on the faculty at the University of South Alabama as a professor of saxophone, music education and jazz studies. He is a full member of the graduate faculty and area coordinator for all music education courses in the department of music. He is the university supervisor for all instrumental music education student teachers and also serves as the music education liaison to the College of Education. His teaching duties include courses in music education, applied saxophone and jazz studies. In addition, he regular serves as an adjudicator and clinician in both classical and jazz styles for various music festivals and competitions. He has served as the High School All-State Jazz Ensemble Director/Clinician for the states of Alabama (twice), Michigan, Louisiana, Pennsylvania and South Dakota. Most recently, he served as an adjudicator for the Texas Christian University Jazz Festival in Fort Worth, Texas, the Kinser Jazz Festival in Casper, Wyoming and as an adjudicator and guest performing artist at the University of Mary Jazz Festival in Bismarck, North Dakota. Furthermore, he is a Fulbright Scholar Training Specialist and has been teaching at the University of South Alabama for the past 28 years.
In addition to his university teaching duties, Dr. Heavner also teaches a large private studio of middle and high school saxophonists, flutists and clarinetists who consistently place in the top chairs of honor bands, all-state band and orchestra ensembles. Many of them perform in the Mobile Symphony Youth Orchestra.
Prior to his appointment at the University of South Alabama, Dr. Heavner taught at a middle, junior and senior high school in the North Carolina public school system for six years. His teaching duties at the middle and junior high school were beginning, intermediate, advanced band, general music and chorus. At the senior high school, he taught marching and symphony band. During this time, he was also a mentor teacher and supervised student teachers from nearby universities. Dr. Heavner's bands received consistent recognition for their excellence at regional, state and national levels with the marching band winning over twenty-five first place and grand championship awards during his tenure there.
---
Performance
In the area of woodwind performance, Dr. Heavner is a professor of saxophone at the University of South Alabama. He is a Cannonball Performing Artist on saxophone and also endorses Jody Jazz saxophone mouthpieces and D'Addario clarinet mouthpieces, saxophone and clarinet reeds. In addition, he serves as a consultant for Hakam Din & Sons Musical Instrument Manufacturing Group. He has performed countless engagements in venues throughout the United States and internationally in fifteen countries on five continents. As a classical artist, Dr. Heavner has served as principal saxophonist for both the Mobile and Gulf Coast Symphony Orchestras and performed as principal and 2nd clarinetist for both orchestras as well. He has performed at Carnegie Hall in New York, at the World Saxophone Congress, the North American Saxophone Alliance Biennial Conference, on the Eastern Shore Concert Artist Series and the Mobile Symphony Concert Chamber Series, at Florida State University, Furman University, Radford University, the University of South Alabama and with the Goliard Ensemble of New York.
As a jazz/commercial performer, Dr. Heavner has appeared as a soloist and band member with celebrities such as Natalie Cole, Smokey Robinson, Vince Gill, Bob Hope, Don Rickles, Regis Philben, The Temptations, Lorna Luft, Crystal Gayle, Al Martino, Ed Shaunesshy, Jon Faddis, Bobby Watson and Matt Wilson. In addition, Dr. Heavner performed with and directed the University of South Alabama Jazz Combo for two concerts at the Montreux Jazz Festival in Montreux, Switzerland. Dr. Heavner is also a recording artist for LiveHorns.com, a music studio that produces horn tracks for CDs and movie soundtracks. LiveHorns has had two Grammy nominated projects and a Dove award-winning project.
Dr. Heavner has also received many performing artist awards including the Alabama State Council for the Arts Artist Fellowship Award (twice), the Phi Kappa Phi Honor Society Artist of the Year and appeared on the front cover of the Saxophone Journal with an in-depth personal interview inside.
---
Scholarship
In the area of scholarship, Dr. Heavner's professional endeavors in music research have produced publications in the following music journals: Academic Journal of Science (AJS), Ale Breve, Approaching Cultures Through English, Bandworld, Das Schulbuch zwischen Lehrplan und Unterrichtspraxis, Dialog in Instrumental Music Education (DIME), Downbeat, The Instrumentalist, International Education Journal (IEJ), International Journal of Arts and Sciences (IJAS), Journal of Teaching and Education, Southeastern Journal of Music Education (SJME) and a series of articles regarding saxophone pedagogy in the Saxophone Journal, The Clarinet and Saxophone Society Journal of Great Britain, Saxophone Today, School Band and Orchestra Magazine and JAZZed Magazine. He has served as a staff writer for Saxophone Today Magazine also reviews music education textbooks for Prentice Hall Publishers, compact discs of woodwind literature for The Instrumentalist and grant applications for the Alabama State Council on the Arts.
In addition, Dr. Heavner has also authored two books. The first is an aural skills textbook entitled Sight Singing and Rhythmic Reading, Progressive Exercises for Developing Aural Skills, published by the Edwin Mellen Press. Music teaching institutions around the world use this book in their aural skills music classes, especially the music conservatories of Australia. His second book, entitled Saxophone Secrets: 60 Performance Strategies for the Advanced Saxophonist (ISBN 978-0-8108-8465-6), is a saxophone pedagogy book published by Rowman and Littlefield. This book is the result of 30 years of saxophone teaching and performance in both classical and jazz styles, and is a great resource for saxophonists and music educators. A preview is available on Amazon.
Dr. Heavner has presented music research at conferences and published studies in conference proceedings throughout the United States and Hawaii, and at international conferences around the world including Australia, Austria, Canada, Egypt, England (London and Leeds), France, Germany (Ichenhausen and Gottenheim), Hong Kong, Ireland, Italy, Malta, Spain, Thailand and the United Arab Emirates. At the 2009 International Journal of Arts and Sciences Conference in Gozo, Malta, he was one of four invited plenary speakers and his research study was awarded outstanding paper of the conference.
In addition, Dr. Heavner is a field editor for the Edwin Mellen Press, which entrusts him with the commissioning, review and selection of new manuscripts for book publication. He served on the international editorial committee board for the 2009 International Conference on e-Commerce, e-Administration, e-Society and e-Education (e-CASE) held in Singapore, and as an international liaison for the 2010 and 2011 International Conference on e-Commerce, e-Administration, e-Society and e-Education (e-CASE) held in Macau, China and Tokyo, Japan respectively. In 2010, Dr. Heavner served on the editorial board for the First International Conference on Music Education in Egypt: Music Education…A Vision for the Future held in Cairo, Egypt. He also presented his own research there. These experiences allowed him the opportunity to peer-review and critic many research studies submitted for conference presentation and publication by research professors from around the world. As a part of this conference, there was also a plan to publish the First International Journal of Music Studies in Egypt, which he was also appointed as an editorial board member.