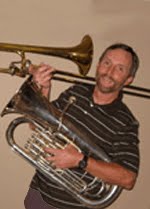 Keith Bohnet
Events Coordinator, Instructor Department of Music

---
Education
Bachelor of Music in Music Education: University of the Pacific
Master of Music in Performance (Trombone): Texas Tech University
---
Biography
A professional musician for over 40 years, Keith Bohnet proudly serves USA's Department of Music as Events Coordinator and teaching Introduction to Music classes. He identifies musically as a trombonist and euphoniumist (tenor tubist), and his lifetime of music experience from the low brass perspective has trained him well for working with students, faculty and the public in music endeavors. For department concert events, Keith gets to help schedule, facilitate and work at all the Laidlaw performances, helping behind the scenes to keep things straight for musicians and audience alike. And academically, whether he finds himself in the classroom with first-time music students or engaged in complex music discourse with music majors and teaching colleagues, there is never a dull moment each and every day.
Keith Bohnet recently retired from Mobile Symphony, performing with them as principal and second trombone since the Fall of 1988, when the orchestra was then known as the Port City Symphony. Through the years, he's been an active member of several regional orchestras, bands and brass quintets, and all of his performance experiences have kept him constantly honing his skills in the practice room.
Keith Bohnet's education history includes the degree Master of Music in Trombone Performance from Texas Tech University in 1984, and the degree Bachelor of Music Education (euphonium concentration) from the University of the Pacific in 1979. Professional performance experience includes work with Mobile Symphony (1988-2020), Gulf Coast Symphony (1988-2006), Pensacola Symphony (1987-1988), Lubbock Symphony (1982-1984), and Roswell Symphony (1982-1984).