Student Spotlight: Emily Viglione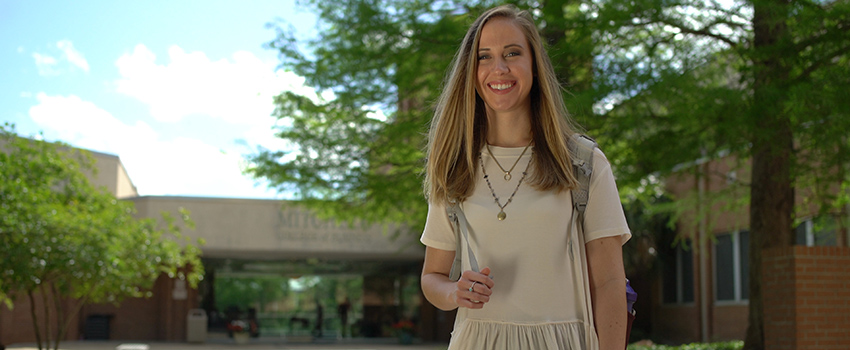 Hi! I am Emily Viglione and I am a senior majoring in Marketing Management.
I'm from Gulf Breeze, FL, a beautiful small town that is next to Pensacola Beach. Despite its beauty and the fact that I was only minutes away from the Gulf of Mexico, I always knew that Florida wasn't my forever home. Between seventh grade and senior year of high school, I toured the majority of colleges and universities in the state with my two older sisters. It was assumed that I would attend a private college in South Florida like them, but I never got that distinct feeling of knowing I found my home that the college tour guides always talked about. I applied to the University of South Alabama on a whim and knew it would be my future alma mater as soon as I arrived on USA Day.
When I stepped foot on campus, I could feel the inviting, inclusive environment that is the University of South Alabama. Opportunities to become involved academically, socially, professionally, and in the Mobile community abound here. Since my freshman year, I've had multiple opportunities to serve including: a two-year member of the Student Government Association; a sister of Alpha Omicron Pi women's fraternity; a Mitchell Ambassador for the Mitchell College of Business; a Supply Chain Management Intern at Austal USA; a Christian ministry called Campus Outreach and study abroad in Italy. Each of these opportunities have challenged me to hone my leadership qualities and immerse myself in a new part of campus and the surrounding community.
My plans are open after my graduation in the Spring to go wherever God calls me but I don't think I'm quite ready to say goodbye to the community that immeasurably blessed me. I'm looking into a post-graduate program called Vision Pathways with Grace Community Church that will further connect me to the Mobile community through a job in the business place and volunteering at local ministries. No matter if I stay or go after graduation, I want the faculty and staff in the Mitchell College of Business and at the rest of the University of South Alabama to know that my future wouldn't be as promising if it weren't for them. Thank you for personally investing in my life for the past three years and for making me who I am today. Thank you for making everyone someone at our University and for truly embodying our brand- "We Are South." Go Jags always!