Student Spotlight: Emma, Emily, and Ashton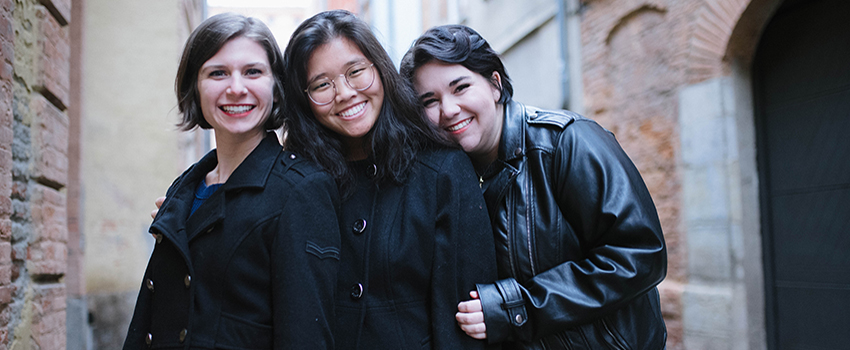 Emma, Emily, and Ashton (pictured left to right) are studying at the Mitchell College of Business currently pursuing MBAs. This semester they are studying abroad at Toulouse Business School in Toulouse, France. Both Emma and Emily received undergraduate degrees from South Alabama, while Ashton studied at Mississippi College. The three met when they became graduate assistants for MCOB in the fall of 2017.
Upon graduation Emma desires to pursue a career in consulting and eventually earn a PhD and become a researcher and college professor. She chose to study abroad to gain an international perspective on business relations and to enhance her language skills. So far in France Emma has enjoyed seeing the diversity of higher education and interacting with international students from places like Poland, Germany, England, and Italy. Her favorite travel destination during her first month abroad is Barcelona, where she hopes to eventually study Spanish and get a job.
Emily has spent her time as a graduate assistant working closely with the Assistant Director of University Marketing to promote the Mitchell College of Business. Her future plans include professional photography and graphic design. As an undergrad, Emily kept putting off studying abroad for many reasons, but when this opportunity presented itself, she knew it was now or never. Studying abroad is an opportunity to experience new cultures and capture moments that are once in a life time. Upon arriving to France, Emily got locked out of her apartment due to an unfortunate series of events. Thankfully, she got by with a little help from her friends and survived. Despite the rocky start, Emily is thoroughly enjoying her time in France. She has met many international students and has enjoyed learning from them.
Ashton has always had a passion for education and travel. She took her first trip abroad at age 13 with the People to People Student Ambassador program visiting Spain, France, Monaco, and Italy. As an undergrad, she chose to study Business Administration with a specialization in psychology and consumer behavior, and she also studied abroad in London in the spring of 2013. She was excited to continue her education with an MBA from South, and for the opportunity to study abroad once again. Ashton intends to pursue a career in business and career in education, while continuing to experience the different cultures and perspectives around the world.