Student Spotlight: Lizzie Rodin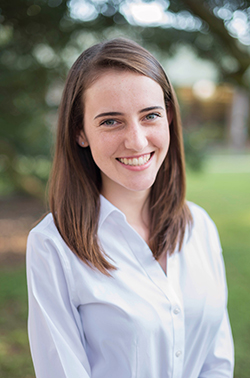 Hello, my name is Lizzie! I'm a senior majoring in management with a concentration in human resources. I was born in Gaithersburg, Maryland but spent most of my childhood overseas. I had a unique opportunity to begin my college education at the age of 15 through my high school's dual-enrollment program, and as a result I graduated high school at the age of 17 with an associate degree in business. As I considered options for furthering my education, the University of South Alabama immediately won me over with its outstanding faculty, intimate classroom settings, incredible networking opportunities, and vigorous academics (and let's face it, the recreation center's rock climbing wall!) Soon after my tour, I got the chance to interview with Dean Wood and received the Mitchell Scholarship.
Since the moment I first registered at South, my high expectations have continually been surpassed by new opportunities, life-changing experiences, and academic challenges. I couldn't ask for (or imagine) a more competent faculty than that of the Mitchell College of Business. With invaluable business experience under their belts, my professors constantly supplement course material and make each class relevant to the real world. The student-faculty ratio was also a huge selling point for me when I was first considering MCOB because I realized that I wouldn't be just another face in the crowd. I have not been disappointed! Every single one of my professors knows me by name, acknowledges me in the hall, and initiates conversations with me at events.
As a recipient of the Mitchell Scholarship, I know that my incredible experiences at South have been made possible by the generosity of Mr. Abe Mitchell and the university's commitment to facilitating leadership development. I've had the privilege of becoming a Mitchell Ambassador, where I serve on the MCOB Strategic Planning Committee, am a member of the Executive Advisory Council, host special MCOB events, assist with new student orientation, and personally meet distinguished alumni, local businessmen, and other keynote speakers. I am also a member of Phi Kappa Phi, Beta Gamma Sigma, and the SHRM student chapter in which I have joined a team that will be traveling to Birmingham to compete in the Human Resources Jeopardy state competition this November! Moreover, the PREP program has provided me with an amazing internship opportunity with World Omni (a Fortune 100 company) where I work with the Training Services Department to develop a new instructional program and digital curriculum platform for new hires. Not only is South providing me with an internship that gives me experience of a caliber I could have only dreamed of, but the extra-curricular experiences I have at South have facilitated networking and growth opportunities that have enriched my life in so many capacities. I absolutely love being involved in the campus community.
I plan to graduate with my bachelor's this spring and continue on to earn my MBA. Although these milestones may represent the end of my formal education, in no way need they mark the end of my learning. If there is one lesson that the University of South Alabama has taught me it is that learning occurs whenever you set new goals and achieve them. I plan to continue doing that for the rest of my life.
As a kid born in the DC suburbs with an international upbringing and New Yorker parents, I never would have pictured myself graduating from a university with the word "south" in it. But I've got to admit, I have grown quite fond of sweet tea, rainy days, and southern hospitality. I just may stick around for a while! Through my time here at South I have made memories and lasting relationships with professors and peers that I will carry with me long after I cross that stage in May. This university has given me so much more than an incredible education - it has given me the chance to become part of a family that supports and motivates me beyond the confines of classroom walls. I will forever cherish my time here at South. Go Jags!