Student Spotlight: Laura Labuschaigne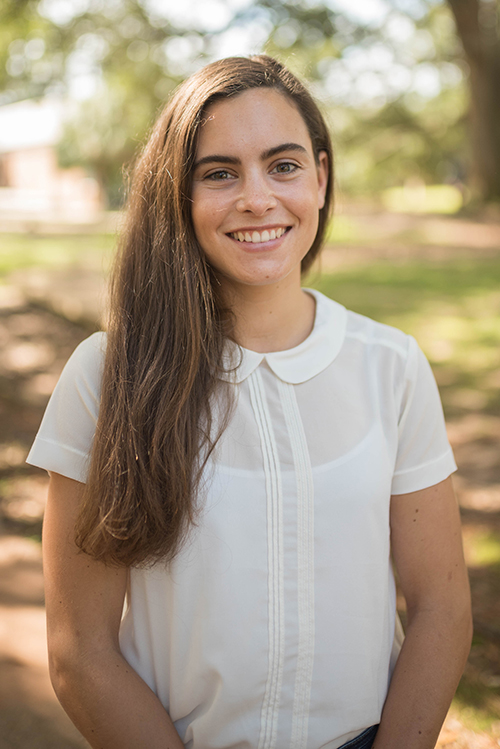 Hi there! My name is Laura Labuschaigne and I am a junior majoring in accounting.
I was born and raised in Cape Town, South Africa, a breathtaking city close to the southern-most tip of Africa. I went to high school in a town called Paarl, where I attended boarding school and was head girl of my high school. In a school setting where achievement in sports was heavily emphasized and where rugby reigned king, I played netball and ran track. After placing third in the 1500m at our national track and field championships during my senior year, I was recruited by South Alabama track and field head coach, Paul Brueske. Running paved my way to the United States, and has opened doors to a better and brighter future.
What makes the University of South Alabama a perfect fit for me are the nature trails, the four-story library with a Starbucks for long nights of studying, and sitting in an intimate classroom setting every day where the professors know me by name. One professor has even come to support a cross country meet, which really captured how far the loyalty and commitment of our faculty members reach. Being part of the cross-country and track team has provided many opportunities for traveling: a week ago we had the Sun Belt Championships in Boone, North Carolina, where I won my first individual cross-country title. Los Angeles, Nashville, and Tuscaloosa (Roll Tide!) would have to count among my other favorites.
Involvement in campus organizations has proved to be essential for developing skills to help grow beyond the classroom or track. I stay involved as part of the Beta Alpha Psi accounting honor society, which is a wonderful channel through which to participate in community service events and network with local firms. I also serve on the Student Athlete Advisory Committee and Athletics Council, where we encourage athletes to get involved beyond the sports field in order to have a more balanced college career.
One might wonder how South Africa compares to South Alabama. The kind and open nature of people that live here, being only a 30-minute drive away from the beach, and the much talked about "southern hospitality" are some of the things that the two have in common. Other than that, we have a growing community of South-Africans on South's campus, which includes other students, athletes and coaches, and means that I can still get my daily dose of speaking Afrikaans when home feels far away.
When I arrived in Mobile in the Spring of 2015 as a psychology major, I could have never envisioned myself graduating with an accounting degree three and a half years later. After graduation, I would like to pursue my masters degree in accounting to help me prepare for the CPA exam. I plan to start my professional career in the United States, travel the country every opportunity I get, and run in every city I visit. The future is always a little uncertain, but South Alabama has provided me with tools to embrace whatever lies ahead after graduation.