Student Spotlight: Devin Johnson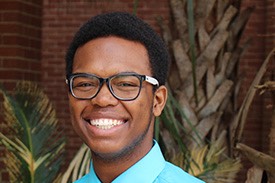 Hello, my name is Devin Johnson. I am a sophomore, Business Administration major, specializing in Human Resource Management. I am from Birmingham, Alabama, and I spent my entire pre-collegiate career in the City of Midfield's Public School System. I am an investor first. This is where I find my joy. Learning to invest was a much simpler process than I ever expected. Investing has given me a unique perspective on my financial future and a need for an almost unattainable level of financial knowledge. Being a self-taught investor is one of my crowning achievements.
Why South? The University of South Alabama was an interesting choice for me. I was initially drawn to the University by a simple letter in the mail. This letter prompted me to learn more about the school. Upon completion of some initial research, the competitive nature of the Mitchell College of Business stood out to me. I noticed several positive student reviews. These reviews spoke highly of the programs designed to help students. The most prominent of these programs was the Professional Readiness Engagement Program (PREP). I saw this program as an opportunity to develop as a professional, which I did not find with other higher learning institutions. The PREP program provided, and continues to provide, a relentless dedication to student professionalism. This is my favorite part of the College. I love the energy and extensive knowledge, The Director, Dr. Sonya Clark brings to the program. Students who go through the program are much more prepared for on the job life and whatever opportunities they encounter.
The opportunities here at South are plentiful. For each person's interest there is a group or club. Most importantly, for me South has provided an atmosphere conducive to learning. The opportunity to meet new people and learn from them has been paramount to my education. After graduation, I plan to continue my self-education. This will include branching out into new entrepreneurial ventures, most notably, some kind of technology based financial service institution. My companies will bring change to the communities we serve. Bringing affordable technological and entrepreneurial training to my community is most important to me. I hope to incorporate my trainings and programs into the local school systems and have a separate wing for adult training and job placement.