Student Spotlight: Dylan Hooper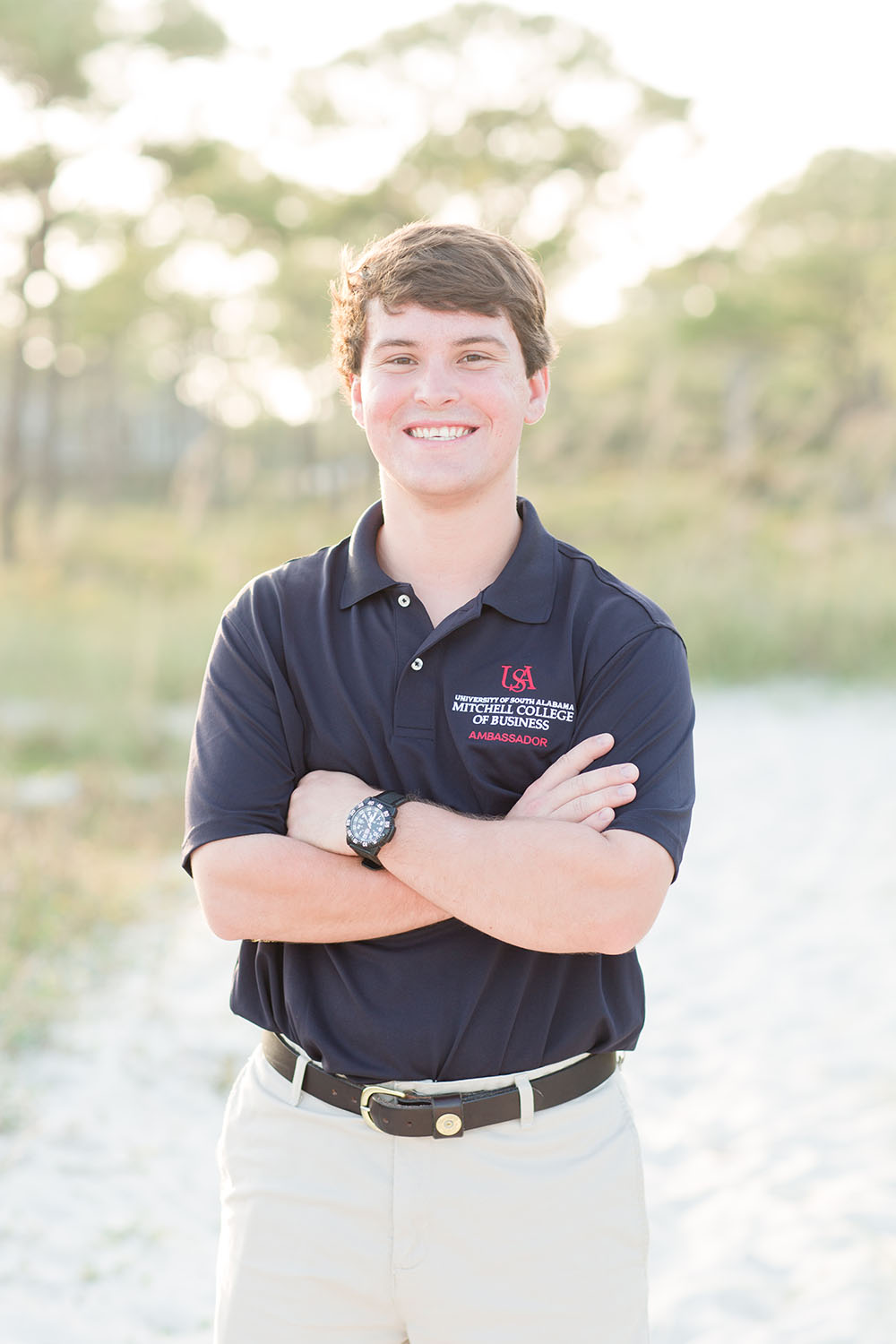 My name is Dylan Hooper, and I was born and raised in Mobile, AL. I am a senior accounting student that loves fishing and being around the water. Prior to college, I started a landscape business that I grew and managed for several years. Now I am an intern at Crow Shields Bailey PC.
I love the atmosphere and community at South, especially when I walk through the doors of MCOB. When I chose to attend South for college, I did not realize that I would be walking into a family that has helped me grow both as an individual and as a business professional.
There are many reasons why I chose to attend the University of South Alabama to obtain my degree. Growing up in Mobile, I have always wanted to attend the University of South Alabama. I love the community and the coastal aspect of the city of Mobile. By attending school in the same city I began my business, I was able to continue growing my lawn care business, which has helped to support me through school. Both of my parents are University of South Alabama alumni and encouraged me to learn more about the University and the programs available to me. The University of South Alabama has a renowned accounting program in the Mitchell College of Business, and I wanted to be a part of that program.
The University of South Alabama and the Mitchell College of Business have given me the opportunities to successfully grow as a young individual and business professional. South has allowed me to make relationships with faculty and alumni that I never thought were possible. I am forever grateful for the opportunities that South, and especially the Mitchell College of Business, has given me.
Currently, I am interning at Crow Shields Bailey PC, where I have been able to utilize the skills and knowledge I obtained in the classroom in real-world tax returns and audits. Prior to this work experience, I became a Mitchell Ambassador. I actively participate in all facets of the group, including serving as Chair of the group for one year. One of my favorite aspects of being a Mitchell Ambassador is sharing my story and memories at South with prospective students in an effort to help someone make the best college choice!
I am active in several organizations at South, but two specifically have had a significant impact on my personal and professional growth. These two impactful groups were Beta Alpha Psi and the Mitchell Ambassadors. Through my involvement in Beta Alpha Psi, I met and formed friendships with several business owners across the city of Mobile. Also, my time as a Mitchell Ambassador enabled me to meet business owners across the country, political officials, and other influential individuals. Furthermore, I served as Chair of the Mitchell Ambassadors, which opened the door to having greater leadership opportunities and enhancing my relationship with the faculty at USA. Additionally, each of the last two tax seasons, I participated in Volunteer Income Tax Assistance, VITA, in Mobile, which allowed me hands-on experience doing individuals' tax returns. This was even more rewarding because I was helping low-income families in my community, which I am very passionate about.
Last summer, I studied abroad in Italy with the Mitchell College of Business faculty. One of my favorite aspects of the program was having the opportunity to sit down with an international business owner and learn about financial strategies to operate on a global scale. This summer, I will study abroad in France where I will gain further insight into the international company, Airbus, and later in Spain, with the goal of becoming fluent in Spanish.
After graduation, I will attend the University of South Carolina where I will pursue my MACC graduate degree. During this program, I will study for and pass all parts of the CPA examination. Upon finishing the Master of Accountancy program with all parts of the CPA exam successfully passed, I plan to begin my career at a regional or large national or international public accounting firm.