Student Spotlight: Nate Carr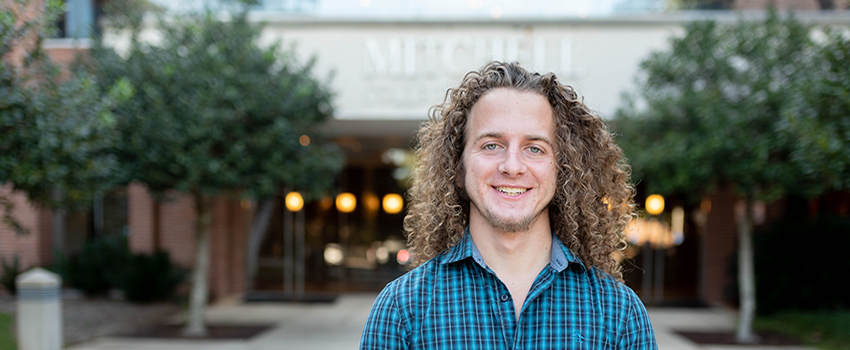 Hi, my name is Nate Carr, and I am a sophomore here at the University of South Alabama. I am a double major with International Business and International Studies with a minor in Spanish. I am a Mobile native and have grown up around South my entire life. I went to high school at Davidson High School and enrolled in and completed their International Baccalaureate (IB) program.
When looking for colleges I, at first, took South for granted. I very much wanted to move away for college, but upon researching other schools, I realized that there was nothing at other schools that South could not offer me. Over the past year here, I have come to appreciate the faculty and opportunities here at South. I have been able to form a connection with teachers who always know my name, whether it's a course for my major or even a general education requirement. I think South offers all the resources and opportunities of a larger school but with the attention and welcoming atmosphere of a smaller school. Specifically, in MCOB, my teachers have always been happy to talk with me after class and have helped me pursue connections with projects on and off campus. The Mitchell College of Business has been essential to my education here at South as I am a recipient of the Mitchell Scholarship, a student worker in the Dean's office, and a new Mitchell Ambassador. Becoming a Mitchell Ambassador was one of my goals as a freshman last year, and I am already enjoying helping my fellow students and our hardworking faculty come together and support the Mitchell College of Business.
Outside of MCOB, I enjoy being involved in the greater campus community and love seeing inspiration and curiosity in my peers at South. I am a member of the Honors College, I play club rugby and intramural sports, and I have recently founded my own club, the USA Model United Nations Association. In the Honors College, I have recently begun looking into a research project to study economic development and foreign policy in the Middle East and am excited to pursue that. I also enjoy representing the Honor's College in our intramural soccer team (we are currently 5-0 and I am extremely proud of that) and hope to represent in intramural flag football. One of my biggest goals for this year is to bring my USA Model UN Association off the ground to encourage more international-affairs conversations on campus and to even compete at national conferences in the Spring semester.
This past summer I had the pleasure of studying abroad in Spain for six weeks through a USA Study Abroad program led by Mrs. Kristy Britt. This was truly one of the most enriching experiences in my life both academically and personally. I was able to speak Spanish every single day with amazing professors from the Universidad de Alcalá, as well as unique and diverse classmates from across the globe.
After I graduate from USA, I hope to attend graduate school in Washington, D.C. to pursue a career in international diplomacy and international economic development. I specifically want to work in the Middle East and am currently learning Arabic to maximize my understanding of the area and its people. This summer I hope to either study abroad for Arabic via the Critical Language Scholarship Program or attend the Charles B. Rangel International Affairs program in D.C. to learn more about international affairs and the U.S. Department of State's work in diplomacy, both domestically and abroad.
I would like to thank the fantastic faculty and staff of South and MCOB for allowing me to be a part of this amazing university ripe with opportunities.