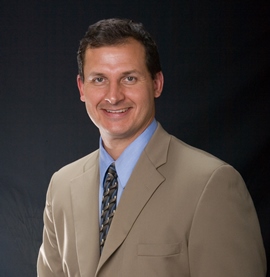 Christopher M. Keshock, Ph.D., MBA
Associate Professor, Department of Health, Kinesiology and Sport Sport and Event Management, Recreation, and Coaching Administration

---
Education
B.S.B.A., Management & Marketing, Ashland University, 1986
M.B.A., Finance, Central Missouri State University, 1993
Ph.D., Sport Administration, Florida State University, 2004
---
Teaching Philosophy
In order to truly understand theoretical concepts I believe student life experiences "in-situ" coupled with real world contemporary examples are the anchors to learning. This is especially true in the Sport and Event management field where innovative strategies to keep pace with monetary supply/demand issues continues to change at a rapid pace. Therefore, experiential learning methodologies in the form of service learning activities and case study assignments become extremely integral for students attempting to understand "how" to organize sport, athletic, entertainment, and recreation events and programs. In addition to understanding "how" things work in the sport and entertainment arenas, students must also comprehend "why" certain decisions are made over other alternative methods. Consequently, to stimulate student knowledge toward "why" decision are made I embrace the Socratic teaching philosophy where maieutic (series of questions and answers) dialectical exchange readily occurs to draw students closer to logical reasoning and rational decision making.
---
Research
A great deal of my research is applied in nature where practical solutions are offered to sport and entertainment agencies to address authentic problems. In the main my research endeavors are geared toward the production of empirical studies weighing the value of sport and entertainment events, facilities, and programs. More specifically, economic and fiscal impact assessments for the Senior Bowl College All-Star Football game, BayFest Music Festival, and an assortment of other Professional, NCAA Championship, Amateur Sport, and Governmental agencies. This main research line along with secondary research investigations germane with sport participant/spectator attitudinal preferences to formulate marketing plans, sport and event tourism programming, and the develop of sport event management policies has led to publications in international academic journals, book chapters, and an assortment of conference proceedings presented in the United States, Europe, and Australia.
---
Outreach
Service to University
Served on Faculty Senate, Chair of the College of Education Faculty Council, and HPELS Department Program Director. Numerous other committee work since arriving at the University of South Alabama in 2003 includes curriculum development, assessment, writing, marketing and the creation of new courses of study at the undergraduate and graduate levels.
Service to Community
Coordinate over 200+ students every semester at sport and recreation events as part of department service learning initiatives where student gain knowledge and a deeper appreciation of community involvement while providing student workers to help Gulf Coast agencies operate locally hosted events. Past community service outreach collaboration includes: LPGA; NCAA National Championships, Conference Tournaments and Division I Male and Female competitions (football, basketball, baseball, softball, soccer, track & field, X-country); NCAA Post-season College Football Bowl games; Regional and National amateur qualifier sports tournaments (volleyball, tennis, weight-lifting, boxing, and rugby); and a number of local road races, fun runs, extreme sports, and outdoor fishing rodeos.
Also, I have served as an expert witness in numerous legal cases germane with sport and physical activity negligence claims and helped Gulf Coast government officials with the building and operations of sport and recreation facility planning and designs. Serve as an international amateur sport coach every year and help coach and direct numerous youth athletic teams in the local area.
---
Biography
Previous experience as a professional minor league baseball player and international basketball participant; intercollegiate head coach, athletic administrator, and sports facility supervisor; sport development officer in Europe and Australia; and previous international corporate business work employment suggests I followed the admonition of the famous Mark Twain to, "Never let school get in the way of your education". My own personal international experiences before receiving a Master's in Business Administration and the PhD in Sport Administration allows me to share political, economic, and social perspectives in courses with students going beyond textbook lesson plans and which, coincide with thinking globally in an attempt to possibly push students to pursue new challenges beyond their personal comfort zones. I have been extremely fortunate to have visited, participated in, coached, and administrated at professional, intercollegiate, amateur, youth, and private enterprise settings around the world. These experiences have allowed me to see how others socially embrace and operate sport and entertainment events from a business perspective, which has led to a personal desire to conduct managerial and event valuation related research.
---
Courses
SM 276 Introduction to Sport Management
SM 384 Sport Marketing
SM 472 Legal Issues in Sport and Physical Activity
SM 486 Sport Facility Planning and Design
SM 496 Sport Resource and Event Management
SM 498 Internship in Sport Management
KIN 475 Organization and Administration in HPE and Sport
SM 586 (Graduate) Sport Event and Facility Management
SM 584 (Graduate) Sport Marketing and Media
KIN 500 (Graduate) Supervision in HPE and Sport
SM 572 (Graduate) Sport Law
SM 595 (Graduate) Sport Internship
SM 599 (Graduate) Thesis
KIN 594 (Graduate Directed Research
KIN 278 Sport and Human Behavior
KIN 100 Fitness Concepts
KIN 377 Coaching Baseball
KIN 376 Coaching Basketball
KIN 478 Coaching Theory