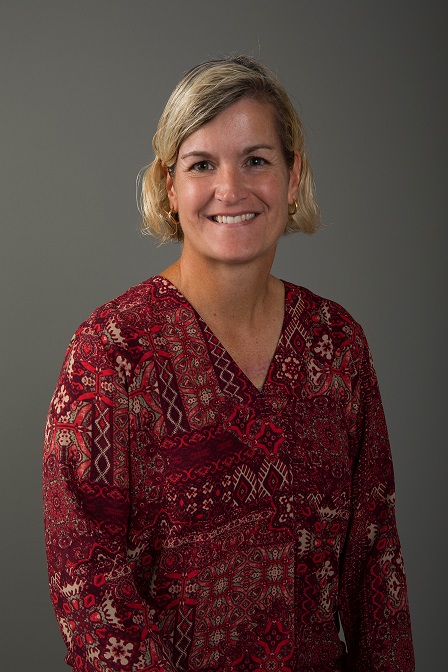 Shelley L. Holden, Ed.D.
Professor, Department of Health, Kinesiology and Sport Sports Nutrition, Coaching Education and Teaching Pedagogy

---
Education
B.S., Physical Education (K-12), University of South Alabama, 1995
M.Ed., Physical Education (K-12), University of South Alabama, 1996
Ed.D., Curriculum and Instruction, University of West Florida, 2006
---
Teaching Philosophy
It is important to promote human experience, high order thinking, and problem-solving skills in the classroom with an attitude of caring within the context of citizenship and developing life-long skills. I train future educators to teach content and connect with their students while considering their life experiences. This connection can be accomplished through using teachable moments concerning course content, past educational experiences, educational standards, and current issues. The classroom should be a place where students are eagerly and actively engaged.
---
Research
Major research efforts have focused in the areas of health and wellness including coach and athlete burnout, nutritional knowledge of coaches, athletes, and students, and nutritional intake (supplements, fast food, kilocalorie, and macronutrients) as compared to national and international guidelines. Utilizing my past experiences as a collegiate athlete and high school coach have made it possible to incorporate unique and creative ideas into my research. This includes other published research in the areas of event economic impact in intercollegiate sports programs, professional sports and recreational/leisure programs; athlete sport motivation and locus of control, Wii Fit and its impact on health and well-being, and TEAM Based Learning.
---
Outreach
Dr. Holden is actively involved in the community and has made numerous presentations on nutrition, diet, exercise and overall health at schools in Mobile County. She just finished work with Mobile Public Schools where teaching materials for a Sport Nutrition and Exercise course were developed as a high school elective course at Mary G. Montgomery High School.
Dr. Holden has a coaching and health background and has had the opportunity to work with University of South Alabama athletes (individuals and teams) in the area of nutrition and healthy choices for competition and daily functioning. She also works with the United States Volleyball Association Coaching Accreditation Program (CAP) where she developed various lectures and webinars on nutrition and present these lectures at various locations in the United States.
---
Biography
Prior to her position at USA, Dr. Holden served as a teacher, physical education department chair, and head coach (volleyball and track and field) at Navarre High School in Navarre, Florida.
---
Courses
HS 262 - Personal Health
KIN 263 - Nutrition and Hunger
HS 361 - School and Community Health- Implications for Curriculum
KIN 363 - Sports Nutrition
HS 365 - Health and Physical Education Methods for Elementary Teachers
HS 429/460 - Methods in Health Education
HS 463 - Human Sexuality: Some Health Education Perspectives
HS 562 - Drug Education
KIN 563 - Nutrition
KIN 373 - Coaching Volleyball
KIN 495/595 - Internship in HKS
KIN 521 - Motor Learning