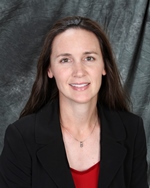 Brooke E. Forester, Ph.D.
Associate Professor, Department of Health, Kinesiology and Sport Sport Management

---
Education
B.S., Physical Education, University of South Alabama, 2002
M.Ed., Physical Education, University of South Alabama, 2003
Ph.D., Sport Management, Florida State University, 2009
---
Teaching Philosophy
The true purpose of education, particularly higher education, is to create lifelong learners. Imperative to this process is the development of critical thinking skills which guide students in every aspect of their lives. It is my responsibility to teach students and help them acquire these vital skills while simultaneously expanding their knowledge base. Learning is the primary task of the students and the desire to learn is the most important component in successful education.
Through active learning, I strive to provide students with needed knowledge and facts. Rather than simply providing content, my goal is to incorporate current issues within each course and then allow students to apply skills learned to critically analyze these issues. Learning is more than simply reading text and dispensing information. As Socrates stated, "Education is the kindling of a flame, not the filling of a vessel" and it is this principle that guides my teaching.
---
Research
My primary areas of research include corporate social responsibility in the sport industry, coach education, and organizational politics. Using both qualitative and quantitative methodologies, my goal is to expand the current body of knowledge within each of these areas, aiding practitioners and academicians alike.
---
Outreach
As a previous member of the South Alabama Track & Field and Cross Country teams, each season I assist the coaches with meet management. Additionally, I serve as a faculty to mentor to current student-athletes on the Track & Field and Cross Country teams.
Within the local Mobile community, I have volunteered at local elementary schools to assist with physical education programs, including fitness testing. Incorporating service learning assignments in several of my courses, I have also assisted with various sport events around the community including NCAA Beach Volleyball Tournaments and local road races.
---
Biography
Born and raised in Pensacola, Florida. Member of the University of South Alabama Track & Field and Cross Country teams, 1998-2001. Currently resides in Pensacola, Florida.
---
Courses
LS 276 - Introduction to Sport Management
LS 394 - Sport Business & Finance
KIN 100 - Health and Fitness Concepts
KIN 378 - Coaching Track & Field
KIN 475 - Organization and Administration in Health and Physical Education
LS 300 Global Tourism
SM 587 Social and Ethical Issues in Sport Management
SM 575 Sport Leadership and Organizational Behavior
SM 587 Sport Business and Finance