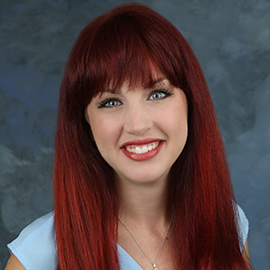 Aline E. Botsis, MS, CSCS
InstructorDepartment of Health, Kinesiology, and Sport

---
Education
B.S., Exercise Science, University of South Alabama, 2013
M.S., Exercise Science, University of South Alabama, 2015
---
Teaching Philosophy
My teaching philosophy is based on my experience as an academic advisor. I learned to build relationships with our diverse student population, and I have brought those skills into the classroom. Teaching course material is paramount, but I believe true teaching begins by building relationships with my students. I endeavor to create an engaging classroom environment where students feel free to ask questions and share their opinions. To support student engagement, I incorporate various teaching aids, such as Kahoot! and Pear Deck, into class meetings. By teaching from a holistic perspective, my goal is not only to support student learning but also to encourage my students to develop skills that extend beyond the classroom.
---
Outreach
I am a Certified Strength and Conditioning Specialist and member of the National Strength and Conditioning Association. I am also a member of SouthALACADA, the University's chapter of the National Academic Advising Association.
---
Biography
I am a native Mobilian and graduate of the University of South Alabama. As a Graduate Assistant, and I taught step aerobics, tennis, and KIN 100. Following graduate school, I became an academic advisor with Academic Advising & Transfer Services. I advised first year students in a variety of majors, from Exercise Science and Therapeutic Recreation to Engineering. In January 2018, I moved into a pre-health advising role, where I worked with students pursuing competitive graduate programs. I also taught KIN 100 each semester as an adjunct instructor. Some of my favorite activities include running, shopping, and cooking.
---
Courses
KIN 100 Concepts of Health and Wellness
KIN 380 Kinesiology
KIN 474 Sport and Fitness Conditioning
KIN 476 Exercise Physiology,
KIN 484 Apps in Sport Conditioning