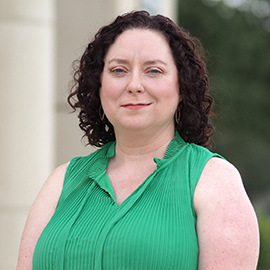 Shelly Bates
InstructorDepartment of Health, Kinesiology, and Sport

---
Education
B.S., Therapeutic Recreation, University of Southern Mississippi, 2003
M.S., Recreational Therapy Emphasis, Clemson University, 2016
Ph.D. Candidate, Instructional Design & Development, University of South Alabama
---
Teaching Philosophy
As a clinician, I provided education to clients, families, and the community related to the benefit of recreation as a tool to improve quality of life and to provide positive outcomes through a strength based approach. As an educator, I have the opportunity to instill skills needed in students to be qualified professionals that place emphasis on improved quality of life, strength based skill development and promotion of therapeutic outcomes. In order​ to ensure the production of qualified recreational therapy guidelines, I aim to complete the following goals: 1) provide an open learning involvement that provides opportunities for questions in a non-threatening environment; 2) offer opportunities to constructively apply new information within and outside of the classroom; 3) encourage student involvement in educational experiences that expose students to real world applications and information; 4) provide strength based skill development within student interactions.
---
Research
My research focuses on three areas: 1) older adults with emphasis on interventions that aid in improving quality of life or decreasing the negative effects of dementia; 2) creative expression and its role in mood and quality of life; and 3) recreational therapy and veteran centered care; and 4) recreational therapy professional development, and its role in student success.
---
Outreach
I currently collaborate with community projects related to individuals with disabilities and organizations that serve those individuals. Research projects involving older adults and recreational therapy interventions including a recent research project with William F. Green State Veterans home. I am a member of the American Therapeutic Recreation Association and serve as Vice-President of the Recreational Therapy Foundation. As a community member, I enjoy volunteering with Nancy Raia with the Eastern Shore Art Foundation as well as assistance with local projects that benefit my community.
---
Biography
I am originally from the great state of Mississippi where I received my Bachelor of Science in Recreation with emphasis in therapeutic and a psychology minor from the University of Southern Mississippi in 2003. I worked within the field of recreational therapy as a therapist with primarily patients over the age of 55 in all aspects of care including skilled, acute behavioral health, assisted living, long-term care and hospice care. After working for a clinician for 15 years, I earned my Master of Science in parks, recreation, and program management with emphasis in recreational therapy from Clemson University in 2018. I am currently in the dissertation phase of a Ph.D. in instructional design and development from the University of South Alabama. With over 20 years of experience as a recreational therapist, I have had the opportunity to apply that practical experience within my graduate studies and as an educator. My family, pups, and friends are a huge part of my life. In my free time, I enjoy activities with my family such as fishing, kayaking, boating, antiquing, riding the golf cart, and socializing! Independently, I value knitting, art, sewing, and reading.
---
Courses
RTH 375: Management of Therapeutic Recreation
RTH 395: Therapeutic Recreation Process
RTH 465: Therapeutic Recreation Interventions I
RTH 466: Therapeutic Recreation Program Design and Interventions II
RTH 471: Research and Evaluation in Health, Kinesiology & Sport