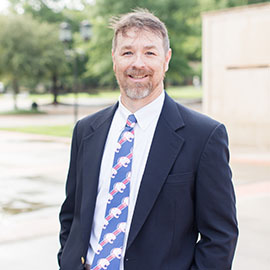 Joe Gaston
Assistant Professor, Department of Counseling and Instructional Sciences Educational Media and Technology

---
Education
B.A., English Literature, University of South Alabama, Mobile, AL, 1997
M.A. in Teaching, Spring Hill College, Mobile, AL, 2008
Education Specialist degree, Instructional Technology, University of West Florida, Pensacola, FL, 2013
Ed.D., Instructional Technology, University of West Florida, Pensacola, FL, 2015
---
Teaching Philosophy
Learning can be a transformative experience. It can change how we think, how we feel, how we behave, how we communicate, and how we solve problems. I think about when I first learned to ride a bicycle. Before learning, I was intimidated by the prospect of it. I was fearful I would fail and be ridiculed by my peers, or that I would crash and get hurt. But in spite of those fears, learning to ride a bike was important to me so I listened to the advice given by my parents and I tried and tried and tried again until I mastered the skill. What a time that was! A whole new world opened up for me. I had more confidence, I could talk to my friends about the challenges and finer points of bike riding, I was more self-reliant, and I was now in a position to help teach my younger brother how to free himself from the limitations of his training wheels.
I was able to learn to ride a bike because I was motivated and interested in doing so. As a teacher, I know I must nurture the motivation and interest of my students with regard to the course content or else the time they spend with me will be wasted. I believe this is best achieved through a hands-on, constructivist approach that includes plenty of time for exploration and peer collaboration. It is also my goal as an educator to help my students see the relevance of the content we are covering and how it is applicable to their present or future profession. It is such an exciting time to be in the field of education. Technology is continuing to shape our world, and never before has there been a time when technology has had greater potential to meaningfully transform our practice. The opportunities are breathtaking, and I look forward to exploring those opportunities with my students each semester.
---
Research
I am primarily interested in research that focuses on the meaningful integration of technology into the learning environment. More specifically, technologies that afford collaboration, reflection, creativity and authentic assessment. This includes research on video production, podcasting, STEM, and virtual reality.
---
Outreach
I currently serve on the Faculty Counsel as a representative for the CINS department.
I also serve on the Students Awards and Scholarship Committee, as well as the Curriculum Committee. I have been elected to serve as the Communications Officer for the Division of Emerging Learning Technologies (DELT) within the Association for Educational Communications and Technology (AECT).
I currently host two podcasts series. The "Sincerely, South" podcast shares stories that reflect the core values of the University of South Alabama College of Education and Professional Studies, such as professional excellence, lifelong learning and civil discourse. The series launched in Fall 2021 and features interviews with current students, alumni, community partners, faculty and content area experts outside of South. The "Next in Ed" podcast is a collaborative effort between the Department of Counseling and Instructional Sciences and the Mobile County Public School System's IT department. This podcast discusses a wide range of topics related to education.
My family and I are involved in the Westside Buddy Ball League which is a baseball league for children and young adults with special needs. My wife and I have been coaching for the league since 2008.
---
Biography
Joe Gaston began his career in education as a paraprofessional working with elementary special needs students. After obtaining his Masters degree from Spring Hill College, he spent six years teaching math and science to fourth and fifth grade students in the Mobile county public school system. Developing an interest in educational technologies, Joe took a district position with the department of instructional technology where he was able to provide assistance to other teachers with classroom technology integration. After completing his doctorate from the University of West Florida in 2015, Joe began working part-time for USA as an adjunct professor, later accepting a full-time position with the University as an assistant professor in 2018.
---
Courses
EDM 310 - Microcomputing Systems
EDM 510 - Microcomputing Systems in Education
EDM 520 - Computer Applications In Education
EDM 584 - Educational Technology Lab
EDM 590 - Special Topics
EDM 591 - Trends and Issues in Educational Media