The Bachelor and Master of Arts in English degree programs at the University of South Alabama prepare students for jobs in professional settings including teaching, writing, and business areas. English majors and minors are taught by talented faculty and field experts in creative writing, literature, and professional writing in the College of Arts and Sciences. English undergraduate student Kelsi Fails describes her passion for writing poetry and studying literature at USA.
The English undergraduate program allows students to explore the study of literature and interpretation of novels, stories, poems and essays through critical approaches and writing, build the skills to craft meaningful creative work, and develop skills in professional writing and editing. The English master's program offers students in the creative writing and literature concentrations advanced study and preparation for careers in English as well as further graduate study. Through classes, as well as research opportunities and internships, students build skills in critical reading and writing, research, and instruction that support a range of career fields in business and education.
---
Upcoming Events
---
IMC Book Fair and Fundraiser - Wednesday, February 1, 2023 from 9am to 4pm
Weather permitting, the Independent Music Collective (IMC) will be holding the first book fair of the semester in the HUMB courtyard from 9am to 4pm on Wednesday, February 1st. Come browse a wide selection of used books (on all topics) and music in a variety of formats. Proceeds fund the IMC Concert Series! Location: HUMB Courtyard.

---
The Sea The Sea - Friday, February 3, 2023 at 8:00pm
The Independent Music Collective presents the New York-based, folk-pop duo The Sea The Sea, live at Satori Coffee House on Friday, February 3, 2023. Doors open at 7.30pm and the show begins at 8pm. As always, admission is free to USA students and a suggested donation of only $5 for all others. Location: Satori Coffee House.
---

Dionne Irving - Thursday, February 9, 2023 at 4:00pm
Acclaimed fiction writer Dionne Irving will read from her latest short story collection, Islands, which explores colonialism, immigration, sexual discrimination, and class in the lives of Jamaican women who emigrate to London, Panama, France, Jamaica, and Florida. Her other work includes the novel Quint, based on a real-life Canadian family of quintuplets who became celebrities in the 1940s, and the essays such as "Treading Water" and "Do You Like to Hurt?" which were Notable essays in Best American Essay 2017 and 2019. Irving will lead a creative writing class and provide a public reading.
Please note: this free event will be held in the Student Center Terrace Room with a book signing and reception to follow. PHOTO: Myriam Nicodemus.

---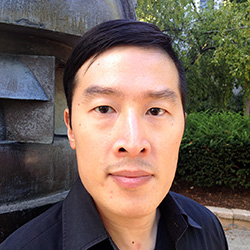 Michael Leong - Tuesday, March 14, 2023 at 4:00pm
As part of the English Department's Spring Series on Experimentation, poet and scholar Michael Leong will deliver a lecture titled "Lyric | Experimentation." Robert P. Hubbard Assistant Professor of Poetry at Kenyon College, Leong is the author of the poetry books e.s.p. (Silenced Press, 2009), Cutting Time with a Knife (Black Square Editions, 2012), Who Unfolded My Origami Brain? (Fence Digital, 2017), and Words on Edge (Black Square Editions, 2018). He is also the author of the critical study, Contested Records: The Turn to Documents in Contemporary North American Poetry (University of Iowa Press, 2020). His co-translation, with Ignacio Infante, of Vicente Huidobro's long poem Sky-Quake: Tremor of Heaven was published by co•im•press in 2020. He is currently working on a long poem titled "Disorientations" and a critical book tentatively titled Post-Craft: Essays on Pedagogy, Poetics, and Experimental Literature.
Please note: this free event, co-sponsored by the English Department and the Department of Modern and Classical Languages and Literature, will be held in the Student Center Terrace Room with a reception to follow.
---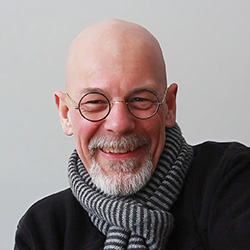 Steve Tomasula - Wednesday, March 29, 2023 at 4:00pm
As part of the English Department's Spring Series on Experimentation, celebrated experimental novelist Steve Tomasula will read from his most recent release, Ascension (University of Alabama Press, 2022). Incorporating narrative forms of all kinds—from comic books, travelogues, journalism or code to Hong Kong action movies or science reports—Tomasula's writing has been called a "reinvention of the novel," combining an "attention to society in the tradition of Orwell, attention to language in the tradition of Beckett, and the humor of a Coover or Pynchon." His writing often crosses visual, as well as written genres, drawing on science and the arts to take up themes of how we represent what we think we know, and how these representations shape our lives. He holds a PhD in English from the University of Illinois at Chicago and teaches in the creative writing program at Notre Dame.
Please note: this free event, co-sponsored by the English Department and the Stokes Center for Creative Writing, will be held in the Marx Library Auditorium with a book signing and reception to follow.

---

Neema Avashia - Wednesday, April 12, 2023 at 6:00pm
The daughter of Indian immigrants, Neema Avashia was born and raised in southern West Virginia. She has been an educator and activist in the Boston Public Schools since 2003, and was named a City of Boston Educator of the Year in 2013. Her first book, Another Appalachia: Coming Up Queer and Indian in a Mountain Place, was published by West Virginia University Press in March. It has been called "A timely collection that begins to fill the gap in literature focused mainly on the white male experience" by Ms. Magazine and "A graceful exploration of identity, community, and contradictions," by Scalawag.
Please note: this free event will be held online.

---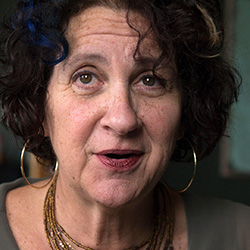 Jane Gallop - Tuesday, April 18, 2023 at 4:30pm
As part of the English Department's Spring Series on Experimentation, renowned literary scholar and feminist Jane Gallop will deliver a lecture titled "Anecdotal Theory and Autotheory: Experiments in Academic Writing." Gallop is Distinguished Professor Emerita of English and Comparative Literature at the University of Wisconsin-Milwaukee. Prior to joining the faculty at Milwaukee, she was Herbert S. Autrey Professor of Humanities at Rice University, where she founded the Women's Studies program. Having written on a wide range of topics such as psychoanalysis, French feminism, the Marquis de Sade, pedagogy, sexual harassment, photography, queer theory, and close reading, Gallop is the author of over a hundred articles and ten books including Thinking Through the Body (1987), Feminist Accused of Sexual Harassment (1997), Anecdotal Theory (2002), Living with His Camera (2003), and Sexuality, Disability, and Aging: Queer Temporalities of the Phallus (2019).
Please note: this free event, co-sponsored by the English Department and Gender Studies, will be held in the Marx Library Auditorium with a book signing and reception to follow.
---
▼ Job Openings
None currently available.
---
The University of South Alabama is an EO/AA employer and does not discriminate on the basis of race, color, national origin, sex (including pregnancy, sexual orientation, gender identity and gender expression), religion, age, genetic information, disability, or protected veteran status. Members of underrepresented groups are encouraged to apply.
▼ English Department Statement on Diversity and Inclusion
The English Department believes it important to reaffirm to our students and community our dedication to the following principles:
We commit ourselves to the principles of anti-racism: to actively disavow and condemn discriminatory language, actions, and images that create unequal learning opportunities.


We work to foreground specific historical, social, and cultural contexts for the texts we teach and write, emphasizing that art and thought do not exist in isolation from the structural inequalities and systemic inequities of our history and politics.


We view the classroom as a unique space where we can walk in with one idea and come out with quite another, where our ideas and values are tested for validity in discussion with peers, where we work each day to build the common ground on which our university and our country must rest.


We will continue to expand the diversity of issues, authors, and texts represented at all levels of our curriculum with regard to race, ethnicity, gender, sexuality, and ability. And finally, we affirm our solidarity with all members of our academic community harmed by racist behaviors and discourse.
---