Vice President Student Affairs
Dear Students:
It's a great time to be a Jaguar! The Division of Student Affairs is excited about the opportunity to serve you during this momentous time in the University's history. Please know that our capable staff stands ready to assist you in any way we can as you strive towards your goal of graduation.
During your time here at the University of South Alabama, please call on my office to assist you in creative problem solving and in navigating this journey called higher education. Should you encounter a hurdle or just need to be pointed in the right direction, I and the staff of the Division of Student Affairs are just a call, click or visit away.
Please feel free to call on me and my staff should you ever need us. Lastly, welcome to YOUR University! Go Jags!
Michael Mitchell
Vice President of Student Affairs and Dean of Students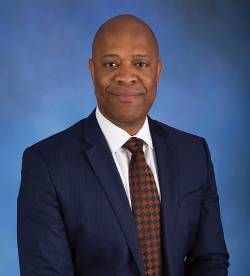 Dr. Michael Mitchell
Vice President for Student Affairs and Dean of Students